- First and foremost, I would like to thank my new best friend—2b1b reader Mindy from California—for sending me two of the most majestic items to ever enter my life: a pair of Dr. Dre stickers from "Dre Day Party" (an event I didn't even know happens outside of the song "Fuck Wit Dre Day," in which Dre tells Eazy-E to eat a "big fat dick." And then he died. Awkward...) The first one says, "We started gangsta shit. Is this the muthafuckin' thanks I get?" and the other is, "You're mad atcha boyfriend ain'tcha?" I mean. Jesus Christ, Minds. How am I supposed to ever repay you for a gift of this magnitude?! Can I carry your child for you? Because I'll do it. Just say the words and this
Jäger-
soaked womb is

allllll

yours! Mindy was anxious to see where I'd end up sticking the stickers. Uh,

"stick"

them? I'm not permanently adhering these bad boys anywhere unless it's directly to my body via ink, biffles. In the mean time, in a protective frame on my wall will do:
Thanks Mindy!
- Speaking of Dre, one of my favorite lines from "Xxplosive"

has never been so seasonally appropriate: "Gobble the dick."
- And speaking of Thanksgiving and rap music! I have an embarrassing story for you. You know how I feel about Dre? Well, that's how my sister feels about Ludacris. The very first time I ever heard Ludacris' "MoneyMaker," the line "Just be thankful that Pharrell gave you something to bump to" got my gears a-turnin'. I decided that at Thanksgiving dinner that year, when we're all going around the table saying what we're thankful for, I was going to say that I was "thankful that Pharrell gave me something to bump to!" and it would be the funniest thing anyone had ever heard in their entire lives and my sister would have a new-found respect for me and I'd be the hero of Thanksgiving from thereon after. Now, I hatched this plan in July of 2006 which means that by the time Thanksgiving rolled around, I had been sitting on it for an embarrassing four months. But finally, four months passed, Thanksgiving was upon us and I was anxiously seated at the dinner table ready to grace my family with the Greatest Joke Ever Told. Unfortunately, I didn't factor in that my family actually doesn't have a tradition where we go around the table saying what we're thankful for. But you bet your ass

that was about to change

. "Hey! I got an idea!" I said. "Let's go around the table and say what we're thankful for!!!!1" I was met with a few raised eyebrows. My family isn't really the touchy-feely kind. We spend most of Thanksgiving drinking beer, watching

Mystery Science Theater 3000

and napping. (God I love Thanksgiving.) But this year I

insisted

that we go around the table, open our little hearts and say what we're thankful for. I was so excited. My turn couldn't come fast enough. Mom: "Well I'm thankful for having such a wonderful fam—" YEAH, YEAH, YEAH,

NEXT!

Aunt: "I guess I'm thankful for having people in my life who—" OK GREAT, WONDERFUL, BECCA

GO!

"Uhhh...I'm thankful for—" GREAT, TOUCHING, LOVED IT.

MY TURN!!!!

My heart was racing and I could barely contain my own excitement. I took a breath and composed myself: "Well everyone. This year—I am thankful that Pharrell gave me something to bump to!"...................

Nothing.

Nobody spoke. "O...k...," my dad said, "I guess it's my turn now. I'm thankfu—" "NO, NO, NO!" I interrupted, "Maybe you didn't hear me. I said, I'm thankful that

Pharrell

gave me something to

bump

to!" ..................

Crickets and blank stares.

"Like...like in the

'MoneyMaker

' song? Ludacris, Becca? Ludacris?" I searched my sister's face, just waiting for her to light up at any moment and finally get my incredibly well crafted joke. "Yeah...I got it," she instead said, "It's just trying a little too hard. Gotta ask, how long were you sitting on that one for, buddy?" ".....................................Four months." "Nice. Dad, you're next."
And now this is what I'm reminded of every Thanksgiving. Personal failure. Sounds about right.
- I have a question re: the creepy cat in Lady Gaga's

Bad Romance

video: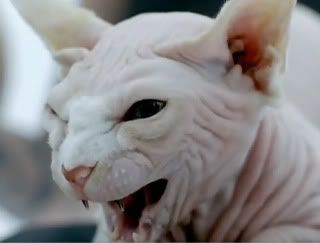 How did they get it's little fangs to be gold? Are they kitty caps? I don't know why this is so perplexing to me, but it honestly keeps me up at night. And I'm completely aware of how pathetic that last statement is. A google search of "Lady GaGa Bad Romance video cat" yields nothing helpful. Co-Blogger Chris thinks it's a CGI effect, but I'm not sure I'm buying that. I don't know why I'm so fixated on this. Either way, if they

are

gold kitty caps, guess what Evie's getting this year for Chrismukkah?????
- As I mentioned yesterday, I went to Bed, Bath & Beyond this weekend. As I stood in line waiting to check out, I realized, and I shit you not, that the large African American woman in front of me had her handbag on one arm, a bag full of recently purchased Popeye's fried chicken on the other and was purchasing one single item: a personal massager. It took everything in my power to not go up to her and say, "Lady, I will give you $50 and a crock-pot to trade nights with me."
- Andrew, of The Great Juno Debate fame, was recently making a Makeout Playlist and accidentally almost put Shakira's "Underneath Your Clothes" on it. The thought of casually making out with someone and slowly realizing that you're listening to "Underneath Your Clothes" is probably my favorite mental image ever. Thus, I challenged Andrew to make an entire playlist of Ironic Makeout songs
—
songs that are slightly too emotional to be played during a casual hook up. Songs that blur that fine line between background noise and a blatant narration of what's going on. I give you:
Andrew's Ironic Makeout Playlist
"All By Myself " - Celine Dion
"All My Life" - K-Ci & JoJo
"Always Be My Baby" - Mariah Carey
Brokeback Mountain Theme
"Don't Let Go" - En Vogue
"Foolish Games" - Jewel
"I Will Always Love You" - Whitney Houston
"I'll Make Love to You" - Boys to Men
"Invisible" - Clay Aiken
"God Must Have Spent a Little More Time on You" - 98 Degrees 'N Sync
"Possession" - Sarah McLachlan
"Torn" - Natalie Imbruglia
"Underneath Your Clothes" - Shakira
- And now for Dr. Reuben's Question & Answer of the Day! By the way, I was having dinner with Laura last night and I brought my copy of

Everything You've Ever Wanted to Know...

with me to prove to her that a.) it's real and b.) it's just as ridiculous as yesterday's post made it out to be. I don't think she "didn't believe me," per se, but I

do

think she thought I was perhaps embellishing a bit. I tossed the book across the table and dared her to open to any given page and not be shocked. An hour after we departed ways, I received this email testimonial from her:
Dear 2b1b readers,
I, Laura A. Megfan, do hereby assure you that "Dr." Reuben's book is in fact real. I have seen it with my own two eyes, held it with my own two hands, and read aloud from it with my own lips (which is the reason I can no longer look the wait staff at James Hobin's in the eyes). Let me assure you that it is all Meg says it is and more (read: highly offensive to women, homosexuals, and children of all ages and genders). Having flipped through it I cannot tell you how excited I am to get Meg's take on this book on a regular basis. And now I leave you with three words: Gene. Audrey. Clamp.





Happy reading!
And now, Dr. Reuben's Question & Answer of the Day:
Are there different kinds of frigidity?
Yes. Depending on what the woman is trying to say, she (unconsciously) chooses various forms of expressing herself. For example, if in spite of her conscious desire for intercourse, she wants nothing to do with the penis, Vaginissmus may be the result. In this symptom, the lips of the mouth may say "yes," but the lips of the vagina are shouting "NO!"
[...] It happened one night with Gene
—
he will never forget it.
"I once read about it in a book but I thought it was a lot of baloney. I can tell you from my own experience, it's something awful. I was out one night with this girl, her name was Audrey
—
I'll never forget that. We had a good time and a few drinks and then went over to her place. She had this apartment with a couple of friends. She was a little nervous like she didn't do it all the time, but we got along all right. After we were in bed, I started to put it in her but she said, 'It hurts.' Well, a lot of them are like that
—
you know, they want you to think it's the first time and all that. It
was
kind of tight, but she said to go ahead and try it anyhow. I wish I'd just gotten up and gone home." Gene took a nervous drag on his cigarette.
"I pushed it on in but right away I knew there was something wrong
—
it just didn't feel right. Then it happened. She screamed, and her whole business clamped right down on me. I felt like I was caught in a bear trap! I tried to pull out but that was my next mistake. Her, her, you know, grabbed me even tighter and it hurt like hell. All the time she was screaming
—
it must've hurt her too. Then the people in the next apartment started knocking on the door and I yelled at her to keep quiet. That was a bad move. When they heard me yelling they thought something funny was going on and they called the cops. Man, I wanted to get away but I couldn't move the way she was hanging on to me. Well, to make it short, the cops broke down the door and found us on the bed like that. They must've seen this deal before because they started laughing. THEN her two girl friends came in. Wow! By then I would have left my organ behind if I could've gotten away! But the cops just covered us up, kicked everyone else out, and left us alone. In about ten minutes, she quieted down and I got loose. We never saw each other again and now if a girl just doesn't seem right, I tell her, 'Why don't you save it for marriage, honey? We'll both feel better that way'."
WHAT IN THE FUCKITY FUCK FUCK?!?! I have so many questions that were in no way answered by Dr. Reuben on this one:
1.)

"[T]he lips of the mouth may say "yes," but the lips of the vagina are shouting "NO!"

If that is not the most graphic and disturbing rape mantra I have ever heard in my entire life, then I don't know what is.
2.)

Gene.

Gene, Gene, Gene

...If I put my dick in someone and they say it hurts, I think my next instinct would be to

take my dick out

and not be like, "MEH! She's probably just trying to trick me into thinking she's a virgin. YOU KNOW HOW THEY DO! Better cram it in a little further!" But again, that's just me.
3.)

Let's talk about The Clamping. I get her having a tight situation. I can even understand the whole clamping down nonsense. But who in the holy hell has a vagina that is capable of clamping down so hard it can

physically detain

a person inside of them?! And even assuming she

does

have this alleged wonder pussy that can hold a grown man in place, wouldn't her muscles get tired after five minutes and loosen?

I mean,

drunk bitches be peeing themselves all the time! I don't care how young you are, at a certain point, those muscles get tired and give up. Trust me.
4.)
"All the time she was screaming-
—
it must've hurt her too."

Well no fucking shit! She told you that it hurt earlier and you were all #VIRGINFAIL!
5.)

Where were Audrey's roommates when this was going on?! How come they only surface when the cops show up? If my tight-pussed roommate brought a strange guy home and I heard her screaming and him yelling at her to be quiet, I would bust through that door and knock him upside the head with a frying pan so fast his moustache would spin.
6.)

Speaking of moustaches, is anyone else picturing Gene as Scott Daniels from the cover of Sweet Valley High's

All Night Long?
7.)

Ok, let me get this straight: The cops get a call from the neighbors that there's a girl screaming and a man yelling at her to keep quiet, right? So they bust down the door to her bedroom and find old Gene pounding away on Adurey. Why is their immediate reaction to assume "HAHA LOLZ! LOOKS LIKE WE'VE GOT ANOTHER CASE OF VAGINISSMUS ON OUR HANDS, BOYS!" and not that Audrey is getting

raped?!

I mean, what ass-backwards town do you live in that this happens

that

often that you can diagnose the problem from the doorway?!
8.)

I also love that the cops don't offer to call the paramedics or help in any way, shape or form. They just kick Audrey's roommate's out all, "Move along! Nothing to see here! Just a man caught in the beartrap that

is

Vaginissmus!" and assume everything will work itself out. Like a good bowel movement.
9.)

"In about ten minutes, she quieted down and I got loose."

Gene. Do you realize it sounds like you're talking about a horse right now?
10.)

"[I]f a girl just doesn't seem right, I tell her, 'Why don't you save it for marriage, honey? We'll both feel better that way'."

Gene, what's going on that you're turning girls down left and right for being

too

tight?! You know that tight = a good thing, right? What sort of loosemeat sandwich are you used to ordering around here?
I think I know what I'm thankful for this Thanksgiving...thank

you

, Dr. Reuben.