I'd like to start off this post by offering a heartfelt apology to everyone who follows me on Twitter. Again. Apparently this is the new theme of the blog. Apologizing to my Twitter followers. Which is quite possibly the worst advertisement for following me on Twitter ever AND/OR the best, because who doesn't love a good heartfelt apology?? (@2birds2blog!) Either way, somebody recently hacked into my Twitter account and is sending DMs to everyone about how I made a babillion dollars online with GoogleAds. Which is completely irritating on a multiple levels. First and foremost, it's irritating for you, and when

you're

irritated,

I'm

irritated. (And when

Boss #1

is unprepared,

I'm

unprepared.) Secondly, that DM couldn't be further from the truth if it tried. Because I have made exactly

ZERO point ZERO

dollars using GoogleAds. In fact, I've made exactly

ZERO point ZERO

dollars on the Internet period, which has always been a point of pride for me. You see, I have a lot of integrity when it comes to my boner jokes and Meghan McCain rants. I won't whore my ad space out to just

anybody

via GoogleAds, a-thank-you-very-much. It has to be someone who makes sense for the blog and relates to both me

and

you. Because I respect you so much. ...........Just kidding. It's a lot more Jewish than that. I just want direct sponsorship so I can cut out the middleman and not have to split my profits with Google. (Although I

do

respect you sons-of-bitches and don't ever forget it.)
That's right, I'm not above selling out. You know why? Because my dinner last night was a pack of gummy vampire fangs and a box of wasabi cashews I found in the nook between my microwave and the wall. That's why. Because I don't have health insurance and I've needed my wisdom teeth out since 2002. That's why. Because a major part of my laptop is being held together with duct tape and broken dreams.

That's

why. I'm not selling out to afford hookers and a coke binge, I kind of just want to pay some bills and eat a meal that doesn't come from the novelty candy food group. I feel like if I can make that happen, it would just be the healthy decision.
But who to sell out to...? Well, I have a new life goal/scheme/dream that I've been holding out on talking about for some time and it directly relates to who I want to sell out to. It didn't quite make sense to talk about before, but I feel like this is the perfect time to introduce my new life plan. So here we go:

I, Meghan C.

McBlogger

, want my life to be sponsored by

Jägermeister

.
That's right. Jägermeister. Why Jägermeister? That's such an overwhelming question, I don't even know where to start. I love Jägermeister quite possibly more than I'll ever love another human being and I am in

no way

scared of how strong a statement that is. Here is a list of

10 solid reasons why Jägermeister should sponsor my life:
1.) Jägermeister is the only shot I'll take.

True story. I've destroyed myself on every other liquor known to man and have 'Nam-like flashbacks if I throw back anything other than Jäger. Vodka? God no. Tequila? That relationship ended at the hands of Co-Blogger Chris and Se
ñ
or Cuervo. Whiskey? That story involves high school, a basement and a desperate need to look cool. Gin? Repeat last story but replace the basement with a deck. It's got to be Jäger or I'm out.
2.) I can rip shots of Jäger 'til the cows come home.

The reason I can still take shots of Jäger isn't because I've never gotten sick off it (because merciful

Christ

, I have) it's because my body will never, ever tire of being filled with cold, delicious Jägemeister. It's like an abusive boyfriend—I will always come back to it no matter how hard it fucks me up. Let me tell you a little story: one night while backpacking through Germany, I discovered that our hostel had a bar and that that bar served 50-cent Jäger shots. Although we had literally just come back from drinking our own weight in beer at the Hofbräuhaus, I unstrapped my money belt, slammed it on the bar and said, "That much in Jäger, bitte." Later that night I made the comical decision to write in my travel log. I wish it was here so I could take a picture of it, because it was just squiggles and chicken-scratch. I believe the only words you can make out are, "fuck," "gay" and "never drinking again." Normally after a night of that kind of punishment, I could never go back to whatever it was I was drinking. But not Jäger. Now I rip a shot of Jäger and think, "Mmm...

Germany

."
3.) Best. Logo. Ever.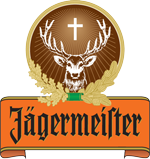 And I'm a graphic designer. I know these things. It's my professional opinion that Jägermeister has the best logo ever and I would be

honored

to have it adorn my body. Which brings us to #4:
4.) I live to promote

Jäger

.

How many times have I proposed Jäger shots while out? Every time. What am I blogging about right now? Jäger. What was I not three days ago for Halloween? The Jäger Deer.

(See headpiece below:)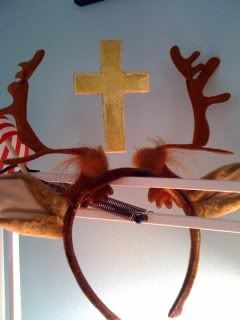 And these are all things I do for

free!

Imagine what I'd be capable of if Jäger was

paying me

to promote them. In fact, I swear to all that is good and holy, if Jägermeister agrees to sponsor my life,

I will get a tattoo of the

Jägermeister

logo on my right ass-cheek

with "SPONSORED BY" above and "SERVE COLD - KEEP ON ICE" below. And I will videotape the process

and post it on this blog

. I am deathly serious. My ass gets more play than you'd think. That's some valuable advertising right there.
5.) Ohmygod, Jäger-chaps:
6.) I've got big hooters. And what looks better in tight Jägermeister apparel than a giant set of grade A+ hooters? Nothing. That's what. And if Jäger sponsors my life, I will wear Jägermeister apparel to all of my public appearances. And by public appearances, I obviously mean out and about in my daily life. And I go places! I'm around! Whereas Jägerettes stop wearing their Jäger garb after leaving the bar, I'll continue wearing it into my

daily life

. And how sweet a deal is that?? For example, the sweatbands I currently wear to the gym and hot yoga are of the Nike persuasion—what if they were

Jäger

sweatbands?

See. One step above Jägerette, one step below psychopath.
7.) I'm an ex-bartender. I am more than familiar with mixing a good Jäger cocktail. A Dr. Jäger? 1.5 oz Dr. Pepper, 1.5 oz Jäger shake over ice and serve in a cocktail glass. Storm Trooper? Half-part Jäger to half-part peppermint schnapps served in a highball glass. Ideal temperature to serve Jägermeister? 4-degrees Fahrenheit. I could do this all day.
8.) I don't entirely suck.

I just feel like that has to be worth something.
9.) Joy Behar has her own TV show and Obama is president.

It's a new fucking day.
10.) Because like Jägermeister, I'm a fucking

badass

.

You show me a girl dealing with her Quarterlife Crisis in a more badass way than anonymously blogging, excessively drinking and crying herself to sleep 4 out of 7 nights a week and I will show you a whore and a liar. You know who else Jägermeister sponsors? Metallica, Pantera, Slayer, Slipknot and Mötley Crüe. And what comes to mind when you think of bands like those? That's right: Meg McBlogger.
I was on the phone with my mom last night discussing my current financial woes and I honestly pitched this idea to her as a solution. "Now Meghan," she asked in her adorable Mom way of being ever-so-careful not to offend me and the fuck-up lifestyle I've consciously chosen, "Do you think this is a

realistic

option, or a

not-so-realistic

option?" Why wouldn't this be a realistic option? "Well, what's Jägermeister going to get out of it?" UM, HI. Not only the opportunity to be the official sponsor of 2birds1blog (and the ad space that comes with that,) but also the opportunity to be the official sponsor of Meg McBlogger, the person (and the hooter space that comes with

that

). I've got the

"The Google Analytics."

I know how many of you there are out there. And you could all be drinking Jäger right now! With me! At a bar! Enjoying free Jäger track jackets!!!1 WE ALL WIN!
So how stoked are guys on Jäger right now!?!!?!?! [........................meg@2birds1blog.com.

WIIIIIIIIIIIIINK!

]