- Lord knows I love me some Britney Spears 'til death do us part. That being said, I can't listen to the song "Circus" without feeling uncomfortable and enraged. Why, you may ask? Allow me to point out the following lines:
"So baby, I hope that you came prepared
I run a tight ship, so beware

I'm like the ringleader
I call the shots"
Because it's like, you

don't

run a tight ship. At all. You run a notoriously sloppy and white trash ship. In fact, if you ran a ship, I'm almost positive it would look a little something like this: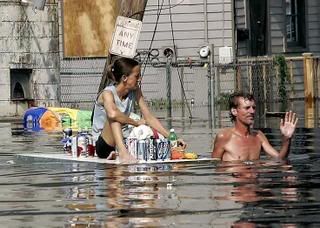 And you

don't

call the shots and everybody knows it. Your dad calls the shots. By court-order. Because your grown-ass can't call the shots without handing the keys to your career over to the first used-car salesman you see or attempting to stab a paparazzo in the heart with an Umbrella/trident. A "tight ship" that does not make.
And then when I don't think it can get any worse, we get to this gem:
"I'm like a performer, the

dance floor

is my stage."
What was that Brit? You're not

like

a performer, you

are

a performer. That's your job. And the dance floor

is

your stage. Because you're a performer. The only way I can excuse this line is if every lyric website on the Internet is grammatically incorrect and it's supposed to be:

"I'm like

[COMMA]

a performer

[PERIOD]

. The

dance floor

is my stage."
Which reminds me of that Simpson's episode when Lionel
Hutz
changes the catchphrase on his business card from "Works on contingency, no money down." to "Works on contingency? No! Money down!"
Sigh

...I just don't understand why Britney Spears has to lie to me via song.
- Dr. Dre is my role-model. I strive to be more like him everyday. **[HOLY HELL!
Ok
, I'm going to
interrupt
myself right there. So this random thought was going to be about how much I love Dr. Dre and how I feel this odd connection with him that I don't know how to explain. Sort of like my love for John McCain. But less...white. Anyway, as I finished writing the sentence "I strive to be more like him everyday," The Next Episode came on my
ipod
shuffle, which I interpret as the Universe confirming that I indeed

do

have a connection with Dr. Dre. I might even be bold enough to say that we're
soul mates
. I wonder what Dre would say if he knew that his
soul mate
is a 23-year-old white blogger actively campaigning to hug John McCain?
]**



- Can we please talk about the following

Missed Connection on

Craigslist

?
I fingered you for a little bit this weekend - m4w - 28 (dcmdva)


well, the title speaks for itself. Shoot me an email/photo to confirm it's you, and let the games begin.
ps - the music was loud-

1.) I have to

applaud

the romantic who can't help but wonder if there was a real connection between him and the gal he finger fucked on the

dance floor

for a little bit this weekend.




2.) This ad would be considerably less funny to me had it said, "I fingered you this weekend." The poetry lies in the inclusion of "a little bit."




3.) "

ps

- the music was loud-" is the

least

helpful situational clue ever. I hope some chick somewhere is reading this thinking, "No way!

I

was fingered for a little bit this weekend! I wonder if it was by this guy? Oh. Wait...Yep, nope, not him. We had some soft

Enya

playing in the background." (Some chick besides myself, that is.)



- Every morning for the past week I've had the song from the "Jitterbug" cell phone commercial stuck in my head. I don't know what about taking a shower at 7 o'clock in the morning makes me think of seniors who don't want a complex cell phone, but

a.)

it does and

b.)

it's driving me up the fucking wall. It's so ridiculously infectious. And then! Because I'm consciously thinking about

not

thinking about it, I get it stuck in my head anyway. I've caught myself on numerous

occasions

softly humming it while doing the Lindy Hop under my desk at work. And that, my friends, is when you know you're part of the problem and not the solution.

Now I pass that burden on to you. You're welcome.