Today I've got some good news and I've got bad news. Which would you like first? Bad news? Bad news first so we can end the week on a high note? Mmm hmm. Yep. I like the way you think. Let's do it.
Bad news:
I'm pregnant.
Bahahahaha. Just kidding slash I
wish
. Maternity leave sounds awesome right about now.
The bad news is that I legally died of embarrassment last night. Yep. I'm dead. Dead as disco. And I will spend the rest of eternity haunting this blog and Co-Blogger Chris in a
Ghost Dad
style plot line. (PS: I like how I just chose not to haunt Chris in an erotic
Ghost
kind of way, but rather in a kooky, Bill Cosby-at-the-door-with-pudding kind of way. And you're welcome, Chris.)
Remember that whole my-ex-hook-up-was-my-nurse-when-I-had-explosive-infectious-diarrhea-in-the-hospital thing that was so traumatizing it gave me emotional hepatitis? You know,

that old chestnut?

No? Well get yourself acquainted
here
. Are we all on the same page now? We all up-to-date on bowel movements? "Good." So Ex-Hook-Up Nurse sent me a message on Facebook yesterday afternoon basically being like, "MEGGLES! Sort of a random way to see you a few weeks ago. Don't worry, I won't tell anyone. It's illegal. Blah blah blah. It was good to see you. We should hang out soon. Yada yada yada." First of all:
fuck
. That message made me relive the entire experience all over again and
guhhhhhhhhhhh
...it burned. After I finished reading, I literally just writhed around my office chair, scratching my face and audibly moaning for a solid three minutes straight. It was horrible. Because writing about that experience here on the blog was my way to exorcise the embarrassment, let go and move on. And I had successfully done so!...Until that message, that is. I decided the best way to move on (again) would be to pick myself up, put the pants I had just writhed out of back on, embrace the embarrassment and laugh it off. Because that's what I do best, right?
So, I wrote back:
"Ugh, of course when I see you again after all this time I'm in the hospital for fucking explosive diarrhea and look like shit warmed over. Jesus Christ....I was 16 distinct different kinds of embarrassed. But! Yes, I agree we should be friends again. Any time you want to hang when I've actually showered and aren't in the hospital dying, that would be cool. - M"
"Kudos to me!" I thought as I pat myself on the back for confronting the situation head on. Now we could both have a good laugh about it and move on with our lives. All was well in the world.
...Until a few hours later when I got this message back:
"Actually I had no idea what you were there for. I didnt look."
.................

GOD DAMNIT!!!!!!!!!!!!!!
WHY?! WHY DID I HAVE TO "EMBRACE THE EMBARRASSMENT"?! AND WHY DIDN'T THAT SON-OF-A-BITCH LOOK AT MY CHART?! I would have! But then again, I'm a piece of shit. Ugh. So I unnecessarily told him that I had infectious diarrhea. I guess that's what I get for underestimating people. So fuck me. But not really because I was hospitalized with
diarrhea
and who wants to fuck that girl? Not me. And I

am

her.
But! I have good news. The good news is that today is Friday, which means it's time for the most magical part of any week—
T.G.I. Hagman
!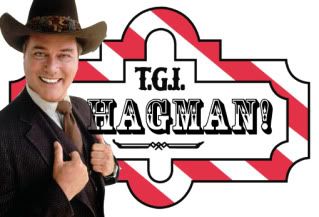 As of 12:09pm on January 19, 2010, Larry Hagman is...
alive!
AND GOOD!
Good
. More Hagman for me and you!
Now normally this is where I'd give you your Friday drinking game, but in honor of Alex and I recently starting our month off from drinking, there will be
no
drinking game this week. Yep, that's right. An entire month with no alcohol...And I have no idea what we're thinking either. Well, I do actually. Both of our doctors explicitly told us we need to cut back on drinking and Becky and Andrew are always taking a detox month here and there and they seem to have their shit together. Plus Becca and her fiance did it in January! I mean, I feel like it might be good to give the old liver a break once in a while...right? Especially since Alex and I wake up 3/7 mornings like this:
God I'm going to miss that homeless woman...

So, I guess your drinking game this weekend is to just slam a few extra back for me and Alex. Pour one out for your fallen homies, if you will. Thanks. We appreciate it. And we appreciate you reading the blog! But if you
really
want to see us appreciative, you should totally follow us on
Twitter
, join our
Facebook page
and forward us to a friend or two! Man that would be nice. I mean,
I
don't get anything out of it, but
you
would. KARMA. Sexy, sexy karma. Welp! I'm gonna go join a prayer circle or something equally sobering. Have yourself a fantastic weekend and we'll see you right back here Monday morning. (Awkward sober) kisses!