Woooooooooo
...I am hungover. Thank you to
Alex
, Scott, Carla, Jenna,
Dan
,
Andrew of The Great Juno Debate Fame
,
Andrew

not

of The Jundo Debate Fame
,
Teresa
,
Laura
and
Lara
who took me out and last night and stuffed me with various fried foods and alcohol until I couldn't see straight. You are all lambs. Lambs I would grill, shove in a pita, douse in tahini and eat up. What? I don't know. I might still be drunk. I want Amsterdam Fallafel. I also appreciate that when the check came and I reached for my wallet, everyone did the old
oh put that away!
as if it were my birthday and not because I had just gotten fired for a reason I think we all saw coming down the pike. Oh, you
guys
...
And speaking of losing my job! To answer the most frequently asked question from yesterday's post, I have absolutely
no
idea how ex-Boss #1 and ex-Boss #2 found the blog. None. The curiosity will drive us all to drink. (Too late.) I thought about asking when I saw that Boss #2 had an entire Encyclopedia's worth of printed blog posts tucked under her wing, but decided that might be too ballsy. Even for me. Mostly I just wanted to ask her to take the damn thing to Kinkos, bind it, slap some cover stock on it and bada-bing-bada-boom—book deal. AND THNXXXXX!
So, here we are. The day after THE DAY. I woke up at 8 this morning to write a post, felt like someone wearing brass knuckles was repeatedly punching me in the forehead and immediately went back to sleep. Now I'm lounging around my bed wearing nautical themed booty shorts watching a very poignant gun-control episode of
7th Heaven
. It's not bad, you guys. It's not bad at all. I gotta say. Give me booty shorts and A. Simps or you give me death.
Now I hate to ask you guys a favor when you've all been so unbelievably kind and supportive...but I indeed totes have a favor to ask. Would you do me a solid and go
here
, scroll down to the third category of "People and Places", click "34 more," write in
2birds1blog
for Best Local Blog/Blogger and submit it? That's it! That's all you have to do! You totally don't have to sign up for anything or vote for any other categories (unless you want to, of course.) Maybe get your friends and family to do it too? I'd appreciate it immensely.
In return, I will totally tell you something embarrassing. (Yes, embarrassing stories are my currency at this point. Things are touch-and-go.) So I woke up the other day and was about to hop in the shower when I looked in the mirror and noticed that I have these huge black and blue bruises
alllllll
over my upper-right thigh slash groinal region. To be frank, it looks like I had some straight up All-American rough-ass sex. (Not to be confused with rough

COMMA

, ass sex.) It looks like someone banged me out six ways to the weekend. Which would be exciting except I haven't had sex since the Nagano Olympics. (Which would put me in 8th grade, I think? Hm. Too early in the afternoon for statutory jokes?) Truth be told, the sex bruises are from carrying a shit ton of bags home from Trader Joe's and having a giant bottle of Pelligrino repeatedly bang into my crotch with each step I took. So what I'm trying to say is the closest thing I've had to awesome sex in a moth(s) of Sundays was with a Pelligrino bottle in the street. So. There's that.
...Meh, that wasn't that good of a story. Guess it's time to start throwing free shit at you, huh?? To thank you for being so amazingly supportive, we're doing a giveaway with our friends at jägerstore.com! And speaking of jägerstore, if you're only going to visit one alcohol based internet boutique this weekend, why not make it the jägerstore? (And no FCC, Jäger is not paying me to say that...
yet
.) Just leave a comment on today's post before midnight saying that you voted 2b1b for City Paper's Best of D.C. 2010 and you could win a totally badass Jager Cooler SLASH Shot Dispenser!

[Edit: As of 11:45am on Saturday, February 27th, dis shit be closed. You can still vote and leave a comment, you just won't get any free shit out of it. Don't worry, there are more giveaways where this came from!]
And as much as I just
love
anonymous comments, you're going to have to use some sort of name so I can identify the winner tomorrow morning. Sound good? Awesome.
And speaking of alcohol—
T.G.I. Hagman
baby! A holiday needed now more than ever.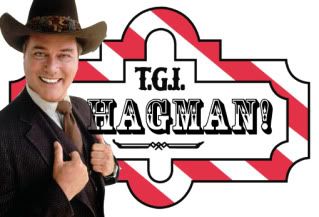 As of 1:09pm on February 26, 2010, Larry Hagman is............
alive!
And thank god for that. I don't know how I'd handle it if I got fired and Hagman got Fired with a capital F in the same week. My guess is with a lot of alcohol and cheese fries.
Alright, I think I'm too hungover to think of a drinking game this week. I hate when that happens. Make sure to
vote for us
and leave a comment before midnight! Thank you all so much again for your support and love! We love you right back and we're not going anywhere. Well, I'm probably going to put on a shirt, attempt to wipe the eye makeup off my face and venture out to get some coffee. But overall, I'm not going anywhere. Have a great weekend and thanks again for being so amazing. Kisses!