I've got a confession to make. I cannot sit down and think about the title "Kell on Earth" without immediately breaking into Belinda Carlisle's "Heaven is a Place on Earth." Is it because the last two words of both titles is the same? Is it because I have a penchant for 80's pop music and public relations? It's all of that and more. To the minions!
This episode Stephanie Voorhees saw a lot of action. Stephanie V is that girl you knew in high school/college/post-college who has the perfect life. She's pretty, she's smart, her family's loaded, she's athletic. Her biggest problem was not being able to find her car keys that one time, only to realize they were in her jacket pocket all along. So when Steph V comes across something she doesn't understand or doesn't have the time for, she breaks. That's basically what happened this episode: Steph V gets a task that would be difficult if she were a toddler, Steph V fumbles the task, Steph V doesn't know how to handle making a mistake. A short list of things Steph V can't do: make phone calls, check voicemails, stamp envelopes, label bags, prepare gift bags, not wear yellow, get sympathy from Kelly.

Stephanie Skinner on the other hand, knows how to do everything, which causes her to overwork, freak out, and just be generally monotone and miserable. She did, however, take two hours off from work in the weirdest scene ever. She and Andrew (Andrew S, I think? Whichever one is short, tan, lispy, and tired) waltz into some random salon and Andrew starts dying Spitter's hair like he owns the place. Not one word is said to a proprietor. All we know is that Andrew once worked in salon in LA. I wasn't aware that working in one salon gave you license to cut/dye/wash hair in any salon in our fair nation. Anyway, Spitter goes from this: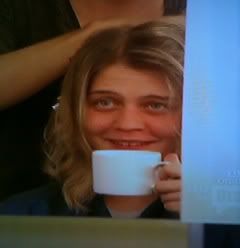 to this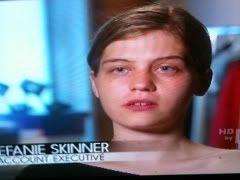 i.e. not much improvement.
Andrew M. flew under the radar this episode, dialogue-wise. I started to get a little nervous that he trotted out all the crazy in episode one. Sir, you did not disappoint. And I hope you have stock in Hot Topic and a mesh company, because otherwise you are missing out on a prime money-making venture, considering how you single handedly keep both of those businesses in the black.
First he wore a tasteful asymmetrical number (which he may have borrowed from Spitter in the above picture. Or vice versa. I don't know their lives.)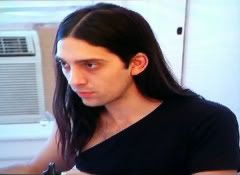 Then, he donned an otherwise normal white button up shirt, that he put his Andrew flair on by taking the Afghan my nana knit for a funeral gift, cutting a hole in the top and calling it a sweater.
Finally, and this was my personal favorite, this...thing? It looks like a figure skater had sex with a Medieval Knight wearing a football jersey.

I would be lying if I said I didn't cheer out loud when he came on screen wearing this. I appreciate that he has the sense to tame the mesh portion of the top before it hits his nipples and shit starts getting inappropriate for work.
Andrew adds so much to my daily life. I should write him a thank you letter.
Finally, we meet Intern Tim. The only intern who has gotten hardcore face time so far. Which is fair, because I'd do something hardcore to his face if given the chance. [Editor's note: OH SHIT!] He looks like any other bro in the fashion business (i.e. out of place) until he speaks in his amazing Irish accent. Which makes him even more out of place, but I stopped caring about most things while Tim was talking. I think he was a business major? And wanted to get into PR? For all I know, the world ended in the 30 seconds Tim was speaking directly to me. (I didn't have the presence of mind to snap a picture, because I was 100% transfixed by his accent. And I'm not even sorry about it.)

I do know that Kelly spoke to Tim's mother on the phone, because if there's one thing Kelly loves more than lighting incense and sage, it's getting involved in her employee's personal lives.

Minor: There is a cute clip of Ava getting dressed for school, where Kelly picks out these cute little girl, first-day-of-school dresses, but Ava decides to put on what I called an "urban mumu" in my dress that looked like it was printed with a picture of Jesus and had a hood.

Let's get down to fashion:
The much talked about Chado Ralph Rucci (Shallow Far Tooshy?) pre-show was a borderline disaster, due to the botched seating assignments from last week. (More on that in a minute.) The fashion show itself was kind of cool (but seriously lacking in the fringe entrance department). I didn't really take much notice of the clothing, because there was nothing so terrible or jarring that it caught my eye. All nice clothing, but I guess that's to be expected from a couture designer?

The second fashion of the episode was the Genetic Denim presentation, which I thought was really interesting and had no idea stuff like that happened. The design of the showroom was really cool, even though the designer blatantly ripped off Lady Gaga's Bad Romance video for the design of the Rain Room. It was sort of like a fun house of fashion, but with less carnies and more half naked models. Except the designer explained he wanted the show to be an auto-erotic experience and I thought "Why have a show when you can just stay home and masturbate for the same result? Duh. It is a recession after all." And if I never hear the word jeggings again, it will be too soon. A girl I work with wears jeggings, but honestly, I thought it was just an Asian thing, not something that was big in fashion right now. Who knew nerds were so fashion forward?

So the dramz of this episode:
Like I said before the Chateau Rafucci pre-show was horrendous because of the seating assignment list issues from last episode. Try as they might to remedy the situation, the People's Rev team couldn't hold up to the stream of party crashers, invitation usurpers and seat stealers. (There is a special place in Hell for these people who make up their own rules.) I understand their concern about the seating, though. How else will Kelly be able to figure out who is going to die when she has a Final Destination style premonition of some horrible accident at the Ralph Rucci show? It makes sense.

Blanyway, due to the aforementioned people who make up their own rules, (at one point, Kelly had to kick this man out of a seat he didn't belong in, while being very polite and saying "I'm sorry but you have to move." And the man replied with, "You should be sorry." NO. SIR. THAT'S NOT YOUR SEAT.), the seating for the show was a disaster. Something must have been said after Kelly dramatically signaled to the cameraman to stop filming. So instead of us finding out what went wrong, we get a slow fade to black which really ruins the dramatic arc of this storyline. We do know, however, that Ralph Rooch is big old diva, and he flipped his shit and had Kelly fired the next day.
The dramz does not stop there. No, the Genetic Denim had it's share of problems too. First, the interns were supposed to prepare gift bags for the press attending the Genetic Denim show. Someone's brill idea was to write the labels left-handed in Black sharpie on gigantic leftover shopping bags from T.J. Maxx. I blame Steph V, because there's no way my boy Tim was at fault here. Kelly kirks out and sends the interns away. But when they come back to redo the task, they do it the exact same way. Kelly has a Joan Crawford/
Mommy Dearest
moment (No more black Sharpies EVER!!!!) and folds a pair of jeans in tissue paper. (This drama was never fully resolved, as I don't believe K. Cutrone really re-did all the bags herself.)
But the big issue at hand was at the Genetic Denim show, where a model in the Rain Room just outright keels over like a domino. For some completely ridiculous reason, the cameraman did not get this on film (like season 2 of
Survivor
when that guy fell into the fire, but there is no videographic evidence of it), which leads me to believe this cameraman got fired that same day. However, I imagine it looked something like this:
http://www.gifsoup.com/view/168830/faint.html
Anyway, 911 is called, but the firemen that show up are NOT the ones from the calendar, so Kelly asks them to stand somewhere dark and away from the pretties. Likewise, those pesky flashing lights on the ambulance are totally ruining the serene atmosphere of the show, so could we please shut them off? Also, don't use your siren as you drive away, because the zen in this show is really fragile. And could you please change out of that garish outfit you call a uniform before you set foot inside my fashion sanctuary? In short, Kelly holds it down at the fashion show, for realsies, and the designer is satisfied. Even with fainting models.
DVR buster: For some reason, Kelly was handing out Swarovski crystal like they were Mentos, and some id fashion editor straight up swallows his because "he thought it was a pill." A) Does Kelly regularly hand out pills to people? B) Did that man look down at his hand and say, "That sure is one sparkly pill! This will be a trip!" before swallowing it? C) I just. don't. understand.
In summary, this episode was heavy on the drama and light on the Intern Tim. If we could switch that up next week, I'd really appreciate that. Or if we want to stay heavy on the drama, can we give Intern Tim his own show. Or I'll give Intern Tim his own show. In my pants. HIOOOOOOOO