Looooooooord have mercy
—
it's finally Friday. I believe you know what that means: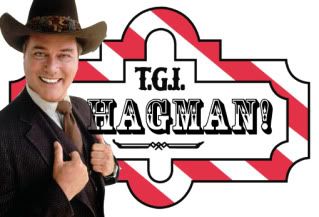 As of 8:47 on February 5, 2010, Larry Hagman is...
alive!
Which makes one of us because this week has officially killed me. I'm dead. Dead as a door nail. I'm writing this from beyond the grave. Casey Johnson and I are scissoring and the

Poltergeist

Lady keeps declaring this house clean. That's how dead I am. Well, actually I'm in bed eating mint chocolate chip ice cream at 8:56 in the morning which can only mean one of two things: someone just broke up with me or I'm sick. In this case, it's the latter. I have a vicious cold and it's totally unfair because the only light at the end of this horrible week of a tunnel was the thought of getting snowed in and drinking myself stupid this weekend. Which...I'm still going to do, obviously, but still! I'd rather not do it all stuffed up and feeling crappy.
I know I owe you Part II of yesterday's post; the actual dirty details of how craptastic this week was, but I am

begging

you to please understand that I just called out of work sick and all I want to do is put on my Jack Daniel's jammy pants, take two scoops of fresh Sudafed and pass the fuck out. I'm really sorry I was MIA this week but I promise I'll be back full-force Monday morning with

hee-larious

anecdotes from this week's conference. In the mean time, I hope you have a fantastic weekend, enjoy the snow if you're in DC and please please please don't leave me cunty anonymous comments about how you're not going to read my blog from now on because I never write anymore. Because it's been one week. Versus two years worth of posts. For free. I'm a real person. Who has a full-time job and gets colds. Something tells me we're both going to survive. KTHNXBAI!