I need to ask something before I get into ripping today's victim a new asshole. You guys…is "

guido

" a derogatory term? I have yet to get a straight answer from anyone about this issue. I never thought it was a racially insensitive term, but it's quite possible that I'm horribly, horribly wrong. Like how I used to throw around the term "mulatto" like confetti until my mom pointed out what a jackass I looked like.



You know how in college you give random people around campus nicknames like "Big Ass Dancer Girl" and "Cowboy Boots Swimmer"? Helena and I strictly referred to our biology lab partner as "The Guido." I walked around for a year telling comical stories about The Guido to people and was very confused when 50% of those people found my story uncomfortable and slowly backed away while shaking their heads.





Urban Dictionary defines a guido as the following:




"A sad pathetic excuse for a male; not necessarily of Italian descent, but most likely; usually native to the New York/New Jersey Tri-State area.





WARDROBE:

tight zipper shirts, tracksuits, designer jeans, fuzzy kangol hats, tiny hoop earrings, fake gold chains, and related Euro-trash garb and tacky cheese-wear.



NATURAL HABITAT:

Known to frequent Tri-State area malls looking for club gear to waste their week's pay on) most likely spotted shopping at "Bang Bang" in Staten Island). During the day when not at their food delivery, telemarketing or constructing job, can be located at their local gym tanning or lifting weights. Can be found nightly at mainstream danceclubs they read about online (SF, Webster Hall, Etc.). Most notable for cruising the Jersey shore in an old car (Honda, Mustang, etc.) which has been tinted, painted and sports $1,000-$3,000 in rims in a feeble attempt to look like new. Gudio cars usually have a boomin' systems through which cheesy music like freestyle, commercial club/trance and hip-hop (anything KTU plays) is loudly blasted.



PASTIMES/RECREATIONAL ACTIVITIES:

Guidos enjoy beating up a non-white homosexual while assisted by a group of 5-10 guido friends backing them up; engaging in date rape; and displaying their lack of rhythm by dancing poorly in the middle of a club's dance floor while non-guidos look on in disbelief.



If you know a Mike, Joe, Rob or Tony, he's probably a guido.

"

I feel like that's a pretty accurate description of a guido and I appreciate that they point out he doesn't necessarily have to be Italian-American. The fact that they usually

are

is completely irrelevant. Kind of like how you don't necessarily have to be Jewish to be called "Jappy"…unless calling someone a JAP is insensitive. And I'm not referring to Japanese people when I say that by the way. Jews, you guys, Jews. I mean Jewish people. Jewish-Americans. The moral of the story is for once I'm not trying to be offensive. If you are offended, email me at meg@2birds1blog.com and I'll totally read it and cry. Let's get to today's victim already.



Where: Starbucks on Walnut Ave. in College City, Philadelphia.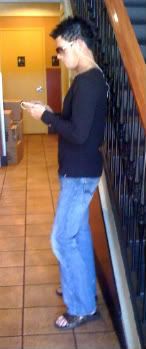 When I saw this guy, my eyes lit up like it was Christmas morning. The lights in the Starbucks went dim and it was like me and this extreme guido (

exuido

, if you will) were the only people in the room…nay, the world. I walked towards him slowly and our eyes locked. He lifted his sunglasses onto his perfectly spiked head revealing the most girlishly well-groomed eyebrows I've seen since looking in the mirror earlier that morning. Without even a "fuhgedda bout it" or "try my mother's spaghetti sauce!" he gently grabbed my hands and we sang a duet of "Only You" from

West Side Story

while twirling.
Part of me thinks this Exuido is so perfect, I must have dreamt him up. Surely someone this ridiculous looking must be a figment of my imagination. However, my fantasy was confirmed as reality when Eddie read my mind:
Eddie:

Uhhhh…do you see that—
Me:

Oooohhhhhh yea, couldn't miss him.
Eddie:

Wow. I mean…wow. Do you think he's still on Ecstasy from last night?
Me:

He's on something, that's all I know for sure.
I'm not even sure where to start because my head is still spinning from seeing this specimen in person. First of all, I know most guidos can appear to be gay because they take such pride in their appearance, but we can all agree this guy is a big 'ole homo, right? The designer sunglasses, slender frame, slight stance and Armani Exchange outfit all point to yes. However, what batch of crystal meth was he smoking when he decided to put those monstrosities on his feet? I mean, rubber athletic sandals? Really Exuido? Unless you plan on being ankle deep in a creek all afternoon, you have no excuse for committing this fashion faux pas. Especially when it's a brisk 60 degrees outside.
I'm gonna go ahead and ask the question I know we're all pondering: what in the sweet name of Christ is going on with this man's hair? His head is like an annoying brainteaser you can't solve and drive yourself crazy trying to figure out. No matter how I try to justify or theorize, I can't figure out why he would take the time to craft his hair into terrier fur or one of those spiky hats/stress relievers, on purpose.
Another perplexing aspect of this exuido is who he was at Starbucks with. I was expecting him to bring his latte over to a table with a Jappy looking chick in Uggs or a table with a well coiffed gay man sitting down, but he was there with a woman who I can only compare to the lunch lady in Billy Madison:
I would have taken a picture of her, but she seemed slightly unstable. Oh, and how much do you want to bet The Exuido is listening to the Vengaboys' "The Venga Bus" on repeat? Because with that outfit, you can tell that he likes to party. He likes to, He likes to party.
I don't think I can write any more about this character because I'm getting all heated and worked up again asking questions I know will never be answered. I'm so sorry I passed this burden on to you.