This past weekend I did something that I am not sure I would ever recommend to other people: I went to two weddings, back to back. Saturday night and Sunday afternoon, and these weddings couldn't have been more different: Long Island and Dover, DE; Jewish and Christian; black tie and casual; 3-course, full bar, with an over-the-top hors d'oeuvres hour and buffet dinner, beer & wine, with a few cheese and crackers; big band and DJ; one did the most raucous version of the hora I have ever seen (the extended version, the Timbaland remix) and one showed the 'Skins game, then the Sox-Rays game. It was a study in religion, culture, and formal wear. Why do Jews love sparkles so damn much? Why did one of the guests at the Dover wedding have pink hair and no bra? I ate a lot, I drank even more, and I felt like all I did was blow dry my hair, put on make-up, and dance to old Black Eyed Peas songs, up and down the I95 corridor. Notice I didn't mention "give wedding presents" – who's got two thumbs and doesn't get people wedding gifts? This guy.

People my age are experiencing what we call the "second wave" of marriages. The first wave happened right after college, when high school sweethearts, people who went to school to get their MRS. and people who didn't feel the need to mature as individuals before deciding to partner with someone else for the rest of their lives tied the knot in ceremonies paid for by their parents, and attended by their slightly weirded out school friends. The most often overheard line at these weddings is "I can't believe we/she/he/they are old enough to get married" (psst – you're not) and "Well she's not showing …"

Wave two starts at about 27-ish and I've got friends who already have nine weddings to attend in 2009. NINE! That is so much wedding - I don't know about you, but my capacity to be tearfully overjoyed for other people is not infinite and I am pretty sure after wedding six I'd be crying sawdust and bribing bartenders to pour me large glasses of white zin before the ceremony starts.

As my back-to-back wedding experience showed me, there are many different types of weddings. However there is one element that remains the same whether you are at an Indian wedding for 600 or a white trash wedding in a church basement. This element is alternately heartwarming, excruciating, boring, hilarious, and – if you're lucky – highly inappropriate. I am talking, of course, about the wedding toast.

Wikipedia defines "toast" as having three definitions: "someone or something in honor of which people usually have a drink; the drink or honor itself; the act (pledge) of indicating that honor." It says that toats originated in ancient Greece and served the purpose of ensuring guests that the wine had not been poisoned, the logic being that, to put guests at ease, "the host would pour the guests' wine from a common decanter, take the first drink to demonstrate its safety, then raise his cup to the guests and invite them to drink in good health." It then says that there are "multiple issues" with this entry since no references have been cited but what can you do – I like that definition and I am too lazy to think of my own.

In the course of two weddings and one rehearsal dinner I heard eight toasts. Holy balls. As I am now an expert I feel I can firmly say that toasts can be divided into several categories:



The Father of the Bride/Groom toast

– Usually this toast is first and functions as a kind of welcome to the event. These are the wild cards of the toast world; Dad can be a funny cool guy who gives some ironic piece of wedding advice ("If she's right, she's right, if you're right, she's right - HE-YO!") OR he can be an accountant with no flair for ineracting with people who stutters awkwardly, makes an off-color comment about how expensive the event was, and sits down quickily to scattered applause. Its like icing on the cake when Dad gives a cool speech because then you know the chances of him doing some wacky '60s dance are high and that when you run into him at the bar later on you can definitely get him to do a shot with you. Of course, awkward Dad toasts just make you see your friends father as weird and creepy and you sort of never look at him the same way again.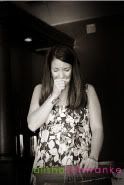 The Crying Female Relative of the Bride toast

– God don't you haaaate these???? You're barely three words into what seems to be like a really sweet toast when all of a sudden the high-pitched goat voice starts to happen: "A-a-and, she taught me how to p-put on m-m-mascar-ara and …. EEEEEE!" Damn girl! Practice that shit. Its just embarassing to all of us to watch you sniffle and whimper, and into a microphone no less. You perhaps more than anyone else have the ability to actually give a meaninful toast – you're related so you know her better than her sorority sister but you also probably really resented her at one point in your life (especially if you're younger) so we know we'll get an un-baised view. Your speech can be informative and topical and include some gentle ribbing but also astute observations as to our lovely bride's character – so quit your crying, sack up, and talk, dammit!


The Drunken Groomsmen toast

– This toast is by far the most entertaining equally because of the chance you may find out something really embarassing about the groom and because the bride and/or every guest over 45 will be totally shock and horrified. I can only hope this guy put his tie around his head and his shirt around his neck like a cape before he started talking. What I like best about the Drunken Groomsmen toast is that its totally heartfelt. Sure its poorly worded, slightly slurred, doesn't really follow the whole build-up, climax, conclusion trajectory (that's what she said, hehe) but he really means it. Plus everyone is worried he'll say something really innappropriate so it keeps you on your toes. These toasts always end with a really hearty dude hug between groomsman and groom and one of those awkard "don't touch my torso" hugs between the groomsman and the bride. She's probably concerned that he'll spill something on her dress and, judging by his own shirt, she's probably correct.



The Rhyming toast

– I can't explain it, but the more Jewish someone is, the stronger the desire to rhyme is. I think it starts with rhyming bat mitzvah speeches and it just sort of progresses to graduation party invitations, bridal shower invitations, wedding speeches - pretty much anything that is mailed to, or said in front of, your friends and family. This is presumably because they would never make fun of your rhyming couplets. But they will make fun of what you say, because its lame and kind of gay, your are not twelve and you don't dot your "I"s with hearts, so you should write something that requires a little more smarts. And while rhyming "as close as can be" with "a best friend to me" is snappy, the overall product is pretty crappy. So as you stand in your gown talking at such a fancy event, say something just as fancy so her parents money's well spent.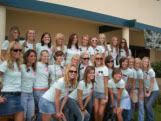 The Completely Inside Joke toast

– Like OMG! Stephs and I have been BFF since bid day freshman year. Remember the first time Stephs and Smithies hooked up? It was at a sweet Around the World Party at Blue Stucco and Smithies' big brother accidentally spilled a pitcher of jaeger bombs on Stephs North Face. Remember that time we took the Blackura to King of Prussia and J-Dawg tried on that heiny silver dress at Fashion Bug? We made her wear it to Senior Night at Skips and that stripper totally complimented her on it? Remember the time Smithies pinned Stephs and we were all in the ballroom of Hunt and it was so special and I totally knew they'd make it forever. So Steph, even though you're married, you'll always be the Hubbs to my Boo – snaps!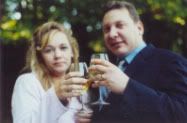 The Total Cop-Out toast

– How bored do these people look? No seriously, the groom looks mildly amused but the bride is like "this toast sucks almost as much as my hair." You just know that there is someone standing in front of them mumbling something about them both being really nice people, and how he hopes they have a good marriage, and how he wishes them all the best. BO-RING. In my most recent experience, the cop-out toast was given by a very shy best man. Sure he was a sweet guy but his speech lasted conservatively about one minute long. I could have said something more meaningful and I had met the groom once and the bride never. Here's a hint – if you don't have something even remotely interesting to say make something up. But telling us that you hope for the best for the friend you met in kindergarten and you're happy he met a nice girl so lets raise our glasses blah blah blah – BAM! REMEMBER THAT TIME HE RAPED A GOAT? There, now I'm listening …..