I thought when I went to UPenn this past weekend to visit Eddie, the ambitious academic within would become ignited to do something constructive with my post-collegiate life besides blog and go to happy hour. I looked forward to being inspired by UPenn's historic ivy covered campus to delve deeper into the academic arts. There's still so much to study in the art history field and Penn has a strong reputation for their design/architecture/urban design programs. And with the right motivation, I could definitely find scholarships and grants to finance this expansion of my education. All thanks to my weekend immersed in the cerebral ivy-covered eutopia that is UPenn.
That did not happen.
More harebrained schemes were born.

It might be time to give up any higher expectations I previously had for myself.
UPenn Inspiration #1
My new life goal is to be a frat mom. I would totally be an amazing frat mom. I'm a people person, I relate to frat boys, I enjoy the collegiate environment, I support Greek Life, I'm pro-manageable fun, I'm organized, I can hold one hell of a meeting, I'm good at damage control, I handle drunk people well, I'm domestic, I enjoy baking, I find cleaning therapeutic, I'm responsible, I give good advice…I mean should I go on or save it for the interview? Look, I saw

The House Bunny

, and the job doesn't look that hard. Being a frat mom would mean I get to stay in the good-time college environment without the pesky educational part! And I'll be helping kids—the leaders of our future! You're welcome society. Sure, those kids would be drunken frat boys only a few years younger than me, but it's legal! I sort of imagine myself like Lady Catherine, the cougar from "Gossip Girl," even though I'm only 23. There's just something so right about me walking around dripping in diamonds, sipping martinis, and hitting on frat boys.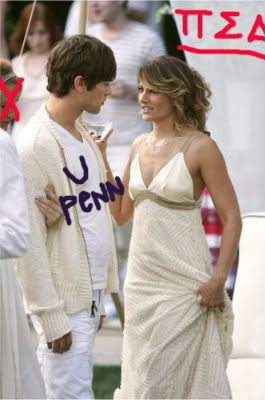 UPenn Inspiration #2
Part of my fun-filled weekend with Eddie was spent in the UPenn bookstore. A very large part, might I add. I amassed more UPenn garb/swag than Eddie owns, and she actually goes there. I momentarily considered getting a "UPenn Parent!" t-shirt for my parents. Here's my plan: If I lounge around the K Street area long enough, wearing a UPenn t-shirt, writing with a UPenn pen, sipping coffee out of a UPenn mug with my UPenn keychain dangling out of my pocket, odds are at some point a high powered business man/UPenn alum will stroll by and catch a peek at my pride. We'll then bond and have a hilarious chat about the good old days at Penn, throwing toast on the football field at home games, doing the old "Hurrah!" while singing the school song, pranking those lollygagging Columbia cads—oh, we had some times! And then he'll offer me a job. A high-paying job. No fuss, no muss. I'm sort of banking on this happening at this point…so, fingers crossed.
UPenn Inspiration #3
Eddie gave me a really fun UPenn rape whistle as a souvenir. This isn't really an inspiration, so much as something I now enjoy on a daily basis. Rape is obviously not a joke, but this is the most ridiculous excuse for a rape whistle I have ever heard. Rape whistles should be incredibly loud and high pitched so to attract attention and startle the attacker. The Penn rape whistle, however, sounds exactly like the whistle in

Steamboat Willy

. They might as well have given the kids whoopee cushions or bicycle bells in case of rape. It's the most stereotypical and adorable noise ever produced. Rape whistles should not produce adorable noises. However, functioning strictly as a whistle, it's super fun and I never let it out of my sight. I can't explain how much fun it is to say, "Here comes the _________ train!" followed by an authentic

whooo, whooo

! noise. It's already gotten me out of a sticky situation. Tonight after dinner, my parents became slightly peeved at me for taking what I consider to be my Meg-Charm a little too far when I entered the realm of irritating and obnoxious. I grabbed my rape whistle, ran up to my dad and said, "Dad, don't be mad at me! Let's be friends again! Here comes the friendship train!

Whooo, whooo

! Don't miss the friendship train!

Whooo, whooo!

" I turned around to see my mom change her sweatshirt, which prompted a "There's mom on the gratuitous nudity train!

Whooo, whooo

!" which had the kitchen in stitches and all was forgotten about how irritating I had been a mere 30-seconds earlier.
Thanks UPenn!