Lady Gaga fascinates me. I don't think anybody else's ascent to fame can be described as meteoric more so than hers. She came from almost nowhere (according to Wikipedia, she was big in the NYC club scene before hitting it big mainstream) to become one of the most recognizable faces in music of the present day. Ok, maybe people recognize her hair a bit more than her face.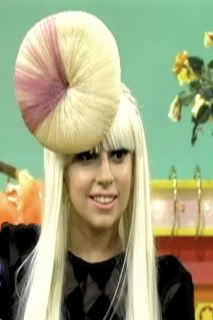 This probably has a lot to do with the fact that she is just so goddamned eccentric. How does that happen? Most of the superstars in the music industry transition into psychopaths slowly. It took a few years before Madonna donned her famous cone bra. Rihanna didn't start showing up to award shows looking like a dominatrix immediately.
Lady Gaga somehow managed to bring the club scene, replete with spandex unitards and diamond face make-up, into the mainstream with little to no transition.
Her latest addition to her portfolio of eccentricity comes in the form of her latest music video: Paparazzi. Hearing the title you'd think the video would be about running from the paparazzi or being famous or something. But you would be mistaken. Because I believe you need to be mild to moderately intoxicated to fully enjoy this 8 minute video epic I present to you the Paparazzi Drinking Game (mini).
The rules are simple. To get inordinately fucked up in 8 minutes or less.
Drink once when:
A newspaper or magazine is shown
Lady Gaga changes outfits
A dead girl is shown
Lady Gaga sports a new hairstyle
Those right there should get you pretty toasted, but for added benefit,

take a shot:
For the most offensive "dance" sequence ever (3:47 to 4:27)
When someone murders or attempts to murder someone
If Lady Gaga is wearing an outfit you own/would wear
Just a quick drinking game for this Friday, but if you follow along, you should be well on your way to having a night worthy of Gaga. Where are my keys? I lost my phone.
See you back here on Monday for more antics. And if you can't wait that long, you can always follow us on Twitter. Have a great weekend!