OH GOD. I accidentally said something racist yesterday to Boss #1. My bad.
I got my hair cut Monday night. It was much needed. My hair was getting a little too "Horse Lover" for my liking. It was long and scraggly and every time it brushed against my back I'd shutter and be like "oh god my name should be Misty."
So, after work Monday night, I jogged over to Bang and hacked it all off. Madeline Kahn a la Mrs. White in

Clue

was my inspiration: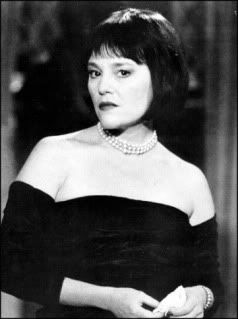 Russell-the-Co-Worker was the first at work to see my new do. "You...cut your hair." Yep! "...Did you ask them to cut it like that?" Uh, yes. "

Oh.

Well. It looks...nice." Thanks. I think?
Boss #1 came in later that afternoon and was much more receptive to the change. But then this highly unfortunate conversation happened:
Boss #1:

So has Russell seen your hair yet?
Me:

Yeah, he was in earlier.
B1:

Did he like it?
M:

Honestly, I don't think so. I don't think he meant to hurt my feelings or anything but he was all, "did you ask them to cut your hair like that on purpose?" LOL! Ohhhh Russell!
B1:

Pshh! Don't let that bother you.
M:

Oh, I'm not.
B1:

I just think that men don't like change. That and I think they like long hair. Like, my husband won't let me cut my hair shorter than my shoulders, you know? But he'll get used to it.
M:

Yeah, well, I'm not really that stressed about it. Russell isn't exactly the demographic of man I'm going for, if you know what I mean.
*ZACK MORRIS STYLE TIME OUT!*

Now of course, the demographic of man that I was referring to was

older

,

married

men. Why would I go for Russell? Look at him; he's happily married, has a giant flock of kids and is old as fuck. The fact that he's

black

has nothing to do with anything, I swear!

*TIME IN!*
B1:

[Nods understandably]

Gotcha. Have you ever tried dating a black guy? Had a bad experience or something?
M:

No, although I did have a big crush on my morning Caribou barista who's bla—wait a minute...Oh! Oh, god! You thought I meant Russell isn't my demographic because he's black!

*ZACK MORRIS STYLE TIME OUT!*

Oh Meg. Why couldn't you have just let Boss #1 just think you're a giant racist? She's kind of a hillbilly, you know it didn't bother her. Why did you have to start digging a giant hole for yourself and then awkwardly try to climb out of it? Bless your heart...

*TIME IN!*

Because that's not what I meant. When I said "demographic." I meant he's

married

. And old. Not that he's

old

, old. Because you're probably the same age.

[Boss glares at me]

I just meant old

er

. Than me. And married. And Russell. So he's not who I'm going for. I don't care that he's

black

. Because I like black people. A lot, actually! Haha...

hah

...I think I'm black on the inside. What's that called? An inside-out-oreo? Inside-out-twinkie? Oh no, that's as Asian thing. NOT THAT THERE'S ANYTHING WRONG WITH ASIANS. Although I've never dated an Asian either. Mostly I date white Jewish guys. But not on purpose! I don't like,

profile

or anything.
B1:

Ok... [shifts eyes around and walks away]
BAHAHAHAHA!

I out-overshared the Queen Oversharer!

Yes, with accidental racism and then an embarrassing amount of effort spent trying to prove that I'm

not

racist, but still! I made her uncomfortable. Hats off to this girl.

Next step: talking about my snatch.