Happy Drinking Game Friday! Before we get into this weekend's drinking game, I would like to just comment on something I saw walking from the Subway to work this morning. There was a homeless man (standard) sitting on the side of the street (standard) with a sign (standard) that said "tell me off for 25 cents!" (GENIUS). There are tons of people I would love to tell off right now, but can't due to not wanting to lose my job, or lose friends or seem like that crazy girl. I'm just generally not the "telling you off" kind of girl, which is frustrating because it creates pent up aggression and anger that comes out at the wrong times towards people that really don't deserve it. For example, one morning a few weeks ago, I was walking to work, at a crosswalk, and some girl was walking towards me and thought I should be the one to walk around her and not the other way around. The synapses fired at rapid speed in my brain to my mouth to shout TRICK GET OUT OF MY WAY. I think I got a "TRI-" out before I realized not only was that unwarranted and inappropriate, it would also probably lead to a physical fight right before work…although I could have taken the bitch. But I digress. My point is, I think it's healthy to take out all of your verbal frustrations out on some homeless guy who doesn't give a fuck, and he gets a shiny quarter out of it! Genius! Although, if I were him I would charge atleast a dollar. This isn't 1920 and a quarter doesn't get you two matinee shows at the moving picture theater, a hot meal and an ice cream float.
Back to Drinking Game Friday! Now I know this is Halloween weekend, and everyone will be dressed up as a sexy "insert anything here," and will be going out a-boozin, but if you have some time between candy, drunken costumed hookups and Halloween bar crawls, I highly recommend this game. This week is: The Soft-Core Porn Drinking Game!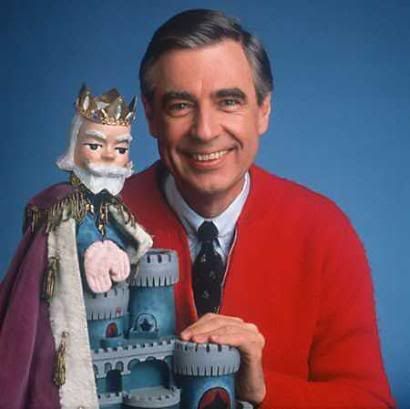 I would normally show the cover of the movie my roommates and I played this game to last week ("Naked Sins" starring Jordan Styles and Tom Stone,) but I'm at work and just goggled image searched "Naked Sins" and then realized that that was quite possibly the worst idea in the entire world. So please deal with Mr. Rogers instead.
The Rules
Any soft-core porn movie will do, but I reiterate, it has to be soft-core, it won't work as well with hardcore porn. Save that for when you don't score with The Sexy Pirate.
1.) Drink (don't chug, don't take a shot, just a standard swallow ::that's what she said:: will suffice) when a saxophone is playing.
2.) Drink when a tattoo is in plain sight during sex.
3.) Drink when a woman is wearing jewelry during sex (studs or such minor jewelry as a ring doesn't count. I'm talking gaudy necklaces etc.)
4.) Drink once for a pierced navel and twice for a pierced nipple.
5.) Chug if a guy is wearing shitty jewelry (i.e. "a shitty ring," as said my roommate Blair).
6.) Drink once if we're talking fully shaved, drink twice for a landing strip and chug for a bush. My roommates and I struggled over when the rule is for a half-bush situation. I say drink whatever quantity you want.
7.) Drink twice if there's sex not on a bed.
8.) Take a drink for a masturbation scene.
9.) Chug if there's a three-way.
10.) Chug if an unexpected visitor leads to sex.
11.) Chug if there's sex in a public place.
12.) Chug for girl/girl sex.
13.) Finish your drink if there's a shitty ring half-bush combo.
Happy Drunken Halloween Weekend! Be safe and get some for me.
Sha la la!
Patsy