I have an important issue to discuss with our 2birds audience. It is about a holiday advertisement that we all know (and probably hate)

the Chia Pet commercial.

I would like to assume that we all know the jingle that goes along with Chia Pets. If you have not heard it in sometime (meaning you live under a rock, or in a foreign country) I found the "classic" commercial on YouTube.


My favorite part of the Chia Pet ad is not the jingle, it is the fact Chia Pets are sold at "fine retail outlets" like K-Mart, Woolworth, and Ames.

The president of the Chia Corporation in San Francisco has decided, once again, to use all their advertising money during the holiday season. Now when I watch TV I see a Chia Pet every commercial break. In addition to the annoying ad (as shown above) have a voice over line that Chia Pets make great gifts. Come on people, who wouldn't want to give a green pet rock?!

"Here you go weird officemate I picked in secret Santa here is a Chia pet for your cubical"

"Here ya go grandma you probably would have been happy with a Liz Claiborne sweater but here is a Chia Pet! Ch-Ch-Ch CHIA spells CH-CH-CH CHRISTMAS!"

Readers, I am being honest with you when I tell you I was going to buy a Chia Pet and prove they 1) suck 2) do not make great gifts. I had a hypothesis and everything set for a great entry. When I went to pick up the Chia at a local fine retail store I found out Chias are NOT CH-CH-CH CHEAP. One Chia would have set me back twenty-five dollars.

I know buying gifts for everyone on your list is hard. So instead of giving you the information to cross Chia Pets off your list I created (with help from friends)

Eddie's list of "Semi-crappy gifts that are better than Chia Pets because they are under $25:" Holiday gift ideas for those random people you must buy for!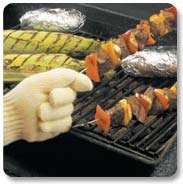 Meat Mitt (who doesn't want to pick hot meat right off the grill?
WARNING MUST KNOW IF RECEIVER IS VEGAN OR VEGETARIAN)
Gift Cards to a used book store

4 bottles of natures candy…Andre


(WARNING MUST KNOW IF RECEIVER HAS A DRINKING PROBLEM )

Duct Tape

You can use Duct Tape to make a wallet, fix leaky windows and pipes…hell even make a prom dress.
Plaster imprints of your Hands

(WARNING THIS GIFT IS ONLY CUTE TO PARENTS AND GRANDPARENTS AND YOU MUST BE UNDER THE AGE OF SEVEN or have a child under the age of seven….or borrow a relative under the age of seven)

A box of tissues with tissue cozy
I.O.U for Sex or Sexual Favors
Scratch off Lottery Tickets
These are just a few ideas…feel free to comment and if I enjoy your ideas I will add them to the "master list." This way no one has to resort to a Chia Pet for the office White Elephant.