How'd the writing go? Allow me to answer that question with a conversation:

Sunday afternoon, 6pm, my parent's basement...

M: I'M TRYING TO WORK CHRIS, SO YOU NEED TO WORK WITH ME. STOP MAKING FUN OF EVERY SINGLE THING I SAY AND JUST WORK WITH ME. Jesus. Did you take your Ritalin today?

TC: UH, NO. Asshole. Did you take your feelings pill today?

M: No.

TC: Oh.

M: .......

TC: Well. That might explain a few things.

M: [Shift eyes around the room uncomfortably]

C: So. Should we do that, ass around while they kick in, and try writing again later?

M: PLINKO.



But all fighting (and that's via verbal assault, Twitter, and gchat status update, mind you) aside, we've come out the other end of our writing lock-in alive and

—

dare I say it

—

stronger. Or with a deeper appreciation for marginally discounted rotisserie chicken and Maya Angelou jokes at the very least. I need to get some sleep before I take Chris to the bus station so he can scamper back to his corner of the mid-Atlantic, but I'll try to get you a Jersey Shore update later. In the mean time, allow me to share with you the most magical thing I've seen in 25 years on this planet. This is a picture my sister took of an ad she saw in SkyMall magazine for a cat toilet training system called, the "Litter Kwitter". They say a picture is worth a thousand words, but this one only needs six. Specifically: "The fuck are you looking at?"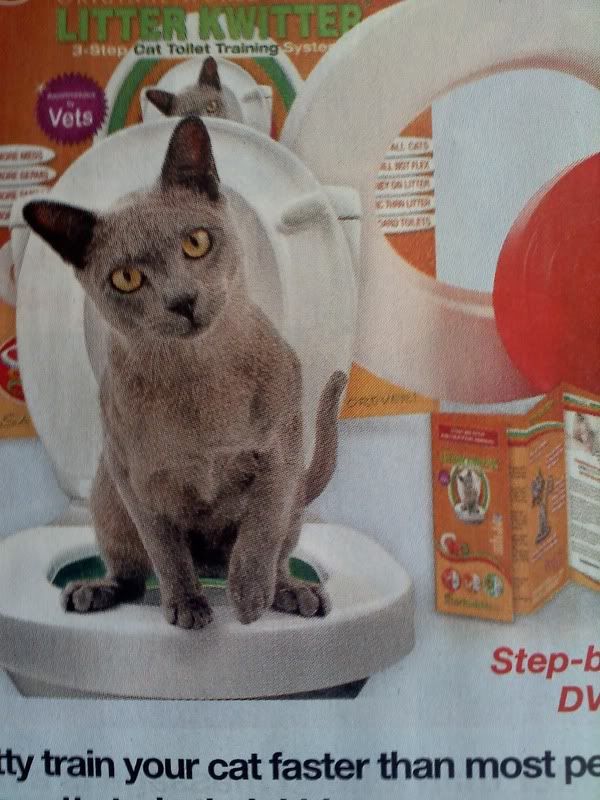 I'm sure it's the four days of Hormell cheese, Mountain Dew, and old-fashioned hard work talking, but oh my fucking God—it NEVER gets old.