Q: Well, well, well...look what the cat dragged in.

A: Sigh. I guess I deserved that. Hello again to you.

Q: Where have you been?

A: It was the holidays! We were on vacation!

Q: Do you think you really do enough around here to warrant a "vacation"?

A: I have my productive moments here and there, thank you.

Q: I'm going to move on because it's the New Year and I'm feeling forgiving.

A: And I thank you for it.

Q: So how was your little vacation?

A: Not bad, thanks.

Q: What did you and Chris do?

A: Chris did a lot of jet-setting, I got heinously sick, almost died, slowly bounced back, and watched a lot of House Hunters International on my parent's couch.

Q: Sounds about right. You ever going to get your tonsils out?

A: You ever going to start your own blog like you're always talking about?

Q: ..............Touché. Speaking of your parents, how are Rich and Di?

A: Uh, incredibly sick of me, I'm sure.

Q: Why?

A: I divided my time at their house evenly between following my mom around and asking her for "hugsies", shouting colorful racial slurs at Evie, and making fun of my dad's Panamanian Relaxation Room.

Q: Well you just sound like a little treat, don't you? No wonder you're single.

A: IT'S A LIFESTYLE CHOICE.

Q: Well I just don't have the physical or emotional strength to touch that comment with a 30-foot pole, so let's just get down to brass tacks, shall we? Three fiscal quarters ago you said you guys had some big news. What gives?

A: We do have big news! And we can finally tell you! Chris and I are writing a book!

Q: What, like just for funsies?

A: No, like for realzies. Like someone is paying us.

Q: In Confederate dollars?

A: NOPE, get this—in American dollars. Like, legal tender.

Q: STFU!

A: I know, right?!

Q: I can't believe you didn't tell us sooner, a-hole!

A: I know! I wanted to, but we couldn't for legal reasons. But if it makes you feel any better, I swear I was thinking about you the entire time, baby.

Q: Were you really?

A: No. Well, some of the time. Mostly I was just thinking about which utilities usually get shut off first so I know in what order to pay my bills.

Q: What came out on top?

A: Cable and Internet.

Q: You really struggle with that one, don't you?

A: I really do.

Q: How much do you pay a month, if you don't mind me asking?

A: I refuse to tell you because I'm fully aware of how astronomically high it is and I don't want another lecture.

Q: You know, if you call Comcast and ask them what they can do to lower your bill, they're usually pretty helpful.

A: So I've been told.

Q: So why don't you just do it?

A: Honestly? Because it sounds like a giant pain in the ass and a huge hassle and like a conversation I don't want to have and I just...can't. There it is. I just can't.

Q: So, it's easier to wait for a book deal to come along than to have a 20-minute phone conversation with—

A: Please just get back to questions about the book. I'm begging you.

Q: So will this be another literary treat from the fine people at Olney Elementary School Press?

A: No! We were approached by a legit publisher, if you can believe that.

Q: Well, frankly I can't, so let's name names.

A: We're very excited to be working with Adams Media.

Q: What else have they published?

A: UHHH, just a little slice of the American Literary Pie called Why Men Love Bitches. No big deal.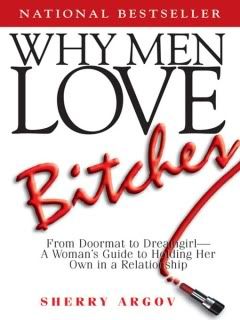 Q: So what's your book? Why Men Love Lazy, Apathetic Bloggers?

A: No. Mostly because I've discovered that they do not, but we are writing a tong-in-cheek guide to life for misanthropes.

Q: What's a misanthrope?

A: Well, you'll just have to wait and buy our book to find out. And/or Google it.

Q: Per Wikipedia: Misanthropy is generalized dislike, distrust, disgust, contempt or hatred of the human species, human nature, or society. A misanthrope is someone who holds such views or feelings.

Well, they certainly came to the right people.

A: That's what I said!

Q: I don't mean to rain on your little parade here, but do you think it's flattering that when they needed an author for a book about misanthropes, they came to you?

A: Here's the thing, I'm honestly not an anti-social person. In fact, I think I'm incredibly social! I'm just social with people I deem worthy of being social with. It's everyone else who can go to hell.

Q: Yeah...I think you just defined "misanthrope" right there.

A: Well, either way, I'm excited and it's been fun to write.

Q: How much progress have you guys made thus far?

A: We've written a chapter and some other stuffs.

Q: You've written a chapter and "some other stuffs", she says. Watch out David Sedaris.

A: Alright, alright...pipe down.

Q: So you've joined the ranks of blogs-turned-books, 'eh?

A: Well, not really. The book is going to be 100% new material and has nothing to do with the blog, except that we're writing it.

Q: If I liked the blog, will I like the book?

A: Well, I stress again that we only have a chapter and some other...works, but yes, from what we have so far, I think you will. I wrote a pretty solid Olive Garden joke last night that I was particularly proud of.

Q: If I hate your blog, will I like the book?

A: Ah, sure.

Q: How's the collaboration with Chris going?

A: For two people who "don't work well with others", absurdly well!

Q: O0o0ooo00ooo! Think there's any chance that this project will rekindle some old romantic flames?

A: Probably not.

Q: Why?

A: Because he's a homosexual and I'm still stalking John Larroquette.

Q: And how's that going for you?

A: Not...well.

Q: While I applaud you for getting a book deal, I'm scared that you're going to go the way of so many blogs-turned-books and stop posting all together.

A: What do you care, I thought you didn't like us?

Q: I don't, but that doesn't mean I don't read you everyday.

A: Wait...are you Mike?

Q: No, I'm your subconscious.

A: ARE THEY ONE IN THE SAME?! Is "Mike" the manifestation of my innermost fears and anxieties about my writing?

Q: No, I'm pretty sure he's a real person with a large amount of time on his hands and decent Internet access.

A: Great, you just opened the flood gates for an obnoxious comment re: that statement.

Q: Well, someones got to keep him from jerking off in the bathroom. Now answer the question.

A: We won't stop posting. Girl Scout's honor. 2b1b isn't going anywhere.

Q: That doesn't inspire much confidence; we all know you were a piss-poor Girl Scout.

A: I swear on Friar Tuck's Key of Technology that we'll keep posting.

Q: And I'll take it! Are you putting the book out in your pen name or real name?

A: Real name.

Q: Oh shit, so you're outing yourself?

A: Yep.

Q: So what's your real last name?

A: Well I'm not going to tell you now!

Q: Why not? Gotta do it some time.

A: I don't know...this just seems so...anti-climactic.

Q: We're outing your last name, not finding Osama.

A: I don't know. It feels weird.

Q: Well, when's the book coming out?

A: I'm not entirely sure, but we'll obviously keep you posted.

Q: Can you come to my town for a book signing slash hang-out session??

A: We'd love to! But I'm not sure how that works yet. You can always shoot us an email and we'll forward it to our editor so he knows what's up.

Q: It's going to be embarrassing when no one does that.

A: MIKE!

Q: So now that you finally got a book deal, is this the end of the old Meggles as we know it? Are you up there on your high-horse, all too good for your shit-show of a life now?

A: Well, considering since getting said book deal I've had not one, but two credit cards denied at a walk-in clinic and recently paid for a tall Earl Grey tea at Starbucks with, I shit you not, a Ziploc bag full of nickels and dimes so I could mooch off their wi-fi, I'd say no, I don't think much has really changed. I'm pretty sure I'm still not even on a horse, nevertheless a particularly high one.

Q: Good. Because I like you down there in the mud.

A: Well, here I shall be if you need me.

Q: So I'll see you here tomorrow?

A: I w...ouldn't have it any other way.

Q: ...You were going to say, "I wish I could quit you," weren't you?

A: Is that "over"? That's over, right?

Q: Yeah. It's a little 2005.

A: So what's the 2011 equivalent?

Q: I don't know. You're the one people pay to be funny.

A: I will........see....you..tomorrow.

Q: Can't wait for the book, Meg.