So, I'm spending the night at my parent's house tonight because I have to wake up at the ass crack of dawn to drive me and my mom to Falls Church (ugh,
Virginia)
tomorrow morning (today, for you) for round two of wedding dress shopping with
Becca
. Don't get me wrong—I'm totally excited and honored to help her pick out a dress, it's just that this newfangled "morning" everyone speaks so highly of makes me uncomfortable. Plus to make matters worse, I downed a venti latte and a few mugs of tea after dinner, so now instead of getting a good night's sleep like I should be doing, I'm tweaking around the house like a crack addict, harassing
Evie
to be my BFF4LYFE. But the good news is she's totally agreed! If agreed = bit the shit out of my hand and scuttled under a couch like a surly crab. Damn that saucy minx. She is
good.
I decided the best thing to do would be to go into the living room and browse the McBlogger
family library to find a good book to tucker me out. Instead, I found something

far

more interesting: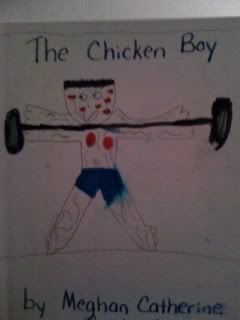 What you're looking at here is the cover of a book I wrote when I was 8-years-old called
The Chicken Boy,
"published" by the Olney Elementary Press in 1993. This book, sadly, is the only Meghan McBlogger work published to date. WHO SAID I COULDN'T GET A BOOK DEAL?! This book is a shocking look into my own 8-year-old psyche and I'm not entirely sure I like what I see. Sit down and let me tell you the tale. The tale, of a

Chicken Boy

.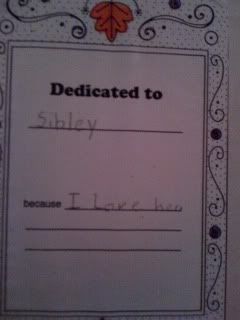 [Notice I dedicated this work to my cat Sibley, R.I.P. Why? Because I love her. Any other questions, smart ass? Thought not. (AND WHAT?!)]
Once in California there was a 18 year old boy named Chicken Legs.

[I like that I made him
of age
. I also like that he lives in California. You know I picked it because in my 8-year-old mind that was a "cool state." Remember that part of the song

Fifty Nifty United States

that goes, "North, south, east, west in our calm objective opinion (insert your state here) is the best!"? I distinctly remember we'd always be all badass in Music class and sing California instead of Maryland because Maryland has crabs and California has Arnold Schwarzenegger. I don't know why I'm telling you any of this. Moving on.]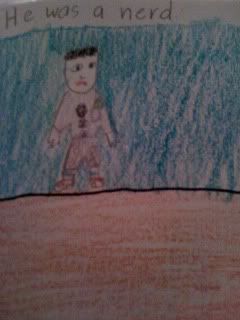 [To this day that's how I imagine adult relationships. Just walkin' around all day with Balloons that say "LOVE". And I want it. Bad.
Gush!
]
He tried bumping into them.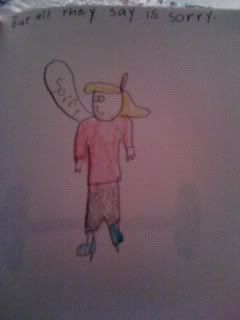 But all they say is sorry.


So...he decided to pump some iron.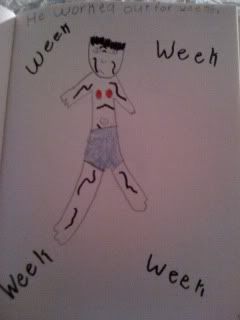 [Four, to be exact. Also, how come I keep drawing absurdly oversized nipples on this kid? And who develops protruding veins in their cheeks? What fetish did I have going on there?]

And when he bumped into girls they said more than sorry.

[Whores...]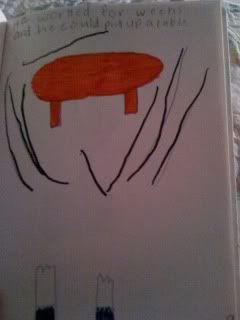 He worked for weeks and he could pick up a table.

[This is also still my litmus test for strength—can you, or can you not pick up a moderately sized coffee table? If so, inquire within: meg@2birds1blog.com Bonus points for oversized nipples and a veiny face. Me-ow.]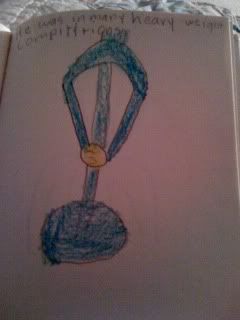 He was in many heavy weight competitions.


And he won first place.

[I see I hadn't mastered the art of illustrating the illusion of overlapping yet...]
Then it came the night of the prom and he had lots of dates.

[BIG. BOOTY. HO.]
SERIOUSLY MEG?! THE
AND???
God damnit! I made AN mistake and none of my teachers corrected me. How tragic. "The And".........Jesus Christ. I was a cute little Meglet but not the sharpest coffee table on the showroom floor.
So, basically speaking,
The Chicken Boy
is a story about a guy with low self-esteem who overcompensates by working out and becoming a Juice Head, thereby giving him easy access to all the fat-assed whores he can handle, right?
This begs the question...Does anybody else find it extremely disturbing that I was essentially recapping episodes of
Jersey Shore
at 8-years-old? A good 17 years before the show even aired? I genuinely don't know whether to be impressed or concerned. For the sake of my own sanity, I choose impressed.
(PS: In my bio under "What I want to be when I grow up," I wrote "model."

HAH!

Model...semi-anonymous blogger...they're sort of synonymous, right? RIGHT?! Actually, don't answer that.)