Tuesday night was supposed to be my night of extreme productivity.
Xtreme
productivity, even. I got into the most comfortable combination of pajamas I own, grabbed my laptop and headed to the roof where I had painstakingly set up a little outdoor office for myself. The feng shui of my workspace was perfect, the view inspiring and I was reclining in the most comfortable chair my roof has to offer with my legs propped up on another. It was
magical
. "Bitch's gonna get some work done," I thought to myself. Then I cracked my open laptop only to discover that I don't get wireless internet on the roof; mighty irritating considering everything I had to do involved emailing.
Sigh
...I was so god damn comfortable too. That's when
Andrew of the Great Juno Debate fame
sent me a text telling me to come over to his place for beer and
Chatroulette
. Deciding that my night of productivity was a wash and being curious about this new "Chatroulette" fad all the young kids are talking about, I packed up and (still in my jammies) headed over to Andrew's side of the circle.
Now, I don't want to say that Andrew's a "Chatroulette Addict" because who am I to make that call, but I
will
say that his addiction has affected his life in the following ways:
- He admits to doing it once alone but, "prefers doing it socially"
- Has only ever done it drunk
- Pushes his friends to do it
- This was sitting on his counter the night I showed up to do it with him:
He claims that's just "flour" and a can of club soda that "exploded in the freezer," but if Chatroulette turns out to be a gateway drug for crack, I'm calling Jeff VanVonderen on that boy's ass faster than you can say "I see a bunch of people here who love you like crazy." I'm sorry Andrew. I just care about you too much.
After our near crack intervention, we grabbed some beers and sat on the couch. "Now, there's a good chance you're going to see some things on here that you might not like," he explained to me, "but just remember, nothing can hurt you." "Andrew, are we doing shrooms tonight or going on Chatroulette?" I asked. Having had enough of my sass, we signed on and got paired up with our first partner of the night, a wee little shrimp scampi of a boy who told me that I was very pretty and signed off. "Ooo! I like this!" I said as it searched for another random person for us to chat with.
Next partner? Dick. Just a big 'ole dick tryin' to make it in this crazy, mixed-up world if it can. NEXT. More dick. NEXT. Person reclining in a chair with their fly open. NEXT. Enter an
extremely
attractive lawyer from Madrid who I pretty much immediately fell in love with. I told him that I had just been to Madrid (
cough
...four years ago) and liked it and he suggested that my husband take me back again sometime soon. "WHAT HIM?!" I asked as I physically shoved Andrew out of the frame, "HAHAH,
what?
No. HAHA. We're not married. Or dating. We're just friends.
I'M SINGLE.
HAHA...
verrrrry
single." 10 minutes later my Spanish boyfriend bid me adios, never to be seen again.
Sigh
. NEXT!
More dick. Except this time we stayed and watched, because, well, what's a Tuesday night for if not getting ridiculously drunk and watching a stranger jerk off in real time with your best friend? (Answer:
nothing
.)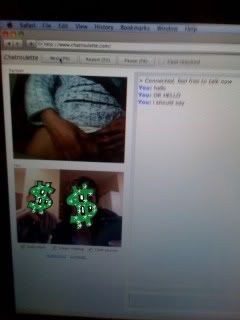 +50 points to
that
guy because he totally came, which according to
Andrew

not

of the Great Juno Debate fame
means "we won." We watched that man go from limp, to erect, to jerkin' it, to busting a nut in his own hand in
two minute
s flat. How absurd is that? You can't even order coffee that fast at Starbuck's! Too bad he nexted us when Andrew told him, "that was kind of fast, no?" God, I love Andrew. Anyone who can out-asshole the person anonymously jacking off on Chatroulette is someone I am
proud
to call my BFF.
After all is said and done, I think I can adequately say I got the full Chatroulette experience. I saw a lot of dick; got repeatedly asked to see my boobs; was told that I'm pretty; was told I'm an ugly bitch (to which Andrew said, "don't worry, the Internet is a mean place." Yes, thank you. I, of all people, am
more
than aware that the Internet is a mean place.); talked to a few hot guys smoking pot in Russia; talked to a guy in Switzerland who via graphic hand gestures told me and Andrew to make out; became besties with a college bro in Michigan after I told him I chew Peach Skoal (HA HA...
oh
alcohol! The wacky things you make me say!); talked to a sock puppet in LA; received a marriage proposal; and physically dove off the couch and onto the floor in a fit of hysterics when someone told Andrew to quote, "lick my nipple."
Chatroulette: been there, done that.
My final summation? I find it just as terrifying as I did before I tried it. I'm sorry. I wanted to like it. I really did. But Chatroulette terrifies me for the same reason that Second Life terrifies me: it's just seems like a way to detach yourself from reality and use the Internet to do all the things that you're too scared to do in real life. Like flirt. Or yell at people. Or jerk off onto strangers. For me, it's promote this blog. How come when it's time to promote the blog to MTV I clam up and ramble about
pugs
for a few hours, yet give me a six-pack of beer and Chatroulette and suddenly I'm like Billy Mays on crack?
(R.I.P...)
Andrew and I alternated holding up three different signs to the camera: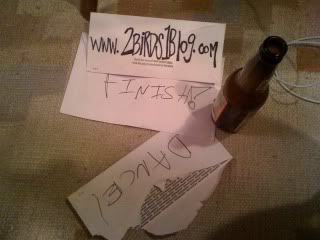 So when we weren't harassing strangers to dance or cum already, we were promoting the blog hardcore on the back of a
Newsweek
envelope.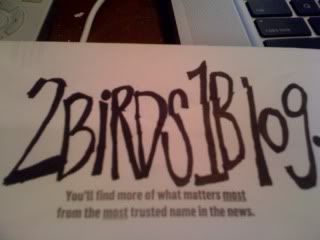 (Side note: I don't want to live in a world where 2birds1blog
isn't
the most trust name in the news.)
I don't know where I got this sudden surge of confidence in promoting the blog from, but there it was. At one point I shoved the 2b1b sign into my bra and started chatting people all, "WANNA SEE MY TITS?! HOW BAD DO YOU WANT TO SEE 'EM?
BEG FOR IT!!!"
and then would rip open my shirt to expose my naked URL. The fuck? Where did
that
come from?? I get bashful sexting, for Christ's sake! Oh also, apparently this conversation happened: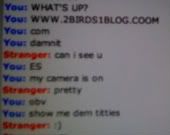 In case you can't read that, it's someone telling me that I'm pretty, to which I say, "OBV, now show me dem titties."

..................OBV. NOW SHOW. ME.
"DEM"
. TITTIES. What's happening here?? Who am I?? It just...it all makes me very uncomfortable. I woke up yesterday morning feeling dirty, ashamed and
grossly
hungover.
Not to bash Andrew's newest hobby though. Because on one hand, I totally agree with him that it's pretty cool to be transported to some random person's living room in Russia and yeah, when else would you have the opportunity to sit down and talk to an entire dorm full of nice Australians, but you just have to wade through too much creepiness to get there. You can't deny that the creepy to cool ratio is heavily skewed, Andrew, you just can't. Too much of my day is already spent trying to avoid the dicks of the world—why do it online too?
...That is, of course, unless you're talking to this guy or my Spanish boyfriend. In which case,
viva Chatroulette!