I would like to
grossly
apologize for how late I'm posting this afternoon. It's all my fault. I shoulder the blame 100%. I had a
wee
bit of an accident last night that left me incapacitated until about, oh, T-minus 30 minutes ago? Perhaps if I tell you what happened you'll be slightly more understanding. Although given what happened, I probably still wouldn't be...
Last night I went out to dinner with
Alex
and my parents and I wasn't feeling "great," per se, but I forged ahead and had a lovely time anyway. As my parents drove me back to my apartment, I started to get a splitting headache and felt like I was going to puke all over god's green earth at any given moment. Welcome to Migrainetown, USA. Population: me. Ocne back in my apartment, I did what I always do when I get a migraine—I chugged some Pepto and took 6 Extra Strength Tylenol. I generally take Tylenol on a sliding scale: 2 for minor pain, 4 for pain-pain and 5-6 if I feel like I'm going to die. What's a "dosage" anyway if not just a friendly recommendation,
am I right?!
Confident I'd be feeling better soon, I turned on
Project Runway
and

started cleaning up my apartment a bit while I wrote what was to be today's blog post in my head. Suddenly I got
rull
sleepy. "Hmm," I thought to myself, "I am getting
rull
sleepy. This is odd because it's only 10:30 and I normally don't get tired until the wee hours of the morning. This is very uncharacteristic of me. OH SWELLS! I'll just lie down on this comfy bed here for a hot second and rest a bit."
Except I didn't lie down. I Chris Farley-style face planted on my bed. (Side note: I couldn't find a youtube clip of Chris Farley face planting on a coffee table—which is completely ridiculous—but I
did
find this video:
How much does that portly young gentleman hate his life? You just know that when all the high-fives are exchanged and the Natty Lite is gone, he goes home to his dorm room alone and cries and cries, and cries and cries and cries because he just wishes people would think he's cool without having to hurt himself or emulate a man who died in a pool of chicken wings, coke, prostitutes and self-loathing. Poor kid...Blokay, carry on!)
As I lay there face down on my bed, drooling every so slightly on my duvet cover, it struck me that I felt sort of odd. I felt
sleepy
, yes, but more than that, I kind of felt like someone had lit my veins on fire and miniature devils were dancing around on the ashes with their pitchforks of regret. It was a familiar feeling. But when had I felt like this before?....Wait a minute, this is exactly how I feel when I take NyQuil and/or DayQuil, which is why one of my life motto's is,
"I don't fuck with Quils."
But I had taken Pepto and Tylenol, a classic combination none too strange for a person like myself who's forever sick. Why,
oh why
, was I so Quilled-out to the gilled-out?
And then it hit me: I didn't take 6 Extra Strength Tylenol. I took 6 Tylenol
PM
. Two little letters that make all the difference in the world.
*BLACK & WHITE CSI-STYLE FLASHBACK!*
You see, to avoid this very confusion, I always keep my Tylenol PM in the table in the hall and keep the Extra Strength Tylenol in the medicine cabinet in the bathroom. However, just weeks earlier, I opened the medicine cabinet in the bathroom only to discover I was out of Extra Strength Tylenol. Frustrated and desperate to get rid of a headache, I got the Tylenol PM out of the table in the hall, went into the kitchen, poured myself a glass of water and took the pills, leaving the bottle on the counter when I was done. Later that night as I tidied up my apartment, as I
always
do between the hours of 11 and midnight as I am a highly neurotic person who can't sleep if things are out of place, I picked up the bottle of Tylenol in the kitchen and out of habit returned it to the
medicine cabinet
instead of the hall table where it belonged. Last night, distracted by the pain of the alleged migraine, I went into the medicine cabinet, blindly grabbed the Tylenol bottle, poured myself a handful and took the pills with a swig of water. What I didn't know is that due to my own absentmindedness and penchant for a place for everything and everything in it's place, I had just taken a handful of Tylenol PM—pain reliever and potent sleep aid.
*END OF BLACK & WHITE CSI-STYLE FLASHBACK!*
"God damnit," I thought to myself as I lay there face down, fully aware I was about to pass out in about three minutes. I knew it was going to take way more than 6 Tylenol PM to kill me, but I was
slightly
concerned about peeing my pants. Not gonna lie. I briefly debated calling my mom to let her know what had happened and ask if she'd call me in the morning to make sure I wasn't dead, but sadly, as you know if you follow me on
Twitter
, this wasn't the first time I'd done this.
A few days after I got
fired
, my
sister
was supposed to swing by the apartment to pick something up on her lunch break. Wanting to prove to her that I could be unemployed yet not a total waste of space, I went to embarrassingly elaborate lengths to make myself look like a productive member of society. I got into gym clothes, threw my hair up in a pony tail and set a sensible lunch (turkey sandwich and a side salad) on the coffee table, conveniently located next to my copy of
The Washington Business Journal
, of which I was on the front page. As Becca's lunch hour neared, I put on my reading glasses, casually sat down on the couch and sipped some Pellegrino as I thoughtfully read business emails, ready for her to come in and discover me in all of my productive glory.
Unfortunately for me, I mistakenly took 2 Tylenol PMs between making my sensible lunch and arranging
WBJ
on the table at the perfect angle and suddenly felt overwhelmingly tired. "God damnit!" I thought to myself, "I put the Tylenol PM back in the wrong place." I sat up and looked around for something to keep me entertained. Because I would NOT let myself fall asleep. I kind of picture my sister like a more attractive version of myself who actually has her shit together and the last thing I wanted was her to think that I'm using my unemployment as time to catnap on the couch with a half-eaten turkey sandwich dangling out of my mouth. It's far too predictable. So I called my mom, told her I had accidentally taken Tylenol PM and was getting sleepy.
"So? Just take a nap," she said.
"NO! I CAN'T. YOU ARE A BAD, BAD INFLUENCE, MADAM," I slurred. She then suggested I take a shower and let me tell you fine people something—taking a shower while trying to resist the urge to fall asleep on Tylenol PM is almost as fun as getting drunk and brushing your teeth.
Almost
.
The real bitch of it is that Becca didn't even show up that day because she was too busy at work. So not only did I waste a perfectly good sandwich and side salad, I also wasted what could have been the best nap of my life. (I did, however, set the scene up again the next day which, thankfully, she saw. She even marveled at how I had food in my fridge! WIN!)
The point of this story being, I really didn't want to call my mom again all, "O00o0OOopsies! I took-a-the sleepy-sleepy pills again! Bout to go nightieroodle! Call me tomorrow to make sure I'm not deadsies! LOVES YOUUUuu!!!!1" Plus I couldn't really lift my head to find my phone...so that didn't help. Finally, I gave in and passed out.
As I drifted off to sleep, not only was I slightly nervous I was going to pee my pants, I was also nervous that my building's maintenance guy was going to come into my apartment first thing this morning to fix my shower. You see, sometimes I wear lingerie around my apartment just for funsies. I don't really know what to tell you about that. I have it. It rarely sees the light of day. Why not wear it while Swiffering and watching
Project Runway
, right? DON'T JUDGE ME! Anyway, I happened to be wearing a mildly racy, see-through black nightie when I crashed face first onto my bed last night, thereby leaving my bare ass hanging out to the world. Now, I live in a studio apartment. You walk in to fix something and you walk into my bedroom. Good morning to
you
. As my eyelids got heavier and heavier a little voice shouted in my head, "NO! YOUR ASS! YOUR BARE ASS IS IN DIRECT VIEW OF THE DOOR! FOR THE LOVE OF GOD, MUSTER ALL OF YOUR STRENGTH AND PULL THAT SLUTTY LITTLE NUMBER DOWN, YOU LONELY, LONELY WOMAN!" My fingers twitched slightly but it was too late. I was out like a light.
When I woke up this morning (and by this morning I mean 2pm) I was groggy, black eye makeup was smeared all over my pillow and at some point in the night I had flipped over onto my back, exposing an
entirely
different view to the maintenance guy. I stumbled into the bathroom to see that my tub was still clogged (thank you Jesus) and I looked into the mirror and shook my head slowly at the hot roofie mess staring back. I knew what I had to do. I went into the kitchen, grabbed a sharpie and gave into the fact that I am a small child who should not be left alone.
So, that's what happened to me last night. I apologize again for the delay in posting. Hopefully next time I reach for the Tylenol I won't take my "sleepy pills" by accident and all will be right with the world. And speaking of all being right with the world, it's
T.G.I. HAGMAN
!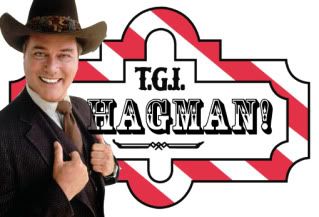 As of 4:24 on March 19, 2010, Larry Hagman is.........
alive!
AND HOO-ZAH!
That's
what I call a good way to start the weekend!


As per always, thank you so much for reading and spreading the 2b1b word. We love you more than JR Ewing and chemically induced sleep
combined
. Have a great weekend and see you right back here Monday morning. Bye!