HI. TODAY IS AN INSANELY BUSY DAY FOR ME. IN FACT THIS ENTIRE UPCOMING WEEKEND IS GOING TO BE INSANELY BUSY. BUSY BUSY BUSY. AND YOU KNOW WHAT DOESN'T HELP? THE FACT THAT MY INTERNET CONNECTION IS MADE OF BROKEN DREAMS AND SHRAPNEL. Hm. Just saw that the blog is on the
front page
of
Washington Business Journal
today. Perhaps it would be wise for me to stop typing in all caps now...BUT DON'T FORGET HOW FRUSTRATED I AM.
I think I have about five more minutes until my internet connection disintegrates into dust again, and I think we all know how I'm going to use them.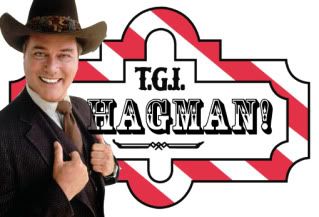 T.G.I. HAGMAN
, BABY! Shit. Meg. Caps. Stop it. Start writing. In full sentences.
As of 1:06pm on March 5, 2010, Larry Hagman is..........
alive!
And with that, I think we can all have a wonderful weekend. Sorry today's post was such a quickie. And sorry most of it was in caps. And not particularly funny. Or well written. Hm...good thing I'll be getting extra traffic from WBJ today, huh?!
Sigh
. Love you guys.