Hi guys. First and foremost, I apologize for not posting yesterday. Co-Blogger Chris slept over Sunday night because he had a few job interviews yesterday (!) and blogging is slightly difficult when you're in the midst of a drunken giggly Oscar-fest sleepover. I had every intention of posting something Monday morning, but alas, Chris and I were too busy straight-up doin' it. Yep. HOT AND HEAVY

.

By "doin' it," I of course mean watching clips of Cedric The Entertainer specials on youtube while spooning, but in my mind it's all one in the same. The moral of the story is I'm a piece of shit and I'm terribly sorry.

WAMP, WAMP!



Oh, and speaking of pieces of shit who don't deliver! You know who I'm currently in a fight with?

Kell on Earth

. I KNOW! I NEVER THOUGHT I'D LIVE TO SEE THE DAY EITHER! But I'm sorry Bravo, my love is not unconditional. You have to earn it. And I don't appreciate it when I leave drinks early and hustle down P street like I'm about to have explosive diarrhea to make it in time for what turns out to be a half-assed episode. If I'm putting in the effort, so should you. I think we need couples therapy,

KOE

. Lord knows I have the time.

If you're not already familiar with the 2004 Lyfe Jennings song "Must Be Nice" (and I'm not sure why you wouldn't be), I'm going to go ahead and ask you to familiarize yourself right now:

Because

that

was the theme of last night's semi-boner of a

Kell on Earth

episode. I don't know if I was just feeling particularly bitter last night or what, but I found myself angrily crooning (out loud) (and very much alone)

"MUST BE NICE!"

at just about every other scene. And while I'm always happy to have some Lyfe Jennings stuck in my head, I really could have done without.

As we recall from our last episode two weeks ago, Kelly, Robyn and Emily are across the pond wrapping things up with London fashion week. The last show they have to produce is the Jeremy Scott show, which starts at the dreaded "fashion witching hour" of 10 o'clock in the morning. I was up to write this post at 8. For free.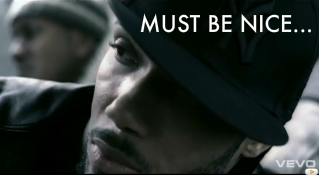 The show pretty much goes off without a hitch except for when the lighting designer made a decision without consulting Kelly first and she had to serve him up a big 'ole plate of chicken fried Akrite. I was really nervous for Kelly when she started yelling at him because I thought he had a tear drop tattoo under his eye, which I know from growing up on the streets

(of Olney, Maryland)

means you've killed someone, but upon closer inspection I realized it was just an unfortunate non-gang related mole. El-oh-el & sucks to be you.

As Kelly and co. are walking to a meeting after the show, some completely random schmoette designer walks up to Kelly and is like, "Hi. Wanna edit my collection for me?" and Kelly, being the gentle lamb with a side of mint sauce she is, says, "Don't mind if I do and don't mind if

I do."

Hm. I had no idea K. Cut went around dishing out advice so freely, especially considering how when I emailed her Bravo PR rep and asked if she'd answer five brief email questions for 2birds1blog, I got a middle finger faxed back to me. Hm.


Hey guys! Drinking game! Take a shot every time Kelly smugly talks about how she and her baby daddy, Alario, have a "modern" "European" relationship where they don't live together but still raise their child as a team. WELP! All of our livers just collectively put some canned beans in a bindle and skipped town on the first train a-driftin' through. I get it Kells; your situation is not the norm. I'm very impressed. Check and mate. Now stop talking about it! And stop "complaining" about how

"

oh my god!

people keep thinking Alario and I are married because we apparently look like

such

a cute couple. GOD, CAN YOU IMAGINE?!

Gross!"

...Right. I know

I
hate it when people think I look good on the arm of a drop-dead gorgeous Italian man and throw free lobsters at me and pay off my student loans in caviar and cunnilingus...

Kelly high-fives Alario goodbye and heads back to New York with Ro-Ro and Em-Dash ASAP because if she stays any longer they might as well move into a split-level house in Jersey and re-wallpaper the downstairs powder room over the weekend, am I right or am I right?! Unfortunately, back in the office things are just as busy and dramatic as ever. Skinner is irritating the pants off Emily because she can't delegate a task to save her life and it's getting tense. Like,

Vorhees

tense. But! Kelly has no time to deal with that right now. You see, Harper One called her up out of the blue one day and said, "Hey KayCay! Wanna have some albino chick ghostwrite a hit book for you about empowering young women who want to get into the fashion biz?" and Kelly was like, "Umm, well I gotta go to Babeland to buy a $28 bottle of organic lube as a goof for my business partner's Casey Kasem/Barry Manilow hybrid of an assistant...but I guess you can send her over after that."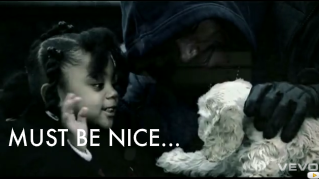 So Albino Ghostwriter skampers over to Kelly's personal floor of the building and sits down to rap with Kelly about life, love and caftans while Kelly's 8-year-old daughter, Ava, haphazardly bangs away on a laptop significantly nicer than mine, despite the fact that I'm a 24-year-old writer and she hasn't gotten her period yet.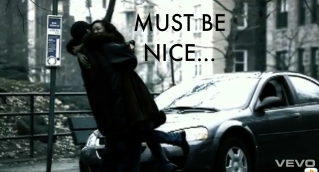 But not everything is caftans and rainbows. Skinner is still struggling to deal with the stress of doing her work

plus

Stephanie Vorhees' work while Emily and her blunt cut bangs and skinny jeans breathe down her throat 24/7. Reaching her breaking point, Skinner wisely goes outside to cry and call Kelly. Kelly then calls Emily and tells a bitch to step off, as Skinner's "given enough of herself that she gets part of herself back," or something as equally terrifying sounding. Then, in a stroke of comedic genius, Kelly comes back into the office, walks up a token queer and is like, "Oh HEY! Got you some lube, FAG!" and it turns out to be some random male intern sitting in the wrong chair and

not

Andrew M. God, first day of work and Kelly Cutrone accidentally throws organic lube in your face...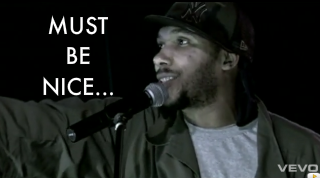 Speaking of lubrication, things actually get significantly better between Skinner and Emily. Skinner does some much needed reprioritizing, Emily delegates some of her tasks to Andrew S., they solve a tequila-based murder myster together at the Ina Men event and all is right with the world. Skinner says it's a lot like fighting with your sister. You know, minus the name calling, cat-fighting, emotional abuse and pot smoking peace session. Sister, sister. You never knew how much I missed ya.

Towards the end of the show, Kelly and Andrew S. get just as bored as I was and decide it would be

hee-larious

to crash Andrew M.'s blind date with a gentleman who looks like if Ben Affleck got beaten about the face with an ugly stick. And good thing too. The pair show up just in time as Andrew M. instigates an awkward game of word association with Fen Flaffeck. "I'm gonna say a word and then you say the first thing that comes to mind," Andrew says.

Fork? Spork.

Banana? Sexual education class.

Dildo? Wood.

Lube?

Uhhhh....




OH HEY, IT'S KELLY CUTRONE AND ANDREW S.!

Andrew M. turns six different shades of pink-tinted-bronze as Kelly mounts a chair and explains to Fen Flaffeck that if you date one person at People's Revolution, you date the

whole

bunch. "It's like the stuff brother's and father's used to do," Kelly explains. Special note to my dad and future brother-in-law: if you randomly show up while I'm on a blind date, I will throw Pinot Grigio in your face and stab you with a butter knife.

HAHA

, that's a blatant lie and we both know it. I'd probably be get really psyched and order a round of Irish car bombs. Meghan McBlogger: single since 1985.

Our episode closes with Mary Ellen Mark shooting Kelly for her new book. According to Kelly, Mary Ellen Mark is the most important living photographer and one of the few women she looks up to. Apparently having her shoot your dust jacket portrait is a lot like asking Rembrandt to paint your bedroom. Or like asking Larry Hagman to pour your bourbon. Or asking Lyfe Jennings to make the projects feel like a mansion. The point being: you're out of your league. But of course Mary Ellen agrees and she spends a day shooting Kelly's book portrait and even takes a few extra shots of Kelly with Ava. Wow, asking the woman you look up to to help a sister out and she actually

does

...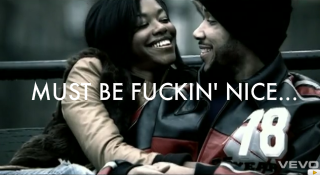 FIN.