Three things that seemingly have nothing to do with each other:

1.) I keep having nightmares about snakes and lizards, which according to five minutes of intense Internet research means that something "senseless" and horrible is about to happen, AND/or someone in my inner circle will betray me.

2.) As devoted readers know, I love Dr. Dre and The Chronic 2001 more than anything or anybody in this entire world. I listen to that album with the regularity of a bible thumper reading scripture—shit just never gets old. One of my favorite tracks is the emotional roller coaster ride that is "What's the Difference", featuring Eminen and Xzibit.

I love everything about this song, but specifically, I've always had a soft spot in my heart for the exchange between Dre and Eminem at about 2:35, which, in case you work somewhere that doesn't support blasting gangster rap in your cubicle at 10 o'clock in the morning (sell out...), is the following:

Eminem: STOP THE BEAT A MINUTE! I got something to say. Dre, I want to tell you this shit right now while this fucking weed is in me.

Dre: The fuck?

Eminmen: I don't know if I ever told you this, but I love you dawg. I got your motherfuckin back, just know this shit.

Dre: Riiight? Slim, I don't know if you noticed it, but I've had your back since day one, ni*ger. Let's blow this bitch.

Eminem: I mean it dawg, you ever need somebody offed—whose throat is it?

Dre: Well if you ever kill that Kim bitch, I'll show you where the ocean is.

And then Eminmen goes on about how if he were to kill his ex-wife, he'd want to drive around for a while with her dead body in the front seat honking and waving to people, which sounds suspiciously like the plot to Weekend at Bernie's to me, but my point here is this: I love it. I love it because whereas we live in an era when Cam'ron can't even ask someone to pass him the nut bowl without adding a paranoid PAUSE or NO HOMO, ten years ago Dr. Dre could stick Eminem saying "I don't know if I ever told you this, but I love you" to him in the middle of one of the most aggressive tracks on his album without anyone even batting an eyelash. Why? Because they're friends! And friends love each other. Sure the entire thing is padded with some good old-fashioned hypothetical wife-killing, but the sentiment remains the same: it's OK to tell your friends that you love them. To quote Bun B after the untimely passing of Pimp C: "[...] [I]f you really love your homie, don't feel like you can't tell him you love him. Because when things happen, you're going to wish you had said it. You're going to wish you said it louder." PREACH.

3.) Being obnoxiously broke has seriously adverse affects on my friendships: I can rarely afford to go out; I never have people over for dinner because I never eat dinner; I bring cheap booze to parties; and I can't afford to give birthday, wedding, shower, housewarming gifts. Not to mention I keep weird sleeping hours and don't answer texts or emails until 3 o'clock in the morning, so it always seems like I'm blowing you off. What I'm trying to say is: I'm fully aware that it can be a giant pain in the ass to be friends with me. With that in mind, I decided to make my friends Valentine's this year as a small token of gratitude for putting up with me. It took me all of 36 seconds in front of a blank Illustrator file to think of the perfect way to say "I love you": via Dre and Em in "What's the Difference". With that in mind, I designed a 5 x 7 card with their conversation from "Stop the beat a minute..." to "...Let's blow this bitch" on the front, and "You ever need somebody offed—whose throat is it? HAPPY VALENTINE'S DAY!" on the back:


Then I tied the card up with red and white baker's string and popped it in a red A7 envelope: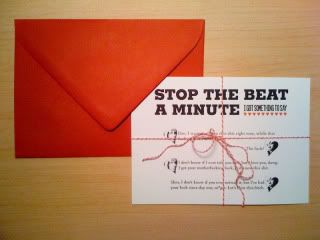 Now, it was right around the time when I let go of said envelopes and they started tumbling into the mailbox when I realized that not everybody has been listening to The Chronic 2001 once a day for the past ten years, and not everybody has an oddly specific interest in, and knowledge of platonic signs of affection in hip-hop music and culture. Both of those things might just be a "me thing". And it was around when I started walking back to my apartment when I calculated that only three out of the 25 people I had just sent that Valentine to are going to recognize its contents as lyrics from "What's the Difference" and not as Dr. Dre/Eminem slash fiction that I had just cooked up myself and felt the need to physically mail to them. And finally, it was when the apartment door closed behind me that it finally sunk in that in a matter of days, 91.7% of my closest friends and family might think I'm a wee bit of a flagrantly racist, misogynistic, would-be murderer.

SYNTHESIS OF #1-3: To all of the people who received a Valentine's Day card from me this year: I am not a flagrantly racist, misogynistic, would-be murderer. It's from the Dr. Dre song "What's the Difference" featuring Eminem and Xhibit. I did not fabricate that conversation, I do not normally drop hard N's in my holiday cards, and I don't actually fantasize about "blowing this bitch"—please do not betray me by reporting me to the local authorities. I was just trying to say I love you. No homo.