I know it's generally not a good sign when you're taking life advice from Rihanna's clavicle, but I decided to adopt "never a failure, always a lesson" as my mantra this week. Because I have learned me a
whale
of a life lesson. Specifically, if you eat Chinese food that's been sitting out on a counter for 24 hours, you
will
get food poisoning. And it
will
be Christ awful. And you
will
spend days on end alternating between handling "explosive bathroom scenarios" and watching two seasons of "Lie to Me" on Netflix
while trying to find a position to curl up in that doesn't make it feel like you're about to vomit your spleen.

I'd like to tell you that I didn't refrigerate said Chinese food because my fridge was broken and I was desperate for food or some shit that would even remotely make sense, but honestly, my fridge was full and I really didn't feel like cleaning it out. So I just left my leftovers on the counter. And then the next afternoon when I was hungry and walked past the kitchen, I saw the food and was all, "WELL HELLO,
OLD FRIEND
," and dove right in, same fork that had been stewing in the bowl all night and all. And you know why? Because I'm not that intelligent. I'm just not. I can bullshit an A+ paper on literally anything and get through school with flying colors, but I have all the common sense of an Autistic toddler. I swear to God I'm not making this for comedic effect, but I walked face first into a door not 20 minutes ago. Talia once summed me up perfectly when she said, "Meg, you are the dumbest smart person I have ever met in my entire life." Fair. Fai
r and astute.

So, yes. I'm feeling better, but still sort of like I might explode at any given second. I think it's going to be a long, long time before I eat anything with ginger or snow peas in it in again. Jesus, Mary, mother of God, I wish I hadn't just said ginger or snow peas.
Twice
. I could seriously burst into tears right now. OK, LET'S RAPIDLY CHANGE THE SUBJECT, SHALL WE? I'm at my parent's house and this is sitting on their coffee table: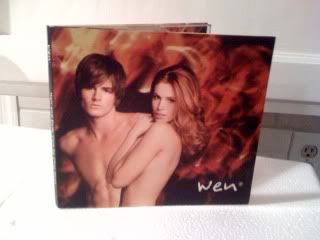 It's an informational DVD that came with a hair product my mom bought on The Q, but I spent an uncomfortable three minutes thinking it was some sort of touchy-feely learn-to-make-love-again DVD that they neglected to hide before I came over and very seriously I thought I was going to have to gouge out my eyes and kill myself. But it's not. So, hey HEY hey! Small vict
ories.

...Well, now I'm thinking about snow peas and my parents having sex. RAPID CHANGE OF SUBJECT AGAIN! So you know how I have this ~*MyStErY hEaLtH pRoBLeM!*~, and I'm crazy like a fox, and am just generally, as a human being, broken in half? Well, that's all good and fun, but my health insurance runs out next month and I'm fucked. I need a few procedures, physical therapy, and I HAVE EMOTIONS!!!1 therapy, and it keeps me up at night trying to think of what I'm going to do about it. I could COBRA my parent's health policy, sure, but that would cost about $500 a month. I could get an independent policy, but I might as well be an 85-year-old meth addict with AIDS and a pack-a-day smoking habit for how uninsurable I am. I don't make enough money to get coverage through the Freelancer's Union, and my parents are getting mighty sick of this little HAHA-Meg's-following-her-dreams-and-we-all-help-her-out-because-ZOMG-artistic-passion-LOL! thing, as evidenced by my mom's new nickname for the blog: 2 Burdens, 1 Blog. (Which is actually pretty clever, BUT STILL.) (Slash I don't know what Chris ev
er did...)

I know it's easy to disregard my anxiety about all of this because I'm not exactly an orphan hustling on the streets for a crust of bread and a few shillings, but my parents—while still 100% supportive of my career—really have made it clear that they're tired of bailing me out. Which makes me feel like a total asshole and like maybe I should say fuck it, put this little dream on the back burner and get a 9-5 for the insurance. But at the same time, I can't help but to think we've come too far to quit now. I'm completely confident that one day I'll be able to fully support myself with my writing, but that day just isn't today. And unfortunately, I'm a hot fucking mess today. I need health insurance. It's time to get creative. And that's when Pete, of sexual-misadventure-essay winner Pete, shot me an email to see how I was feeling and casually mentioned that if I need health insurance, he would marry
me.

Now...I'm 99.9% sure that Pete was just kidding, but I'm also 100% sure that I was
not
kidding when I responded: yes, yes, a thousand times
yes
! I genuinely think a sham insurance marriage is an amazing solution to my problem. And Pete seems cool. He bought some merch and hooked up in an AU formal lounge once. That makes him good enough to marry in my book. Unfortunately, I think my "WHEN'S THE SOONEST YOU CAN MEET ME AT THE COURT HOUSE I HAVE A WHITE DRESS FROM HIGH SCHOOL GRADUATION THAT IF I DON'T BREATHE I CAN STILL FIT IN MAYBE I SHOULD BUY SPANX JUST IN CASE EITHER WAY I SHOULD BUY MY BUS TICKETS RIGHT NOW IF I TAKE AN 8AM BUS AND GET IN AT 12 WOULD YOU MAYBE WANT TO GET LUNCH???" response thoroughly scared him away. Drag
.

My next thought was to gay-marry Eileen. Not only is Eileen one of my oldest and best friends, she has a
stupid
good insurance policy, a decently-sized apartment in New York with a sick view, a building that allows pugs, and one time she fixed a 20-year-old VHS copy of
Sound of Music
while high as a kite with an eyeglasses repair kit. I mean, not to sound gay, but I could fucking create a life with that woman. It would be a privilege and an
honor
. There are a few problems, though: a.) gay marriages aren't recognized in New York; b.) marrying Eileen might raise a few eyebrows concerning my sexual orientation; c.) both of those eyebrows would belong to my mother; and d.) that's basically just the plot to
Chuck and Larry
minus the heartwarming Dan Aykroyd Speech at the end and whole widower plot line. So unless the state of New York opens its mind and Dan Aykroyd takes a break from his busy schedule of Botox and nothing, I think my Eileen plan is out. And it truly is my loss, mada
m.

Next idea: Tulane Chr
is. Stat
us: Student. GOD DAMNIT.

Next: Alex. Status: Student. GOD DOUBLE DAMNIT.

Next: Andrew of the Great Juno Debate Fame. Status: Won't drink from the same water bottle as me, so something tells me he won't jump at the opportunity of a sham marriage. Asshole.

And every single other person I know is in a relationship, so fuck me.

So not to be creepy, but I keep coming back to Pete. And I know I responded to his jaunty little "HAHA wouldn't it be funny if?" email with a lock of my hair and the name of five public notaries within a city block of his office, but I feel like marrying me wouldn't be the
worst
thing he'd ever do. Or anyone, really! Maybe there's another insured gentleman out there that I'm not even thinking of! And that's why I sat down tonight and whipped up a list of 23 reasons why you should marry
me:

1.) Got a girlfriend? Cool. This isn't a Shakespeare play, I'm not trying to fall in love with you—I just need a $10 co-pay.

2.) That being said, I got some tig 'ole bitties. I'm sorry, it had to be said.

3.) I refuse to move in with you, which I would interpret as a good thing considering the number of friendships I've ruined as a result of living with friends.

4.) I have a rapier wit. But I don't like to talk on the phone. And again, I won't live with you. So...here's hoping you gchat.

5.) One day you can refer to me in passing as your
First Wife
. That's kind of glamoro
us, right?

6.) Two words: JEW HOLIDAYS!!!!1

7.) I have a decent DVD collection.

8.) A very kind reader is sending me a new Brita pitcher. Yeah. Being a blogger is
kiiiind
of
a big fucking deal and if I were you, I'd get in on this obscene fortune and fame ride as soon as humanl
y possible.

9.) Because this just happened:

Dad: What are you writing? Your reasons why someone should marry Meg McBlogger?

Me: Yeah, but I can't think of anything.

Dad: That's not true, I bet you have at least ten by now!

Me: Yeah, but one of them is literally, "I can carry a tune, question mark? I don't know, period."

Mom: .........You have ties to Jägermeister? Just tell him you can get him all the Jägermeister he wants.

10.) I have ties to Jägermeister. I can get you all the Jägermeister you want.

11.) The next McBlogger family vacation is this fall—time to shag ass. (Slash as of now I think they have me sleeping in a storage closet, so I
also
need an insurance husband to justify why we should get a house with three bedrooms instead of two bedrooms and a dungeon in the basement for old, single Meg and her hollow womb. Kth
nx.)

12.) I have a convertible. I named him Kevin. I don't really consider that to be a selling point, but my dad told me to add it. So here we are.

13.) I was dicking around on Wikipedia last night and put it in Afrikaans for funzies and now I can't figure out how to switch it back to English. Again, that's also not really a selling point, but I just feel like it's something my sham husband should be able to help me with.

14.) You can have Evie as my dowry. She's small, portable, light in the hoof. All in all, not a bad deal.

15.) Mom: Instead of finding a random person or a gay guy to marry, why don't you just approach someone you're actually interested in?

Me: Because I don't want to have sex with my sham husband. It's just prostitution at that point, right?

Mom: 'Eh, everyone's a prostitute. As the old saying goes, "when two people are having sex, someone's getting fucked."

16.) I'll have sex with
you.

17.) I have
zero
qualms about having a child, putting her in pageants, and spending her prize money on Bartles & Jaymes and chicken kic
kers.

18.)

This box was in my parent's kitchen tonight and I pointed out that you could use it to make a sick robot costume. I'm full of amazing ideas like that!

19.) Then Evie crawled in, it was adorable, and I started calling her R2Eve2. Bee-bop-boop:



20.) Richard and Diane would be your in-laws. They obviously insisted I add this one, but let's also not pretend like I'm not sitting in their house right now on a Wednesday night for no God given reason when I have an apartment
of my own.

21.) My dad volunteered to cover the expenses of a modest City Hall ceremony. Why? Because even when desperately trying to pawn me off on a stranger, I'll always be his little girl.

22.) We can get one of those $400 divorces you always see advertised on billboards in se habla Español neighborhoods. Because I am in
no
way trying to put airs on here.

23.) Beautiful, beautiful blog fodder.

In the immortal words of Kenny Ortega and Zefron, "this could be
the start of something new." meg@2birds1blog.com.