I moved out of my parent's house almost eight years ago (and then again two years ago…) and am fully aware that it's not "mine" anymore. It is—and really has always been—theirs and they're free to do with it whatever they'd like. Ergo, I was totally fine with it when they decided to fill the void I left in their hearts with my cat doppelganger; I always keep my protests to a minimum when they talk about selling the house and moving to St. Michael's; and I was more than understanding when literally an hour after I moved to New York, they gave my bike to my sister to abandon in Malcolm X Park because apparently it's quote, "a piece of shit", and then when I came home and wanted to take it for a ride one day—Oh, sorry! We gave it to your sister and your sister gave it to a park bench and the park bench set it on fire, and to this day nobody will replace it or apologize to me because every party involved blames it on the other and Meg on a bike? That's a fucking riot to begin with! I was really cool about that. (Except I wasn't. And probably never will be. And will continue to bring it up as much as humanly possible. Because what the fuck?)
All things considered, I understand that my parents have the right to make changes to their house and it can't stay a time capsule of the life and times of Meghan C. McBlogger circa the early '00s forever. (Which is a shame because I had a pretty decent collection of graphic-tees, SAT prep books, and Express jewelry lying around, but meh—their loss.) That being said, I have to draw a line somewhere. And that line is drawn square down the middle of a gentleman named Monty.
Monty was my beloved childhood stuffed animal. He was a stuffed…ambiguous…creature-type thing that my parents always told me was a monster (hence the name Monty) but my scary Girl Scouts troop leader insisted was a cat on our Savannah trip and it changed everything and/or begs the question why was I traveling with Monty at the age of 13-years-old when I definitely had breasts? But that's not the point. The point is, he was my number one jam for a good portion of my life, and while I don't need to sleep with him every night anymore (that's what Jason is for) (and as you'll recall, Jason is a stuffed fox and not a cute passing reference to a gentleman friend) (in retrospect, I kind of wish I had let you think it was a gentleman friend) (your keyboard does have a backspace, you know…) (silence) (only if you stop typing your inner-monologue) (that's probably for the best), I don't ever want to get rid of him.
I stayed at my parent's house for a week or so over the holidays and could not fall asleep for the life of me. After a few restless nights, I hypothesized it was because I didn't have anything to curl up with, so I got out of bed one night and turned my room upside down looking for Monty. I couldn't find him anywhere. Frankly I couldn't find anything anywhere because my dad had just finished turning my room into a guest room so the old guest room could become his infamous Panamanian Relaxation Room. And again, that's fine! It's their house. But, you know...Monty.
The next afternoon when I woke up (don't judge me or my life style), I went across the hall and found my dad sipping a glass of wine in his chair and reading a book, soaking up all that is his Panamanian Relaxation Room.
Meg: Dad?
Dad: Hmm?
M: Do you know where Monty is?
D: Yeah. He's in your room somewhere.
M: Well, where in my room? I couldn't sleep last night so I got up to look for him, but I can't find him anywhere.
D: I remember seeing him when I was cleaning out your room…check the Container Store bin in your closet. That's where I put all the stuff I saved for. I wouldn't throw him out.
After thoroughly ransacking my bin of keepsakes, I didn't find Monty, but here's what I did find:
My Retainer
I was about to say that I don't even remember the last time I wore this, but I do: the night of September 11th. My friend Kelley had people over that night because we didn't have school the next day, and I remember Jen called our friend Jason to ask where he was and he was like, "UH. I kind of want to be with my family right now and not drinking Michelob Lights in a basement with you assholes…thanks." It was at that moment that the gravity of the situation finally sunk in, and I had a panic attack and had to go home. Later that night as I was lying in my bed trying to go to sleep, I distinctly remember thinking, "I could fucking die soon." It's weird how that wasn't really an option up until that point. I also remember thinking that if I were to die that night; I totally wouldn't go to heaven. I'm pretty sure I considered myself Agnostic at that point and didn't really believe in the concept of a heaven or hell, but that night I was certain there was a heaven and a hell and I was even more certain that I was bound for the more tropical option. I then proceeded to get up, pop in the retainer I had abandoned almost immediately after getting my braces off two years earlier, go into my parent's room, and at 16-years-old ask if I could sleep with them that night. This never ceases to crack me up. And not because it was only then that the notion that I could die popped into my head, not because I slept in bed with my mom that night, but because my first step towards getting out of hell was wearing my retainer. Like there are over 20 major religions in the world and nobody can agree on anything except that God is a real stickler for orthodontics.
My TI-86 Calculator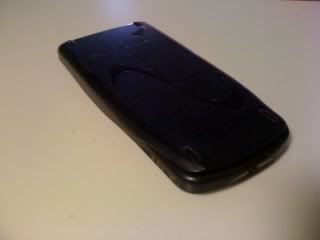 If you don't think I took this home, immediately went to CVS to get AAA batteries and spent a solid day playing "Gang Wars" on it, you are severely underestimating the amount of time I have on my hands.
A Copy of The Chocolate War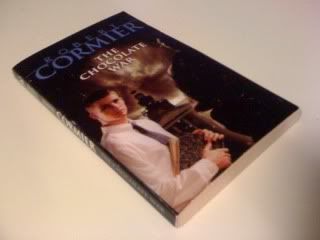 Christ only knows why, but in the year 2000, Montgomery County Public Schools made The Chocolate War an option for 10th grade honors English summer reading, and because it's like 92 pages long, in 14-point font, and not The Poisonwood Bible, everyone did their required summer reading oral presentation on it. But literally. Everyone. An entire class of 25 people. After listening the 12th
synopsis of the book, our teacher snapped like a twig and offered to give us all A's if that meant she didn't have to sit there and listen to another half-assed essay about the ethics of selling promotional chocolates and its effects on friendship and the
heart. I know this sounds crazy, but every now and then I kind of miss high school…
A Pack of Dentyne Ice with Two Pieces Left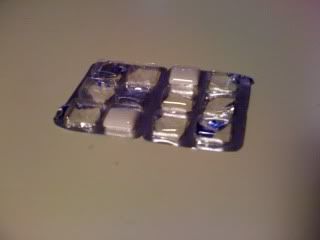 "Well Dad, God only knows where my childhood best friend is, but at least we can both have minty-fresh breath for the next couple of hours, HUH??"
The Most Unflattering Photograph of Me That Has Ever Been Taken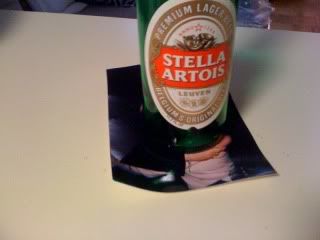 If I were .05% more secure with myself, I would totally scan it and upload it for you, because this shit is LOLZ. I'm not kidding, it really is the most unflattering picture of me that has ever been taken. NASA has confirmed it. I'm not even mad. It's a picture of me giving a side-hug to my friend Eileen on New Year's Eve 2003, and oh…muh…gawd. I have the brassiest of brassy blonde hair; I'm wearing more eye make up than an entire Japanese kabuki theater; the angle it was taken makes it look like I have 16 chins; I'm wearing a black blazer with no shirt underneath, skinny jeans, and fishnet high-heels (OK, I'm not trying to front…those shoes were kind of cool); and my eyes are just ever-so-slightly…crossed. That being said, I always liked having it around because no matter how god-awful I felt, I could always pull out that picture and be like, "Well thank Christ I don't look like that," and feel like a million bucks. Truthfully I'm kind of psyched to have it again.
A Souvenir Keychain from Senior Prom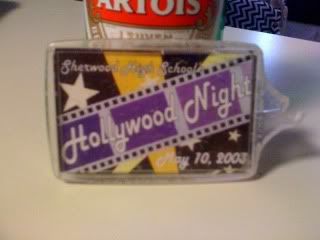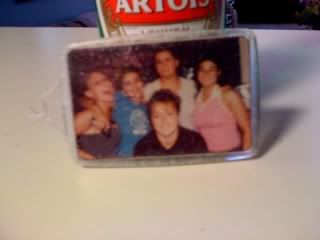 I mean, I appreciate having it because it's a cute picture of my friends and me, but it's also an unfortunate reminder of why I should never spray tan. Prom in general was an unfortunate reminder of why I should never spray tan. Or at least why I should never do six sessions in three days on the darkest setting possible. There's a really hilarious picture floating around my parent's basement somewhere of Teresa and me at prom and the contrast between Teresa's pale skin and my synthetic tan makes me look borderline Puerto Rican. It's genuinely exciting.
A Small Cup of Meggle-brand Lemon Juice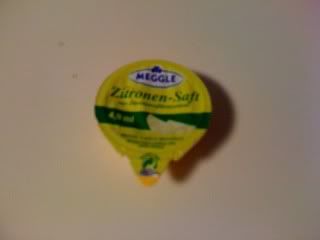 There was a complimentary bowl of them at a Starbucks in Munich…I took one and kept it safe for like half a month in my money belt because, you know, Meggle. I guess I can't fault my dad for hanging on to something that I literally strapped to my person to smuggle out of Europe.
Nellie's Collar
Aw, Nells! Nellie was my cat in high school. I rescued her from a tough life on the mean streets of Rockville and then Rachel killed her when we went to Hawaii and she cat-sat for us. Her ashes are now in the closet of the Panamanian Relaxation room, along with those of our first family cat Sibley, Nellie's short-lived replacement Simon, a standard poodle, and my grandfather. THE AND.
A Pair of Off-Brand Wayfarers That I Bought, Wore Once, Realized What an Asshole I Looked Like In, and Never Wore Again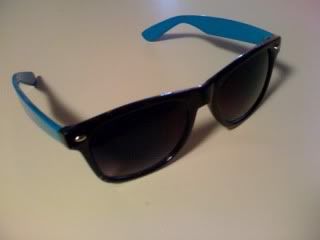 I mean, that kind of says it all.
My Driver's Education Program Completion Certificate From June 14, 2001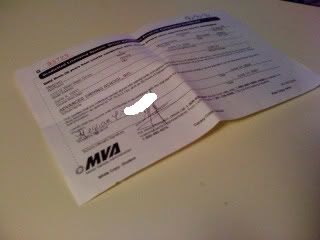 Do you know what I find fascinating? We have absolutely no idea where on God's green earth my college diploma is (the college diploma that I worked my ass off for four years to earn and am still in tens-of-thousands of dollars in debt over,) but my driver's ed certificate (the driver's ed certificate I assed around in a small office with Eileen and Talia for a few weeks to earn and cost maybe
45-dollars,) is safe and sound and tucked away in my closet. That, to me, is
fascinating. Am I saying that it's wrong? No. Not really. Because given what I've chosen to do with myself these days, a degree in graphic design and art history is about as helpful as an asshole on my elbow, whereas every now and then I do need to get a zip car, haul ass to Ikea and get some shit. So you, Mr. McBlogger, have yourself a point.
Thankfully a few hours later, my dad found Monty under a few towels in what used to be my sock drawer (?) and all was right in the world again. That is until I came home a few days later to work on the book with Chris and discovered this new piece of artwork hanging directly next to my bed:
Yep. My old friend Monte-fucking-Carlo. But again, I'm totally cool with it! I'm an adult and it's their house! Go ahead and give Becca my shit and punch me in the face—I'm totally well adjusted.