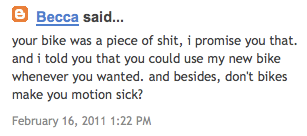 1.) You're a piece of shit.
2.) God damnit...No you're not. Not at all. I'm sorry.
3.) WHO CARES IF IT WAS A PIECE OF SHIT?! It was my piece of shit! I don't care if it was made of pick-up sticks, tinfoil, and packing tape, it wasn't yours to get rid of! That's like if I borrowed a shirt from you and then put it down the garbage disposal because I decided it was ugly. And then when you get mad at me (and rightfully so), I reverse get mad at you because I was just trying to "do you a favor".
4.) Oh I'M sorry, so what you're trying to say here is that if I should suddenly get the urge to go on a lovely Spring bike ride, I have to call and confirm that either you or Geoff are home, coordinate a good time to come if not, get on the metro, transfer lines, get off at Clarendon, take a bus to your neighborhood, and walk over to pick up the bike first? Uh huh. And how many times have I almost peed my pants in your car because I was too lazy to go in the restaurant?
5.) I only get motion sick going over cobblestones and don't you dare pretend like you don't know that.
And finally, this morning's email exchange with my dad:
To: Dad
From: Meg
Subject: Quick question!
Hey, what's that reclining chair in your Panamanian Relaxation Room called again?
To: Meg
From: Dad
Subject: RE: Quick question!
It is the "Library." Books, old prints, crystal decanters, Panamanian relaxing. A little bit of Regency England, right in the heart of MOCO. I go up there and read with Evie on my lap. We both sip some single malt and settle in. Right now we're reading a history of the Crusades. Sometimes I read aloud to her. She seems very alert, but that just might be the scotch.
DAD
He didn't answer the question...but that is adorable.