So what I've learned from my
Bros and White Caps
entry is that people really like Bros. Bros are like that person in your group of friends you're constantly making fun of, but deep down you really love. (In retrospect, that's really not an analogy, that's more of a literal definition of what a Bro is.)
Let us continue the celebration of, and education about Bros with a new blog feature called Bro Zone.
I've been getting a lot of emails and texts from readers letting me know they were at ____ bar last night and dude, it was a total Bro Zone! Keep up the good work readers. I want to keep studying the sociology of The Bro, and being in their natural habitat is the best way to do this. If you're out at a bar in the near future and suddenly realize the past three songs on the stereo have all been by Dave Mathews and the conversation around you primarily centers around Jenna Jameson's ass, you've probably found yourself in a Bro Zone. Remain calm, take a picture and email it to- 2birds1blog@gmail.com. Check out this prime group of Bros sent in by Talia at Lucky Bar: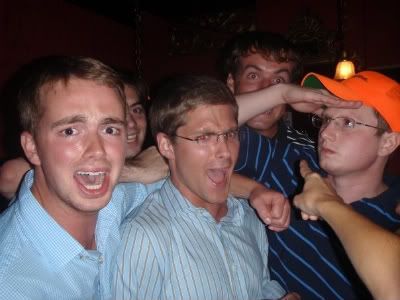 I think the best part about this picture is that these Bros were instructed to reenact "The Bro Shot" from my
20 Male Poses of Facebook
entry, but their good-time party spirit literally could not be contained and it morphed into the "Too Much Party for One Picture" shot. God damnit I respect you Bros.
Also, the Bro in the middle looks like a 90's sitcom character but I can't put my finger on who...and I'm oddly attracted to him. Damnit! I promised myself I would never fall for a Bro again!