Having mono for the entire duration of August sucked proverbial cock for a myriad of reasons; falling out of love with TV being the worst. When you have mono, the energy it takes to shower is equivalent to climbing Mt. Everest, so the majority of August was spent lying on the couch watching a disgusting amount of mind numbing television. I think I genuinely logged 800 hours of MTV Hits (I've seen the video for Gym Class Hero's "Peace Sign Up, Index Down" so many times I think I could perform a one-woman show at the Kennedy Center.) To keep from going crazy, I branched out and started to watch shows I would never think about before, my favorite being MTV's "Parental Control." Parental Control is a laughably scripted dating show where a person in set up on two dates picked by their parents, while said parents and said person's current girlfriend or boyfriend watch while spewing hateful and incredibly scripted cut-downs to each other. It's genius. Let me tell you, when you have a fever of 104 degrees, watching a middle-aged Asian man try to recite cut downs like "I hate that my daughter is seen with you! You so fat your mother wears a microwave as a beeper!" to his daughter's boyfriend in broken English is as genius as Citizen Kane.
During one of my many Parental Control marathons, I actually convinced my mom to watch an episode. She had a revelation at the end of the episode that struck me as intriguing. She looked off into the distance, deep in thought, carefully choosing her words before stating, "You know, I always thought that teenage boys were assholes but they always got over it. Now I've decided that 20-something-year-old boys are assholes too."
I considered her statement before responding with, "No mom, 20-something-year-old boys are not assholes. They're Bros and Whitecaps. It's easy to confuse them." I then spent 10 minutes explaining my deeply sociological theory of Bros and Whitecaps, which is as follows:
The Structure, Mating Habits and Social Rituals of The Bro and The White Cap
Figure 1: The Bro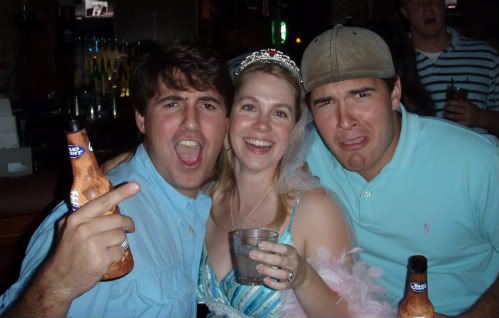 Introduction: The Bro is often referred to in other contexts as "That Guy." He went to a Big Ten school and probably was in a fraternity. He talks about his college days wistfully, regaling the bar with stories about that time he and his fellow "bros" (alternatively called "brahs," "boys," or the singular, "broseph") constructed a six-foot tall robot out of empty Miller Lite cans before one of them drunkenly backed into it. The Bro gets oddly excited when a Journey song comes on in the bar, causing The Bro to put one hand in the air (as if to convey that he just don't care) and slur/shout: "OOOOOOOOOHHHHHH SSSSHHHHIIIITTTTT!!!!! JASON! JASON! DUDE LISTEN TO WHAT FUCKING SONG IT IS! JUUUU-UUST A SMALL TOWN GIRL…"
Clothing: The Bro is known for wearing one of two standard t-shirts: the first commemorating an important college basketball game (i.e. Indiana University making it to the Sweet Sixteen) or a hilariously ironic and offensive t-shirt (i.e. the Nike Michael Jordan logo, but Jordan is grabbing a tit instead of a basketball and it says "Just Did Her," instead of "Just Do It."
Community Structure: The Bro has a complicated and deceiving relationship with his fellow Bros. Although he refers to the guy whom may be his best friend as "you bitch," "douche bag," or "pussy," he loves his fellow Bro and there is a strong sense of loyalty in the community. A good Bro would gladly "take it outside" to "have his Bro's back," no questions asked. Nothing says friendship like a black eye and a lot of questions the next morning.
Where to Find a Bro in DC: Angry Inch, McFaddens, Mad Hatter, Lucky Bar, Sign of the Whale or Front Page.
Mating Ritual: Packs of Bros are naturally attracted to packs of Slop-Tarts (groups of somewhat scantily clad drunk party girls.) The pack migrates slowly towards the Slop-Tarts they have been preying on and break the ice, via team-effort, with a hilarious pick-up like or an intentionally bad dance move. This is done in an effort to communicate to the Slop Tart, "Me and my Bros are way fun and we want to have fun with you and your girls tonight. We should totally get some pizza and do it doggy-style on my futon after we hit up one more bar."
How to Capture a Bro: Watch Caddy Shack and be prepared to make a lot of references.
Final Summation: Sure Bros are immature and love alcohol and Xbox more than their girlfriends, but they hold a soft spot in my heart. A Bro is just out for a good time with his friends, and that's something I can respect. I feel like if I were a guy, I'd probably be a Bro. Mom, the Bro isn't an asshole; he's just too busy tea-bagging his best friend to call a girl back.
Figure 2: The White Cap
Introduction: The origin of the name of the White Cap comes from the white baseball caps they wear, embroidered with ______(enter private east-coast college that's not good enough to be an Ivy but good enough to feel self-satisfied and elite)_____'s lacrosse team. White Caps are like Nazis in that they are incredibly uniformed (oh and hate Jews) and are: almost always white, from an upper-middle class family, Young Republicans, and huge fans of Jack Johnson. White Caps frequently get tattoos to prove their high pain tolerance (and ergo huge cock) but it's usually of a Jesus fish or some religious scripture or phrase like "He Is Risen" which immediately makes it lame.
Clothing: White Caps dress like every day is Halloween and this year they're going as a douche bag. Embroider anything with a lobster or say it's catalogue only from J. Crew and they'll throw it on faster than you can say "golf camp."
Community Structure: Whitecaps lack the strong sense of community that Bros have. I sense there's a strong sense of competition in the White Cap community and friends are only used for their dad's connection at Legg Mason, the summer house in St. Michael's and their slutty little sister. White Caps are usually seen standing awkwardly next to each other clutching their Yuenglings discussing if generic brand roofies are still as effective as name brand and pondering weather foxes are the new lobsters.
Where to Find a White Cap in DC: In a town like DC, only one hood could be white enough: Georgetown.
How to Capture a White Cap: If you're a brunette, not white or fat, you're pretty fucked. My advice to you is to dumb it down, laugh at everything they say and think it's adorable when they insult you to your face (or conversely, you can slap them playfully on the chest and feign anger; "oh my gawd Scott! That is soooo ru-ude, shut uh-up!" and get the same effect.)
Final Summation: White Caps are dangerous because I find them to be the most vile, pathetic, low-life excuses for human beings, yet I can't stop having sex with them. Mom, White Caps aren't assholes; they just killed too many brain cells huffing Windex at prep school.