The movie for this week's drinking game was inspired by a frightening gchat conversation I had with Alex (of "the world is ending, I'm getting a sandwich" fame):
me:

alex
Alex:

MEG
me:

i am totally scared of our country right now!
Alex:

you should be
me:

that's not reassuring
what's going to happen?
Alex:

i'm thinking about moving to spain
me:

si?
Alex:

europe seems pretty solid right now
but no, you really should be scared
me:

yea here's the problem- my backup in life has always been belgium, but now that country has gone to shit too
why should i be so scared?
me:

what's the worst that can happen?
Alex:

civil war
-----
me:

i can't believe alex just abandoned our conversation after dropping the CW bomb
Ashleigh:

hahaha
typical
he probs went to get a sandwich
After my conversation with Alex, I started to think about what life would be like living in the movie

V for Vendetta

. (I've taken to stressing myself out because I don't have a job to do it for me anymore. Seriously. I get anxious watching "Gordon Ramsey's Kitchen Nightmares" and yet I decided it was a totally good idea to watch

Apocalypto

last night.) Two panic attacks, a hot shower and one beer later, I had whipped up the

V for Vendetta Drinking Game!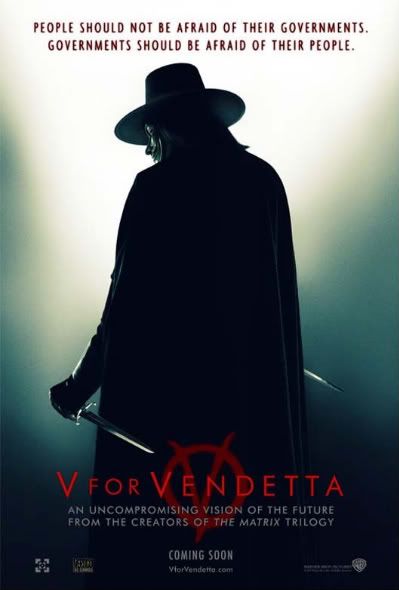 Desperate times call for desperate measures, so I've taken the liberty of eliminating my "1 sip—finish your drink" scale of moderation and made everything "chug." You're welcome.
Chug your drink when:
- The 1812 overture is played or mentioned
- There's a broadcast on TV
- Someone is killed
- Someone says "terrorist"
- Someone is dragged away to jail
- A rose appears on screen
- Someone mentions the Former United States
- Natalie Portman says "V!" in her whiny voice.
- The chancellor talks on the big screen
- Every time someone says "terrorist"
- V makes a long speech
Thanks for reading and have a great weekend! We'll see you back in the office Monday morning (

to reveal our new look!

)