This weekend my parents will be out of town and I feel an intense need to throw a party. But not just any party. A party where our lives will reach a turning point and change dramatically, as our story lines intermingle and weave a delicate quilt of hilarity.
The first time my parents left me home alone for a weekend, I was a junior in high school and they went to visit my sister at college for parent's weekend. My friends and I went to a party where we bought some pot, but once we got it back to my house we realized we didn't have a smoking device and spent the better part of the night googling "how to turn a Gatorade bottle into a bong." The second we went outside and someone took the first hit, sirens went off in all different directions and there was a helicopter above us with a search light. It turns out there was a domestic dispute down the road, but we spent the rest of the night locked in my room, scared shitless that we were about to get raided and gown down
Scarface
style.
I could make up for lost time and have a huge kegger this weekend, but where's the sense of adventure when buying alcohol is legal and we could all just go to a bar and not haul ass to the 'burbs?
Sigh
...I guess the closest I'm going to get this weekend to my Ultimate Party is playing the
Ultimate

Can't Hardly Wait

Drinking Game!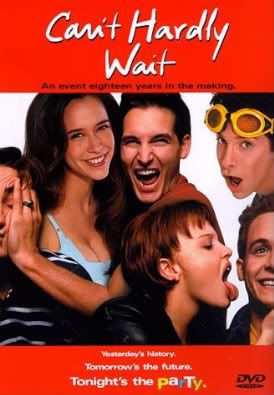 Special thanks to Talia for helping me cook up these rules last night. Also special thanks to Talia for buying me drinks twice this week. Who needs a job when your best friend is your sugar daddy?
Take One Sip When:
- Preston's letter to Amanda is on-screen
- William drinks beer
- The stoners mention a physical attribute of Preston
- Seth Green says "get laid" or makes reference to having sex that night
- Seth Green says a pick-up line
- Melissa Joan Hart gets someone to sign her yearbook
- Woody (the reminiscing guy) starts a sentence with "Remember when..." or "Remember that time..."
- Olaff the exchange student speaks English
- The girl who's hosting the party makes a rule about the party (i.e. don't go in the fancy room, don't shut the bathroom door upstairs et al)
- Amanda asks someone if they know who Preston is
- Type is on the screen
Take Two Sips When:
- Amanda Beckett is in slow motion
- Someone gets hit on by their cousin
- The Clepto steals something
- The Lovebürger drummer counts off
- Someone gets hit in the face with a pot brownie
- Someone hooks up
- Preston has a flashback
- The jocks commit to breaking up with their girlfriends
Finish Your Drink When:
- Breckin Meyer asks "Did anyone order a Lovebürger?...Well done." (simply because it's my favorite line)
- William sings "Paradise City"
- The cops come
- Someone delays their train
Have a great weekend and remember to send your weekend Bro shots to the Bro Zone at 2birds1blog@gmail.com. See you Monday!