Introducing "That's a lot of Look..."
People don't dress well, ergo I make fun of them. I had mixed emotions about introducing this feature to the blog. My nightmare is that I become some jaded, surly blogger who writes all day about all of the various things she hates and how omg everyone is such a fucking moron, right, GAWD! Nobody likes that girl. That girl plays Second Life. And I honestly don't care if your trousers are a wee bit too high-waisted or you're wearing last year's boots. I'm not a shallow cunt, honest. (Well, most of the time.) However, some people make decisions regarding what they put on their bodies that boggles my fucking mind. Like this guy for example: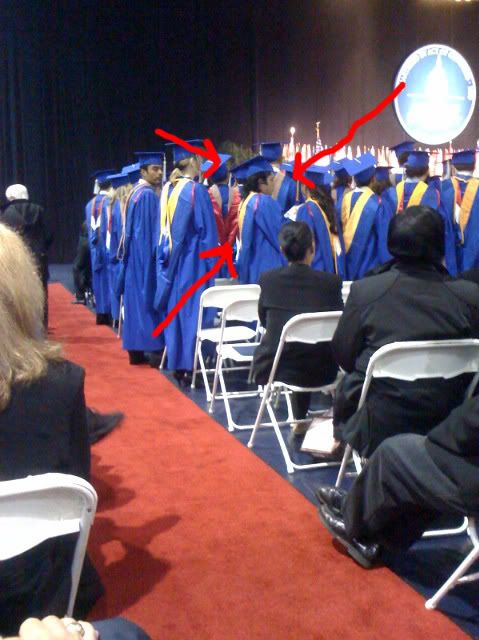 Let me explain what you're looking at. I discreetly snapped this kid's picture with my camera phone (I never said I wasn't creepy...) this past May when I was at AU's School of Public Affairs graduation (Alex became a man! L'Chaim!) I believe this nice Asian man had just gotten his Master's in international accounting or something equally frightening sounding. I spent the entire graduation ceremony drunk on disbelief because this man was
wearing a bluetooth wireless phone headset the entire time.
Seriously, the entire time. From the minute he marched in, in his graduation portrait taken right before he walked on stage, walking across stage, getting his diploma-- the whole fucking shebang!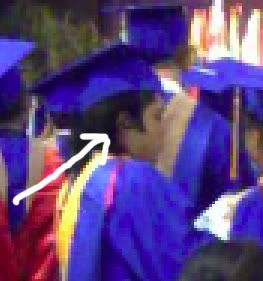 Sir, how important are you in your own mind that you need to wear a wireless phone device during your own graduation? First of all, there is no reason besides driving a car, operating heavy machinery, performing surgery or being a double arm amputee that would warrant you to need a wireless phone headset. Your hands are free sir, and I would bet dollars to donuts that your pants have pockets. You have just graduated from AU with a Masters in something mathematical sounding, so I'm going to assume you can handle the following equation: cell phone + hand + slide it in your pocket/take it out when you need it = what normal people do. So unless you're wearing leggings under that robe and driving a Vespa across stage, there is absolutely no need to wear a hands-free phone set.
The only way that I can justify this man's actions is that he's anticipating the following situation to happen: He's hoping that his heroin addicted little brother whose been missing for two weeks straight will finally be picked up by the cops, after they found him face down in the snow, almost frozen to death, covered in his own piss. Now that he's hit rock bottom, his little brother knows that he's finally got to get his life together, so he uses his one call in jail to call his finance-loving big brother to bail him out and take him to rehab. However, our hero knows that it would be
just his luck
that his little brother would call him at the
exact
moment he's on stage when one hand is clutching his diploma, while the other is busy turning his mortarboard's tassel making it physically
impossible
to reach into his pants and grab his cell phone! Thus, his little brother will rot in jail trading sexual favors for cigarettes, all because his cry for help went unanswered.
...I actually stole part of that plot from the movie
Kids
and think it's more likely that this guy is just a douchebag whose super impressed with himself. You would think that a bright blue robe, gold cords and a ridiculous looking hat would be enough to make someone feel special, but not this guy. No, he won't feel vindicated until every man, woman and child in that stadium knows that not only do people call him, but his hands are frequently not free God damnit!