Happy Drinking Game Friday everyone! I had a tough time figuring out what today's drinking game would be. I wanted it to be holiday themed, as tis season, but what movie? Being a heathen who has a Jewish mother and a Catholic turned Atheist father, my family celebrates the holidays not so much in the traditional ways. For example, during this fine Christmas season, many families watch movies like It's a Wonderful Life, Miracle on 42nd Street, or A Christmas Story. My family prefers James Bond and Mystery Science Theater 3000 marathons. But we're not just a family of sarcastic, religiously confused and jaded folk (although that would explain me a lot…) Every Christmas Eve we do watch The Muppet's Christmas Carol. And every year I cry. Damn that frog for tugging at my heartstrings.
I didn't know if anyone else is familiar with this Muppet classic (if you're not, you should be, it's got a great soundtrack and Beaker flicks off Scrooge in one scene) but you should add it to your Netflix as soon as possible. My love for Kermit the Frog and Michael Caine aside, I decided to go in another direction with today's drinking game. The common denominator of the 2bird reader demographic is that we're all mostly 20 somethings going home for the holidays (well…Eddie's not…sorry for rubbing salt in that wound). So get your flask and that reindeer sweater ready and get because it's time to play The Home for the Holidays Drinking Game!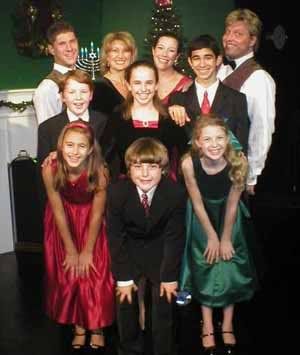 By the way when I say, "Home for the Holidays," I'm not referring to the classic 1995 Holly Hunter movie. And no, that's not my family. Now that that's cleared up, here's how this is going to work:
You are going to be drinking at random times where it won't be "socially acceptable" to have a glass of wine, bottle of beer, cocktail or shot etc. with you. Thus you will need some sort of flask to play. I also recommend making a screwdriver and putting it in a Nalgene bottle or hot beverage to-go mug and pretend it's just o.j. Pretend you're back in college and get creative.
Take a drink when:
- You inform a family member, neighbor or acquaintance you run into "what you're up to these days"
- A family member criticizes your life
- You watch a Christmas themed movie
- You go to a high school reunion-like party (finish your drink if it's in a field or on a farm)
- A relative tells you you've lost weight
- You run into someone you went to high school with (finish the drink if you hated or dated them)
- You get so full you feel like you're going to vomit
- Somebody compliments somebody on their cooking
Take two drinks when:
- A relative tells you you've gained weight
- Eggnog is served
- Someone carols at your door (finish your drink if you're the one caroling)
- You get jealous of a sibling
- A dead family member is mentioned in a nostalgic way
- Someone complains about the lack of snow
Finish your drink when:
- Someone refers to Christmas as Jesus' birthday
Aight kiddies, tonight I leave dear old NYC and head down to our Nation's Capitol for Christmas with the Patsy Family. Everyone have a safe, happy and inebriated holiday! Special mad love shutout to my roommates Serena and Blair, our friends at Kosher/Eucharist Tulane Chris and Michael and of course my partner in (blog) crime (which might be the lamest kind of crime ever,) Eddie.
Sha la la!
Patsy