1.) NO BIG DEAL:


That's just my dad wailing away on my bass, which now officially resides in my apartment. I was bringing it into my buiilding tonight when the little Ethiopian woman at the front desk stopped me and was like, "Ohhh Meghan, your sister just got married, right? You're next!" and I was like, "Oh, well I've got some time; I'm five years younger than she is." And then I, in all seriousness, proceeded to pat my guitar and say, "Still gotta sow those wild oats!" And you know what? Douchebag. Because yes, I'm sowing my wild oats. If "sowing my wild oats" means keeping a bass guitar that I don't know how to play on my couch to watch HGTV with me and feed a blog joke. Sometimes I think I honestly might be allergic to being myself. It would explain the constant health problems.

2.) Although, this is promising: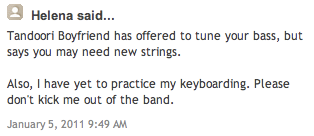 I really appreciate that Jonathan has decided to embrace "Tandoori Boyfriend". Mostly because I had no plans to stop using it. You guys should come over for dinner next week. Tulane Chris is coming tomorrow night until ? for a write-a-thon at my parent's house, but after that? This information might be more appropriate in an email, but I'm laΩzy. <--- Holy shit. Where did that omega come from? I'm not going to lie, I've been up working all night and just started writing this at 5 o'clock in the morning. I can feel my T-cells. And they feel like cotton candy.

3.)


Your competition is Laura on empty paint cans and hubcpaps, like some Stomp shit. Let the battle royale begin.

4.) Thank you so much for everyone's input on the THIS conundrum. I knew I could count on you. Although between the comments and emails, it was a lot of theory to digest. I made some venn diagrams. Did a lot of soul searching. Here's the thing though: as much sense as a lot of your arguments made, we're all just making educated guesses from a liberal perspective. I want to hear what someone who would actually buy the sticker thinks, because whoever wrote it had them in mind. And that's why I spent a large portion of yesterday combing through Southern pride and white power forums until I finally found Yahoo answers forum member stkamur.





stkamur is a proud owner of this bumper sticker and explained its meaning in a forum about how the "socialist progressives" are driving a wedge between the country and there's going to be a second Civil War, or something equally terrifying.
Point is, if black tribal leaders hadn't sold black slaves and they never arrived here in America, then we wouldn't today have Al Sharpton, the black panthers, (old & new), Whoppi Goldberg, hip-hop "music ?", and crack-head, "who da baby daddy?" welfare mentality that has infected the sensibilities of a nation.
Blacks have had fifty years to move on and get a piece of the American dream but the majority are satisfied to live off the welfare crumbs from the liberal democrats. Racism will NEVER end as long as the likes of Jesse Jackson and others are given a free microphone to piss and moan about circumstances prior to 1964.
So, like I said, "I'd a-picked my own cotton".
(Now it's me: +12, you boobs: -12).

I have so many emotions:

1.) There's a distinct possibility that this was ghostwritten by Tulane Chris, because my God does that man hate Whoopi Goldberg.

2.) I just all-around appreciate that Whoopi Goldberg is one of the reasons why he would have picked his own cotton. Like if given the chance, he'd go back in time and sprint through the fields screaming, "GET RID OF THEM!!! GET RID OF THEM ALL!!! ONE DAY ONE IS GOING TO RISE UP, BRIEFLY MARRY TED DANSON, WEAR LOOSE-FITTING COTTON TUNICS, TINY SUNGLASSES, AND DOMINATE THE CENTER SQUARE!!!"

3.) The first time I read this, I read the last line as, "Now it's me: +12, boobs: -12", and thought he was a gay, racist, redneck, Conservative extremest. Which would have been scary because if that's not proof that the world is going to end in 2012, I don't know what is.

Absurdity aside, stkamur's explanation pretty much echoes the theory that most of you thought was correct: Anonymous 9:21's.




Yeah. It clicks, but I still feel unsatisfied. It's like this time that my friend Megan was like, "Hey Meg, Osama bin Hidin'!" and I was like, ".........What?" and she had to repeat the joke like 65 times and walk me through it step-by-step until we realized that I got the joke the whole time, it just wasn't funny. I was giving the joke more credit than it deserved; I was searching for a second level that never existed. That's how I feel now. I don't really know how to describe it and I don't think my life will ever be the same and mostly I just wish someone were here to hold me.

It's also worth nothing that almost every single website that comes up when you google, "If I had known this, I would have picked my own cotton," is about how nobody gets it. Which is absurd because apparently it's a popular catchphrase that's been around for a long time! It's just so irresponsible. Don't mass produce something if it doesn't make any fucking sense. If I was on the highway behind a car with that bumper sticker, you would have to scrape my bloody remains off the Jersey wall because I would have been too hypnotized by its ambiguity to concentrate on the road. It's infuriating. Slash makes me think that we should make my favorite nonsensical Kevin Yang catchphrase, "Well wouldn't it be obvious if I'm in here and you're playing Beyoncé?", into a bumper sticker, sell it in the South, and make a babillion dollars.

Anyways, I'll eventually learn to let this go, but in the mean time, thanks again for everyone's input and Anonymous 9:21, shoot me an email and I'll send you a yummy!




Anonymous 9:21's friend hates black people. Pass it on.