The results of the
2birds1blog Merch Store
Sexual Misadventure Contest
are in!
The winner is Pete McDermott, with what we here in the 2birds1blog editorial office call the "Blood/No Blood Story"; the runner-up is "Sex Minx" with what Chris affectionately calls the "Rooster Tail Story"; and 21 minutes late with no proofreading is Kevin Yang.
Tulane Chris and I were on a conference call for six hours last night/this morning discussing this competition. Five were spent on Kevin Yang. Who is Kevin Yang? He's a recent college graduate and avid baker. He's the gin in our martini, the clams in our linguine, he puts the
spring
in Springfield. He also puts the
uhh...
in honorable mention.
Chris and I were about to wrap up the competition and agree on our winners when at 11:21 I saw that one lone entry trickled in after the deadline. At first we weren't going to read it because, you know,
deadlines
, but the same curiosity that killed the cat also took a bite out of us. So we opened it up and sunshine, lollipops and rainbows came out. We were hooked from the very first paragraph. And by "hooked," I mean dangerously obsessed. Here is the entirety of Kevin Yang's masterpiece entitled "Once You Go Black", annotated by me and Tulane Chris.
I'

ve

always considered myself open to accepting all sorts of cultures and people. A nighttime adventure into uncharted territory for a black party has opened my eyes to believe that the world is better off with everyone being egalitarian with their friendships. Aside from having a deep connection with different kinds of alcohol and forms of pasta, I don't think that hooking up with a black man is a good way to advocate my

newfound

appreciation for egalitarianism or for black people. For starters, hooking up with a black man is probably right up there with being the general manager for Kinko's. Though I hold high regards for the hip-hop community and what they have brought to the table, I'm not too fond of black men assuming that if I'

ve

never been with a black man then perhaps I'm interested in becoming their baby boy.
I can not tell you how many times I've read that paragraph out loud to Chris on the phone resulting in the two of us cackling like witches for on average 15 minutes. There are so many things to discuss. Mainly, we can't tell if this is the beginning of an erotic novel or simple clan literature. Black people have a deep connection to different kinds of alcohol and forms of pasta? I know I like my racial stereotypes like I like my carbohydrates:
complex
. Secondly, hooking up with a black man is probably right up there with being the general manager for Kinko's? You know what they say about black people and copy machines... I mean,
I
don't, but maybe you do. And if you do, let us know because we don't know what the fuck Kevin Yang is talking about. This story has become like mystical scripture to us
—
we keep re-reading it over and over again waiting for revelation to descend.
I hooked up with a black guy when I went to an indie, eighties revival club with my friend Sara who was home for spring break. These clubs are what most people refer to as a "mix crowd" since there is straight, gay, A-sexual people there. Other than going there to get drunk, I don't see that point in going to any clubs at all if I just plan on drinking. It's not like I hate these kinds of clubs, but looking for someone to go home with isn't an easy task because a straight guy can look as gay as the next one. The night was pretty hazy thanks to contributions of wine and vodka so I won't concern myself with details.
Every time a Kevin Yang sentence makes no sense, an angel gets its wings.
Sara, her friends, and I made our way to the crowded dance floor. I was dancing as if the ghost of Elvis Presley possessed me when I noticed someone looking at me from the corner of my eye.

[Editorial note: We hope it's

old

Elvis.]

Any kind of music that isn't hip-hop or doesn't involve shaking my ass, I have a hard time dancing to. And besides leaving my mouth wide-open like a Venus flytrap while I'm in public, dancing like a fool can be a terrible shortcoming of mine. It took about ten minutes of flailing my arms in multiple directions to realize that he was black and was probably into me. He was standing by the wall with his friends and my group was pretty much next to his. Sara nudged me to go talk to him.
First and foremost, what we ascertained from this passage is that Kevin Yang eats insects. Pass it on. Also, this is so grammatically incorrect it's hard to tell
just
how racist he's being.
"Hi! What's your name?" I asked him about to fall over.




"Jester." The music was too loud so I had a hard time hearing his name. That's what I thought when I heard when I asked his name.




"I want to make out with you," he said putting his arms around my hips. I wondered if all black men were this forward. So without the restraints of being sober, I approved because I was open to what life had to offer. At the time unfortunately, I figured making out with a black man was one of those things. Jester isn't the type of black guy you'd see out of a Ludacris music video or working on his unemployment, he was more along the lines of an Oreo: black on the outside, white on the inside.
OK.
Now
we know how racist he's being.
"We can't make out here," he said. "My friends don't know I'm gay, we'll have to go somewhere else." This I could agree with, I don't like displaying public affection – it's not cute and not attractive on any front. It's even worse when the people making out are a couple. I decided it would be more adequate to make out in the restroom.
OK, wait a minute. So his friends don't know he's gay but he just put his arms around a twinky gaysian boy's slender Elvis-swinging hips and said, "I want to make out with you"? Are all black guys this subtle? (And PS: every time Kevin Yang says "black men" or "black guys",
drink
.)
I led him to one of the stalls and shut the door behind it. Since the stall looked as if Hulk Hogan kicked his way out of the stall, the lock didn't work so I had Jester lean against the door to keep it closed. While we were making out, he would tell me that he really wanted to hook up tonight or tomorrow morning.
We've done some further research on Kevin Yang, (some might say "obsessive" research) and on his personal
blog
(from which this was a fucking r
ecycled post
), he refers to himself as a witty "essayist" who graduated from the "prestigious" University of Florida. So. Just put that in your pipe and smoke it. And do you think he meant Hulk Hogan or the
Incredible Hulk?
Either way, Lord knows the best way to stay in the closet is to follow a twinky gay Asian guy into a bathroom stall to suck face. What did his friends think he was doing in there the entire time? Talking about pussy and the Tampa Buccaneers?
"I'm way too drunk," I said to Jester, smiling. "Maybe tomorrow?" He nodded his large head and I motioned him to open the door. We exchanged number and parted ways. I had hoped this was probably the last time that I'd see him again.




The club was closing up and I explained to Sara what had happened with Jester. "You should go over to his place!" she exclaimed. "It might be a lot more fun now than it will be tomorrow when he doesn't look like Tyson Beckford."
Hurry! Go home with a stranger while you're drunk! It's more fun when you don't realize what's going on! Sara sounds the kind of girl who'd want to play Russian Roulette but be like, "Instead, let's put
three
bullets in the gun."



It doesn't take much egging on for me to go with what anyone suggests since my morals are on par with a remote control. Sara was right, I knew if I had seen Jester the next day, he wouldn't appear as attractive as he did fifteen minutes ago. Added to the fact that I have as much shame as David Hasselhoff when I drink, I agreed to Sara's plan and texted Jester that I'd be at his place in ten minutes.




The drive to Jester's wasn't difficult since I had learned on multiple occasions, while watching Cops that keeping your hands at ten and two on the steering wheel and not changing the music will ensure getting to your location safely. On the way to Jester's apartment, I decided to text my friend Vladmir who had a history of sleeping with black men.




"Any wisdom to share about black guys and hooking up?"




"Get some jelly and relax," he responded.
When I first read this out loud to Chris, he was
terrified
that Kevin was talking about jam. Nothing says a fun summer night like moderate drunk driving and a butt full of preservatives. And is he getting these similes from clicking the random article button on Wikipeida?
Once I got to his apartment, I knocked on the door. His roommate opened the door and greeted me with a look as if he were witnessing dogs having a conversation about math. I explained to him that I was looking for Jester and he reluctantly let me in.




"What's wrong with your roommate?" I asked Jester, walking into his room as he was sprucing up.




"We normally don't have people over at this time. Plus he doesn't know I'm gay," he responded while putting on his play list of Beyoncé's greatest hits. It was three A.M.




"Well wouldn't it be obvious if I'm in here and

you're

playing Beyoncé?"
Round and round the emphasis goes! Where it stops, nobody knows! You people just don't know how much Chris and I hysterically cackled and continue to hysterically cackle (we're literally cackling
right now
) re: the sentence, "Well wouldn't it be obvious if I'm in here and
you're
playing Beyoncé?"
Before he answered, he pushed me onto his air mattress and we proceeded to make out. This time, I could taste something that I couldn't pin point but it reminded me a lot like ass breath. What did he gnaw on? Dirty socks? I knew I had to get out of here because nothing turns me off more than bad breath, except for unkempt pubic hair. [What a fucking princess.] I tried to play it cool, but it was difficult to let out my enthusiasm for a good time if someone that had the breath of Oscar the Grouch's trashcan. This was my first hand on experience with a black guy and so far, I wasn't enjoying it.
We fully recognize the ludicrousness that we're dedicating this much time to acknowledge a piece of writing that's so "grammatically creative" when we had over 150 spell-checked entries from people who actually gave a fuck.

Twenty minutes had gone by and I was in a desperate need to get up and leave. I didn't know what to do while Ass Breath was all over me. I felt bad getting up and go since I was in unknown territory. And I figured asking him if he would rather watch a movie or play video games were more suitable but realized that wasn't an option after he face raped me. Luckily, I had the necessary phone app on my iPhone to guilefully get out of this situation.




"Give me a second," I told him slowly pushing him away. "I need to set an alarm on my phone." Prior to hooking up, he asked me if it was okay that I spend the night and before realizing the situation in his mouth, I agreed. I leaned over the bed to reach into my pant pocket, pulled out my phone, and turned my back facing Ass Breath to avoid him from seeing what I was doing. I have an app that's called FakeMyCall and it's pretty self-explanatory. I plant a ring tone to call me thirty seconds later, I answer the call, and pretend I'm on the phone. I've only used this app twice but it's a surefire way to get out of awkward situations.




My phone rang thirty seconds later. "Hello? Oh my gosh? Are you serious? Okay, I'll be there tomorrow morning."




"Who was that?" Ass Breath asked.




"It's The Boys and Girls Club," I told him in an overstated tone. "I just remembered that I'm taking my little brother to the Humane Society to go pick out a dog in morning. I have to go."




"But it's three-thirty, what are they doing calling you at this time?"




I had to come up with something plausible. "They have a twenty-four hour call center."




Then he said something to reassure that I was not going to be seeing him again.




"Can't I just stick it in once?"




"I have to think about the kids first," I said while I was looking for my T-shirt and jeans among the piles of clothes on the floor. Not only did he have a hard time cleaning his mouth, he also had a hard time cleaning up his room.




As I was about to step out the front door to discover his roommate not in the living room, Ass Breath told me to text him next time I'm free. I gave him a friendly wave and smiled, shut the door, and breathed a sigh of relief.




"No thanks, buddy," I said to myself.




The next morning, I looked in the mirror and spotted a dark circle on the left side of my neck, along with two more dark circles on my chest. Not pleased about last night since I now was forced to wear a hoodie, I considered borrowing my mother's foundation to cover the marks left by Ass Breath. I looked in the mirror not only ashamed, but also dirty. Something had to be done, and it needed to help me get rid of the images from last night. So I brushed my teeth, flossed, and Listerined my mouth for two minutes. Following my discoveries, I received a text from Vladimir asking about my night.




"I didn't have sex last night, so I'm quite relieved that nothing went past second base."




"Good, the last time I had sex with a black guy, I was ruined for two weeks. You don't deserve that. Come join our no sex pact: N.O.P.P. No Orifice Perpetration Pact."




"Sounds like a very noteworthy cause," I replied, laughing out loud.




"I am not only a member, but the President too."




I was quite disappointed by the old saying, "Once you go black, you never go back," because perhaps it could have been more enjoyable had Ass Breath considered eating a box of Tic-Tacs. I don't see myself hooking up with another black man anytime soon, but I won't rule anything out. My experience goes, "I went black, and I came running back."
...Ladies and gentleman, Mr. Kevin Yang. Chris and I then spent (and I'm not exaggerating this for comedic effect)
at least
5 hours researching Kevin and laying the groundwork for our new Kevin cult. Did you know that Kevin works in a cupcake bakery? Did you know he has 588 friends on
Facebook
? Or that his interests include "obese people" and philosophy? Or that the sixth most popular tag on his blog is "black"?
Likes: chicken nuggets. Dislikes: black people; unkempt pubic hair.


As we researched further and our obsession grew, Chris proposed we do one of the following:
1.)
For our first
2birds1blog Investigates
project, fly to Orlando, stay in a Super-8 Motel, and stalk Kevin Yang's cupcakery in order for him to seduce and bed Kevin Yang.
2.)
Write a graphic novel about The Kevin Yang Experience.
3.)
Introduce a new weekly blog feature called "Yang Out The Ying-Yang" where we catch up with Kevin Yang and his newest misadventures.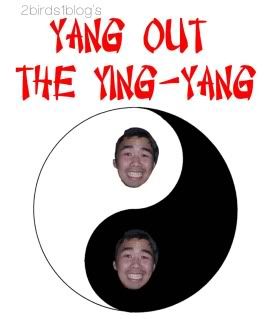 4.)
Write a children's book called,
Kevin Yang and the Blustery Day.
5.)
Delete the blog entirely and replace it with a picture of Kevin Yang's face, which links to the Kevin Yang
flickr
account.
6.)
Write a Kevin Yang Choose Your Own Adventure.
7.)
Get costumes and act out Kevin Yang's "Once You Go Black" in a two-man production.
8.)
Hastily scratch "Kevin Yang" on the Vietnam Memorial Wall with a car key.
9.)
Launch a new comic titled,
Kevin Yang Compares Any Two Things.
(Side note: I need you to know that Chris just said to me, "I want to see Kevin Yang watch female ejaculation porn." And he wants you to know that upon reading the following in Kevin Yang's blog bio, "having graduated from a prestigious university with a degree that has about as much credibility as a chair," I stopped reading, got infuriated and screamed, "WHAT?! CHAIRS ARE KIND OF CREDIBLE!")
10.)
Buy a tombstone that says "Kevin Yang" and quote, "just put it somewhere."
Frankly, I'd love nothing more than to do all of the above. It is now 5:30 in the morning and Kevin Yang is
still
funny. Like, Chris just said "Kevin Yang and the Goblet of Fire" and I laughed so hard I thought I might get my period. Chris literally just went to the bathroom because he thought that if he didn't, he might poop.


What blows our minds the most is that Kevin Yang
actually
exists. After six hours, we've built him up to be this demi-God of racism and inscrutable comparisons and we're legitimately star-struck at the thought that he reads our blog. We keep stating simple facts about Kevin's existence and the thought of his normalcy blows our minds. Like, Kevin Yang gets crushes. Kevin Yang has given good advice. Kevin Yang brought bag lunches to school. Kevin Yang has pubic hair. Kevin Yang had a kindergarten teacher. He's like the opposite of a Chuck Norris joke.


Kevin Yang is the new and the now. (For so many reasons.) We're not sure if this is just one of those things that's (ungodly) funny only to us, but we do know that he's here to stay. This is normally where we'd put a conclusion, but we've been trying (unsuccessfully) to think of a conclusion for the past hour and it just keeps turning into more
Kevin Yang has
...jokes. I think it's because we just don't want this to end. We don't think anything can be this funny ever again. Ever. We could die. Right now. Last meal? Different kinds of alcohol and forms of pasta.
[Tomorrow we'll post Pete's story. Congrats Pete, you won the free "sorr about the" bag from the all-new
2birds1blog merch store
! You're no Kevin Yang, but we think you did just fine!]