From yesterday's (numerous
mighty
self-righteous) blog comments:

I'm sorry, but I honestly don't get that. Why do I have to be financially stable to get a dog? I mean, lets examine the reasons I why want to get a dog in the first place, shall we?
Official reasons why I, Meghan McBlogger, want a dog

- Target practice for my brand new BB gun
- To pit up against other neighborhood dogs in a vicious Dupont Dog Fighting Ring (the DDFR, if you will) (ddfr.org)
- Two words: Snowpocalypse transportation
- To occasionally walk so I can hit on guys in the park

- Because sometimes it's nice to listen to something squeal like a pig

- Fall 2010: Pug sweaters and matching Shiba Inu hot pants!
- So I have something to bitch slap when I'm listening to Dre and want to feel included
- To burn with cigarette butts
- To test my new line of
Dynasty
inspired electric blue eye make up on
- Because as of right now I have nothing to chain to a stake in my closet and and yell at when I'm drunk
- To throw in a bag and toss in the river: if it sinks
—
it was a good Christian dog. And if it floats?
WITCH!!!


- Because that choke chain and metal cage have been collecting dust ever since I lost interest in S&M
- To breed with Cella and so I can start my very own puppy mill. EaSy MoNeY!

- Because I want to be a vampire for Halloween '10 and plastic fangs can't hold a candle to the authenticity of a dog's canines

- So I can shoot at it's paws and watch it dance, monkey,
DANCE!
- To practice my budding punting career with


- Shish kapug
- To serve as a fury stage for my one-man production of

Stomp The Yard
- To fatten up and sell to Mei Wah by the pound


...I mean, I just don't get why I have to be financially stable to do any of those things, you know? Cock? You know?
Asshole. And now you get this: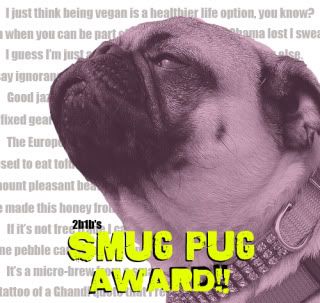 I'm irritated.
I'll be raping

purebred
puppies if you need me. Good day.