I've lived alone in my studio for about a year and a half now and guess what? I love it. I want to be buried here. No offense to anyone I've ever lived with, but if you put a gun to my head and made me choose between repeating
my middle school experience
or living with a roommate again, guess what I'd chose?
Cyanide pill
.
That's
how much I love not having a roommate.
Why do I love not having a roommate? Um,
gee
, I don't know. Perhaps because I can eat cereal for breakfast, lunch and dinner without a smug roommate shooting me dirty looks from the kitchen while they cook "chicken", "vegetables" or other such "proteins" and "nutrients"? Or maybe because I can plop down on the couch and watch a
Deadliest Catch
marathon and drink grain alcohol from 5:00pm until whenever I pass out, free of judgment? Or perhaps because I can wear my Second Skin (Fall & Winter: wife beater and
Jack Daniels pajama pants
; Spring & Summer: wife beater, booty shorts and thigh-high knit socks.) (Seriously. Find me an outfit more comfortable than one of those two and I will blow my head off because my entire universe just folded in upon itself.) day in and day out without feeling like a total slob? Although to be fair, I did recieve the following text message last week from
College Roommate Danielle
:
I am totally wearing thigh socks and teeny pajama shorts dancing around the room drinking tequila. and it makes me think how i used to LOVE when you would put on your thigh socks pajama shorts and dance with your t-square! I for reals miss you.
And shortly thereafter:
Wow, I really hope you remember doing that otherwise I sound SUPER gay right now.
Of course I remember that. Because I
still
do it. And save for Danielle because we're kind of gay for each other, I couldn't with a roommate.
When I tell people that I live alone, I usually get one of two reactions:
1.) The person gives me a knowing look and says, "Living alone is (or, must be)
awesome
."
or 2.) The person looks horrified and in only a
slightly
judgmental tone says, "OH GOSH, I could never live alone—you must get so
lonely
."
I don't understand that. Because I have friends; I just don't want to

live

with them. And to be fair, they probably wouldn't want to live with me. Because my personality is a lot like cigarettes: not
immediately
addictive and hazardous to your health upon prolonged exposure. I just think it works better for all parties involved when I live alone. Which kind of worries me and adds to my whole emo "I'M NOT LOVABLE!!!!" life-fear that was seriously exacerbated upon turning 25. When I moved back home from New York, I had a sit-down with my parents (married 37 years last Thursday) and was honestly like, "How the FUCK do you live with another human being for that long?" It boggles the mind. Because as my
last blog post
can attest, I can't be alone for 37
minutes
without wanting to break my lease if it means getting away from myself. I remember them giving me a really good and comforting answer at the time, but I can't remember what it was for the life of me. So fuck me.
But the point being, in the entirety of my living alone, I've only gotten lonely twice. The first time was, of course, during the
Snowpocalypse
. Because that was a
long
time to be shut-in alone. (Although said loneliness was quickly remedied when I threw my ironic Barack Hussein Snowbama party and when
Helena
snowed herself in with me for the last half of the week, bless her heart.) The second time I got lonely happened this past week.
I was taking a little break from my
productivity streak
to clean my apartment (being productive even when taking a break from being productive?
The end is nigh.
) and guess what ultra randomly came on my iTunes shuffle? White Town's "Your Woman". And I swear to god, I said (out loud and to know one in general) "HOLY SHIT" and looked around my apartment for someone to be like, "OH MY FUCKING GOD!!!!1 DO YOU REMEMBER THIS SONG?>!1?!?!" with.
That was a lonely moment. Because, OH MY FUCKING GOD!!!!1 DO YOU REMEMBER THAT SONG?>!1?!?! I mean, talk about things that transport you directly back to
middle school
. Fuck
chamomile tea
; listening to that song was like stepping into a time machine. I can remember
exactly
where I was the first time I heard it: I was in my mom's car, the radio was on and she was giving me and
Teresa
a ride to Lake Forest mall, where I was probably going to spend my allowance on rocks at the Natural Wonders store. (Yes I had a rock collection. No I don't want to talk about it.)
I have such vivid memories of being so utterly confused by that song. And apparently it doesn't take a lot to confuse the gender norms of an 11-year-old girl because I was very much like, "I DUN'T GET IT! THE WORDS ARE 'I COULD NEVER BE YOUR WOMAN,' BUT A MAN'S SINGING IT!
WHHHHHAAAAA?!?!?!
" This was of course before the days when you could Google song lyrics, so I distinctly remember working it out in my head and reasoning, "Maybe he's saying 'I could never be
A
woman.' That would make sense. Because boys can't be girls.
BOYS CAN'T BE GIRLS!!!!!
"
Nowadays nothing shocks these young kids, what with the Katy Perry kissing girls and liking it and Brandon Flowers and his whole, "somebody told me that you had a boyfriend who looked like a girlfriend that I had in February of last year" conundrum. Back in my day we had White Town. And we were
confused
, thank you very much. Simpler times...
It now being 2010 and the future with our hovercrafts and meals in pill form and silver go-go boots and all, I decided to utilize our advances in technology to eradicate my 11-year-old confusion about White Town and the song "Your Woman" via Google once and for all. AND EVERY FACT I LEARNED BLEW MY MIND MORE THAN THE LAST. Behold:
1.)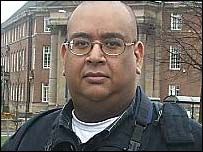 That's
what the gender-bending, sex pot voice of White Town looks like?! Are you fucking kidding me? He looks like Al Roker pre lap-band surgery. For some reason I always imagined him looking like Boy George, circa
Worried About the Boy
: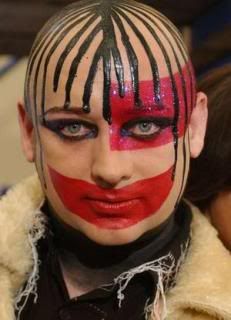 Which thereby makes me feel even
more
country that anybody who breaks gender stereotypes must automatically look like Boy George in my mind.
2.)
According to the FAQ section of the official White Town website, this is what "Your Woman" is about:
I love 'Your Woman' *BUT* what is it about??? Are you a man/woman/transsexual?





Ummmm ...well, that's a toughie. When I wrote it, I was trying to write a catchy pop song that had more than one perspective. Although it's written in the first person that viewpoint isn't the same as it may




sound. So, these are *some* of the things it's about:




Being a member of an orthodox Trotskyist / Marxist movement (as I was for three years in the 80s).




Being a straight guy in love with a lesbian (ditto).




Being a gay guy in love with a straight man.




Being a straight girl in love with a lying, two-timing, fake-ass Marxist.





The hypocrisy that results when love and lust get mixed up with highbrow ideals :-)



First and foremost, discussing Marxist/Trotskyist ideals in the same sentence as an emoticon is sort of a hard pill to swallow.
Secondly,
Jesus Christ
. "The hypocrisy that results when love and lust are mixed up with Marxist/Trotskyist ideals"? That sounds like something that would come out of the mouth of someone I'd date because he's an artist and just had a show at Galapago's and we can be nonconformist and artsy together. Except when I say that I'm nonconformist and artsy, I mean that I want to be reincarnated into Tom Servo and would rather sit at home and eat Hot Pockets than go to a thumpin' club—more commonly called being a "loser"—and when I say
he's
nonconformist and artsy, I mean he talks about things like "the hypocrisy that results when love and lust get mixed up in highbrow Marxist/T
rotskyist ideals"—more commonly called being an "asshole." And yet, I agree to let him stay with me in DC for the weekend because I haven't had sex since the '00s and why the hell not, except I forget that he talks about things like "the hypocrisy that results when love and lust get mixed up in highbrow Marxist/Trotskyist ideals" and suddenly setting myself on fire is seems like a completely viable option for getting myself out of this situation. Unfortunately, I don't have renter's insurance, so instead I ma
ke Andrew of The Great Juno Debate come hang out with us because I don't trust myself to be alone with him without stabbing either him, myself, or a combination of both of us in the eye with a salad fork and then that night when we go out, I make every single person I've ever met come with and threaten Dan and Andrew

Not

The Great Juno Debate
with bodily harm when they want to go home at the completely reasonable hour of 3 o'clock in the morning.
That's a totally hypothetical situation, by the way.
3.)
In everything I read about White Town, lead singer Jyoti Prakash Mishra makes a point of mentioning that they're a "self-financed band." I don't get that. Why would you want to draw attention to the fact that you're self-financed? Isn't that just pointing out that nobody wants to invest in your project? Although I might just be projecting because this is a "self-financed blog."
4.)
The White Town
Wikipedia
page was last edited at 9:15pm on May 5, 2010. Which makes me laugh. Because I bet it was by someone who's name rhymes with
Schyoti Schrakash Shishra
.
5.)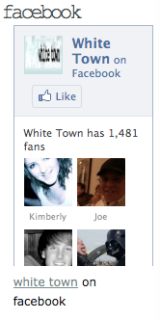 I find it shocking that White Town has 1,481 fans on
Facebook
. Because that means 1,481 people are willing to publicize to the world that they are one of the 1,481 fans White Town has on Facebook. (Kimberly and Joe: I'm lookin' at you.)
6.)
How bad do I want an official White Town mug?
Rull
bad.
7.)
You know how on Bravo reality shows, there's that jaunty little jazz music that plays when one scene is transitioning to the next? I've decided that if Bravo ever gave me my own reality TV show,
this
is what I'd want to play during my scene transitions instead (before you press play, close your eyes and picture me walking out of my apartment on my way to brunch with big sunglasses on and
Ichabod the Rasta Pug
in a
Sorr About the Bag
tote at my side):
I mean, am I wrong in thinking that a Nintendo-ized version of "Your Woman" is just nerdy and cracked out enough to be the soundtrack to my everyday life?
Bravo TV, you know where to reach me. (...At the Natural Wonders store in Lake Forest Mall.)