We get a lot of strange mail at our house. The neighbors' subpoenas, previous tenants' car insurance bills, and a flyer for an art show featuring a picture of a weeping black couple kissing a Bible. We've also gotten a coupon for discount Botox, which… I'm not going to lowball my face poison, I don't know about you. The only person I ever knew who was a Botox technician was dumb as a stick. So it wasn't that big a surprise when we got mail from Kotex the other day.

Kotex sent us a sample pack of their new, "fun" feminine hygiene products – a pad, a pantyliner, and a tampon. As near as I can make out, the "fun" is limited entirely to the brightly colored packaging.



(UPDATE: I was wrong, the pads themselves have a jaunty swirl design.)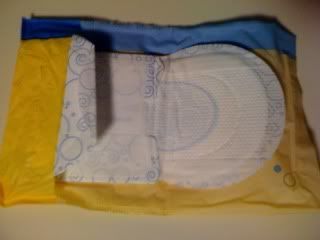 I'm not sure that's enough to qualify as "fun" in my mind. Superhero pads? Fine. That's fun. Rag all over a Ninja Turtle or an X-Man. The commercial could feature Wonder Woman single-handedly holding back a tide of mysterious blue liquid. Or they could have fortunes. Imagine a tampon that said "You will have significant abdominal discomfort today." It's always correct! Just being in a neon green package doesn't make it "fun." Full disclosure: I'm not a woman, so technically I don't know if this zesty approach works, but I know it's turning me off faster than a pick-up line from some guy named Snakebite.

Setting aside the materials themselves, we're left with the informational brochures. YES. We have:

- A sheet with a fancy pattern on one side, and warnings about toxic shock syndrome on the other. It sucks you in with the fetching design, and then hits you across the beak with blood poisoning. A for amazing.

- Instructions in French, Spanish, and English.


The French word for pantyliner translates to "under-protector," in case anyone's going on vacation. The English set has a series of questions and answers, including everyone's favorite old tune, "Am I Still A Virgin If I Use A Tampon?" (It's the same tune as "And The Band Played On.") The instructions are oddly detailed and begin with "Wash your hands" and "open the wrapper." A diagram is provided that looks nothing like an actual pelvis. If she needs a diagram, shouldn't she have a good one? The instructions also advertise that the tampons are "pocket size." Really? Are there non-pocket-sized tampons? Granted, some might be smaller than others but… too big for a pocket? For like, Amazons and valkyries? The last instruction is "Remember to remove the last tampon at the end of your period." I… really? There's also a chart so you can estimate whether you need regular, super, or super-plus, based on your flow. There are two problems I have with this. One, it doesn't have a time period – 6 to 9 grams per what? Two, what woman knows her flow in grams? How do you find this out? Do you block out a day to menstruate into a graduated cylinder? (If you have, please don't tell me because I don't want to know.)

- Third, we have a little brochure purely devoted to how fun these products are. Quotes:

"Any more exciting and you'd be busted."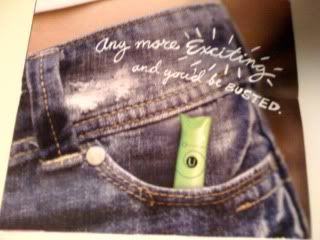 Exciting? Women call it the curse. It involves blood and pain. I guess warfare is exciting while involving blood and pain, but… having a period? Exciting?

"Farewell, dullsville. Time to shake things up for care DOWN THERE. Fresh look. WOW protection. Extra attitude."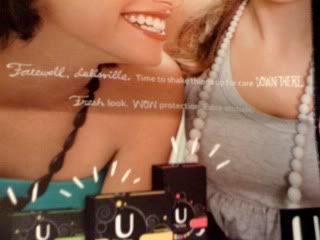 So, you're all pert and sassy, but you're still calling it your DOWN THERE, in all caps? And how does a pad have attitude? If a waiter is rude, do you hit him in the face with it?

"Stash a few in your purse, your bra." If this were under the picture of pads, I could imagine clever dual-purpose marketing where you could pad your bosom and then if Aunt Flo called, just downgrade from C to B and pop your erstwhile bust into your underwear. But it's under the tampons, so presumably, the fresh, sassy new approach to women's bodies involves a bosom lumpy because your brassiere is full of tampons. Spontaneous, vibrant tampons.

"Comfy, thin. Shockingly discreet." Shockingly discreet? Isn't that like "Mexican government?" And what's the alternative? An overt pad? Discreet things don't have brochures.

"What planet are we living on where care down there seems strangely taboo? Or where ads for pads make us cringe? TIME TO (finally!) BREAK the CYCLE." What planet are you living on? THEY'RE PADS. They absorb blood so women can go to work without leaving telltale, "Family Circus"-style tracks. The cycle of what? Not jumping for joy and running down the street screaming "the Vex of Venus is here! I can use my frolicsome new Kotex products! They're so vibrant and free!"

UPDATE:

So, I had this giddy night making fun of women's products, and then the next day the other shoe dropped. Giant Camel and I went to a bar for lunch, and ESPN was on behind the counter. They were talking about the NFL draft and taking their damn sweet time getting around to the only conference that matters, the NFC South. While I was waiting, I saw the same men's deodorant commercial five times. It starts out like they all do: shirtless man applies deodorant in well-appointed, steamy bathroom. Then it zooms in on his armpit and tiles it across the screen, so there are four identical plump armpits in view, underarm hair sticking out like malnourished beach grass.

Then, squares cut out of the armpits sink out of view, to be replaced by tropical island scenes.

Armpits. Replaced. By islands.

So, "fresh" and "zesty," the man goes about his day, and the new flavors of deodorant are shown. "Matterhorn," "Denali," "Cyprus," and "Fiji." Now, the mountain-armpit-freshness axis is well-established, if stupid. I want to talk about Cyprus and Fiji.

Actually, first, I want to talk about on-screen armpits. It's completely tasteless. If someone came up to a stranger on the street and showed them his armpit, mountain fresh or not, the police would be called and there would be tears. Happens on TV? Oh, cool. Vomit while you're at it.

CYPRUS and FIJI. I've never been to either one, but I have been to Israel and New Caledonia, which are in the general areas. They are hot, sunny, sandy, and full of Europeans. They are not FRESH. I was sweating like a whore in church, and I had deodorant. You sweat so much you get in the ocean to dry off. Everyone stinks like a French fish market. It's not their fault. It's hot.

What idiot threw darts at a globe to pick these places? Was every mountain and ice floe already in use? "You know what's brisk and fresh and oh-so-suave? Hot islands." If they named rum, or bathing suits, or luxury hotels, or even cologne after these islands, I wouldn't care. (As much.) But deodorant? Is there sand stirred into it for authenticity?

So what do you think? Are these insane marketing ploys, or am I an old grouch who doesn't have enough fun with his hygiene? Or both?