Today is another classic case of "this isn't what I was originally going to write about, but something horrible happene
d and now we need to talk about it," so let's just dive right on in, shall we?

Chris and I had a "work" conference call last night (which opened with Chris genuinely not being able to tell if I was drunk or it was just my Maryland accent) (it was just my Maryland accent) (sadly), and continued to be surprisingly productive until we slid into a 45-minute long conversation about the 1977-1981 classic ABC sitcom, "Soap". I've been watching a
shit-ton
of "Soap" lately, you guys. All four seasons are on Netflix instant view and I highly recommend you join the party. I think there's been an episode constantly on in my apartment as background noise for like, what, three weeks now? It's gotten to the point where my inner-monologue has been replaced by Rod Roddy voice over and I spend the majority of my days listening to the theme song in front of a mirror and doing the Snoop Dogg "Drop it Like It's Hot" dance. (For a crude reenactment, press play and watch Snoop go!)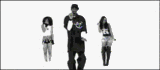 Because my brain processes obsession in one of two ways (make it a ringtone or tattoo it directly onto my person), I decided to go the ringtone route with the "Soap" theme song. Unfortunately the only version iTunes has of it is this queer little MIDI nonsense. While MIDI versions of anything are automatically awesome and Chris' new life goal to strip to it at a local amateur night legitimately made me laugh out a fart, it's useless to me. The magic of the "Soap" theme lies in the strings; I needed the original. I quickly worked The Google and found a site with the string version (minus Rod Roddy voice over) that could even be sent straight to my phone! Before you can say "Kenyan bank scam", I had given them my phone number, phone carrier, account number, social security number, birth date, blood type and a stool and semen sample
—anything, as long as it would get me the ringtone
. In retrospect, I truly believe this
might
make me legally retarded for the following reas
ons:

1.) Jesus Christ

2.) They obviously never sent the god damn ringtone to me

3.) They did, however, send me junk text messages every 30 seconds about free nudie pics and an off-brand Angry Bird game downloadable at a website with "XXL" and "junk" in the same URL.

4.) I can't make it stop

5.) ...This isn't the first time I've done something this. I was really cracked out one night in college and working in the design lab when I saw a banner ad for a special frequency ringtone called "Teen Buzz" that adults can't hear. I had just turned 22 and was feeling kind of weird about it, so I bought it to remind myself that I was young and spry and could still text in study hall. But then the download never went through and I couldn't tell if was because there was a problem with my phone or it actually had gone through but I was too old to hear it. So I downloaded it 30 more times. My phone bill was like $500 that month and my mom had to physically go to the AT&T store to get them to remove it because it was technically her name on the account and she was so mad and I got into a shit-ton of trouble, despite being 22-years-old.
Now here we are, almost four years later and I'm in the same position, but this time because of the "Soap" theme song.

This isn't funny and I don't even have a conclusion. WOW, and this just happened: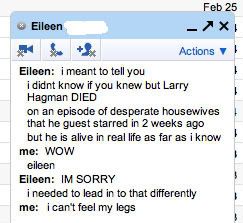 I....................................could vomit. This is too much for a Monday.
-----------------------------------------------------------------
--------

And then, I swear to God, my computer crashed.

I'm going to kamikaze this now. Good day to you.