You know what breed of creature really intrigues me? The Mean Geek. The Mean Geek, or Meek as they are called in the Scientific Community, is a sort of walking contradiction and cruel joke evolution has produced over millions of years. Physiologically, they look, act and sound geeky, and yet they are hostile creatures. They judge you based on an ass-backwards scale. For example knowing a dead language would earn a Meek's trust and respect, whereas knowing how to crack a proper sarcastic office joke or how to properly put together a cute outfit enrages the Meek and you are forever marked as the enemy. They think less of you because you aren't a fourth level Dragon Master and their die have 12 sides, whereas you have the oh-so-common four-sided model. They laugh at your livejournal because you don't have an animated .gif icon of a Jedi—HAND CODED. I've had extensive exposure to Meeks recently, as one works in my office and sits in the cubicle next to me. I have been able to study the Meek in her natural habitat and I have some questions.
Why are Meeks so mean? I know what it's like to be the new girl in the office, so on her first day I walked up the Meek, smiled and nicely and said "Hi! My name's Patsy, you must be the new editorial intern!" The Meek looked at me the way one might look at someone who just publicly fucked a chicken, mumbled something that sounded like "Oh, okay" and then headed back to her desk. You shun my offer of friendship? GAME ON MEEK…
The Meek I'm sure is a very intelligent girl and is very dedicated to her internship. She is always working and requesting more work. Most of the editorial interns we've had just ass around and watch TV. Hell, this is my full-time job and I'm writing this blog entry and eating chex-mix instead of working. This Meek could go far in the editorial magazine world. But she just can't do it looking the way a Meek looks. I'm sorry, I hate to say it, but it's true. The Devil does not wear Limited Too. Now I'm not saying that you have to wear Prada to work everyday; Target and Old Navy make up a large portion of my wardrobe. I'm just saying maybe (if the Meek had accepted my offer of friendship) we could clean up shop a little.
The Meek wears the same outfit everyday. But literally, she wears the same outfit everyday. It gets horribly wrinkled by Friday. Poor Meek…Boo, I coulda helped you out.
Now you may think I'm a raging snob, but maybe actually seeing the Meek will change your mind. Here is how I look when I come to work in the morning (I know, I know, this is supposed to be an anonymous blog, but whatever, congratulations, you guys get to know what I look like. I just took this in the bathroom with my phone, so I apologize for how crappy I look):
And here is a picture I took of the Meek. I realize how creepy this is, I really do. But I just had to share so people would realize how extreme this situation is and I can sound 45% less like a vapid whore (and yes it was awkward to wait until she had to get up to eagerly snap a picture of her with my phone. But Meeks must be well documented so we can learn all we can about them!)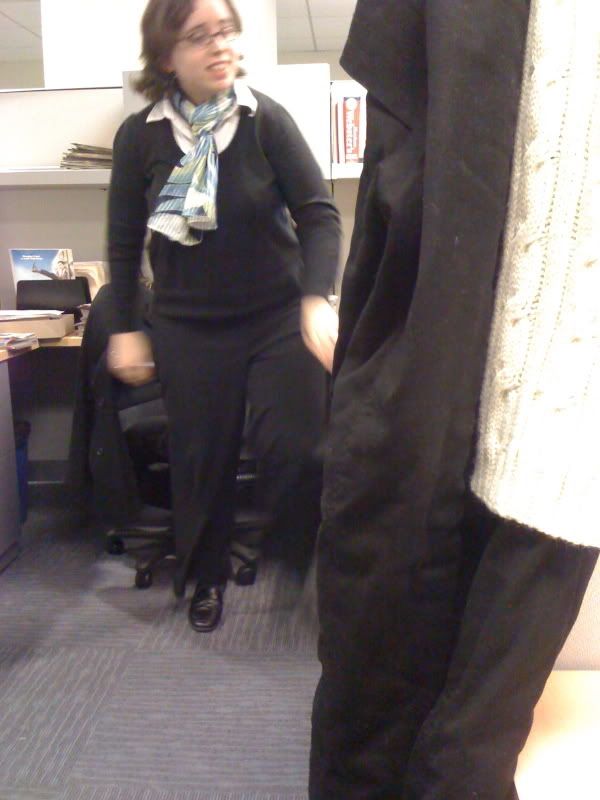 There she is. In all of her Meeky glory! That's the outfit she wore all of last week. And it's okay to be gap-toothed, have sort of a mullet and not be the thinnest girl ever! I mean look at my picture, I'm a cow! But it's worth the effort to present one's self well. Why doesn't the Meek care? And why does the Meek care that I care and react with hostility towards me when I'm not the one with a kerchief around my neck? I shall study this Meek for the next 6 months and learn all I can to end Meek behavior. I know you have had a bad Meek experience…Anna…I'm looking at you. Feel free to share your Meek stories so I can further understand these creatures and end Meek harassment, or EMO: the End Meeks Offensive. We get together once a week and listen to Dashboard Confessional and cry.
Sha la la!
Patsy