Happy Drinking Game Friday to one and all!
So recently Eddie sent me a mix CD called "Dance Away Winter Blues," and I must say it was much needed. I can't stand that span of time after the holidays where the city is no longer covered in twinkle lights and filled with cheer. Instead it's just dark and boring. And without twinkle lights. Really, I can't stress the importance of twinkle lights and my general demeanor. When I get in these angsty-teen-without-a-date-on-prom-night moods, I tend to perpetuate them by listening to glum music and watching depressing movies. One winter break, my mom noticed that I was watching the movie Trainspotting over and over again and decided to remedy this by buying me The Ultimate Neil Diamond Collection. Oh Sweet Caroline, it was awesome.
So I'm going to pass my depression on to you (because friends who care, share). Get your needle ready and find that vein, because it's time for the Trainspotting Drinking Game!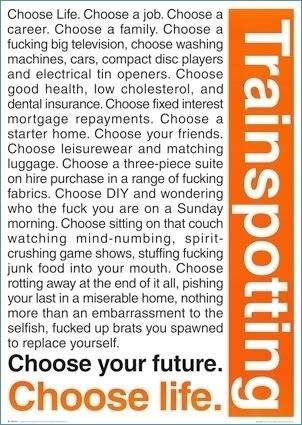 Rules
take one sip…
- Anytime Renton says the word "choose." Just kidding. You would die.
- Sick Boy talks about James Bond
- Begbie beats somebody up
- Someone says "shyte"
- Someone looks for a vein
- Someone shoots up
take two sips…
- When someone is arrested
- Someone decides to quit heroin
- Someone has sex
- There is a trippy heroin/opium/withdrawal induced scene of a surreal reality
finish your drink and poor some on the ground for your fallen homeboy…
- When Tommy dies
Sha la la!
Patsy