For all of my faults
—
and there are about a baker's dozen of them in total
—
I'm not the kind of person who's afraid to admit when they're wrong or apologize if need be. Which is why, today, I'd like to do both. Because allergies: fuck. me. in. the ASS. They're horrible! For the first time in my life, I understand the plight of the allergy sufferer and I am drunk on guilt for spending the past
25
26 years thinking that you people are the biggest pussies on the plane
t.

To me, "allergies" have always been synonymous with "a nasty wittle case of the sniffles". Because in my experience, that's all allergies have ever been. Sometimes in the spring my eyes get a little dry and scratchy. Occasionally I'll cough. One time my right eye got puffy and I had to wear sunglasses to class and felt like a giant asshole. But that was really the worst of it. Washington, DC is a notoriously god awful place for allergies and it's all anyone ever wants to talk about. And if there's anything I hate more than small talk, it's small talk that involves a
pollen count
. Your nose is stuffed up, good for you. My skin is slightly dry. I over-tweezed my left eyebrow last night. Despite just switching to a 36-dollar conditioner, I have a few split ends. If you'd like to have a conversation about minor body irritations, two can play at this gam
e.

But really allergies are so much more than that. I feel sick all the time. I'm stuffed up, my nose is constantly running, my eyes feel like I'm wearing sandpaper contacts, my throat hurts, I'm tired all the time, I catch myself audibly wheezing in public, and the sneezing—MY GOD, the
sneezing!
I've sneezed before (obviously, as I am a human being) and it feels good, but this kind of sneezing is on a whole other level. It feels
so
fucking good and I really can not stress that enough. My body isn't just sneezing for sneezing's sake; it's getting a job done. And it's such a process: there's this huge 30-second build up filled with wave after wave of —OH, I'M GONNA SNEEZE, —AH, HERE IT COMES, —HERE IT, —OH GOD, —I, and then BAM! I sneeze. And it lasts so long and feels so good and snot goes flying everywhere and it's dirty and it's wrong and it's amazing. It's essentially a nose orgasm and frankly when it comes to orgasms, beggars can't be choosers. I get legitimately excited when I know it's about to happen. I feel a sneeze coming on and I get down on all fours, shove a carrot in my mouth, whip my hair around like I'm in a Whitesnake video, sneeze, and
fuck

yes
—afterglo
w.

On the less glamorous side, I woke myself up last week scratching the hell out of the
hives
that magically popped up all over my arms. Now I'm left covered in these bruises that makes me look like I straight-up have the Bubonic plague. Seriously. This is a gentleman suffering from the plague: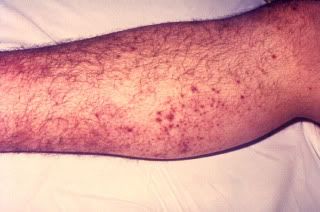 A
n
d this is
m
y left arm: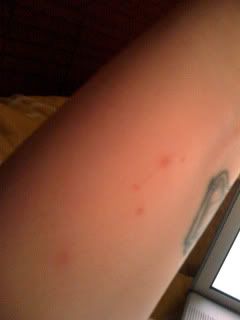 Don't want to h
ave sex
with me? PFFFF, fine! There's a "House Hunters International" marathon on and Lisa LaPorta just started following me on Twitter; my dance card is FU
LL.

The worst part about having allergies is that nothing helps. Nothing. Somehow the scientific community has figured out a way to make seedless watermelon and boner bills, yet there's not a single thing in CVS that can help me breath again. Also, when you're sick with a cold or something, it sucks, yes, but at least you know it's going to go away in a week or so. When is this shit going to go away? WINTER. It's fucking mid-April! That's insanity! Like, if I got pregnant today, by the time my allergies are feeling better, I could deliver my baby and it would be premature and the size of a Snickers bar probably, but odds are it would live. I don't know. That comparison actually wasn't as strong as it was when I made it in my head. My point is: shit's nuts. And I know the obvious answer is "go see an allergist, Meg!" but need I remind you that I don't have health insurance and my job is cracking fart jokes for PayPal donations. Remember when Carrie Bradshaw got her book advance and went on a shopping spree at Dior? Well, when I got mine, I splurged on name-brand toilet paper and I am in
no
way saying that just to be funny. (I got Cottonelle. And it was worth
every
extra penny.) Alex swears by his neti pot but...it scares the hell out of me. Nothing in the world would surprise me less than if I panicked right when the water started going into my sinuses and I choked and drown on my bathroom floor. I'm tempted to ask Alex to be my "spotter". He's already coming over tomorrow for autoerotic asphyxiation night, so I guess two birds, one b
elt.

More than anything though, I want to apologize to Helena. Devotees will remember that almost exactly a year ago, I gave Helena a lot of shit on the blog because she said she would consume a parasite if it meant never having to suffer from allergies again. While I'm not conceding completely and saying that I'd eat a parasite for allergy relief, I
am
saying that I can now see where she's coming from. I re-read that post and yeah, I had some good points, it was funny, I had a good laugh, I'm clearly a charming person, I'm stacked like a game of Jenga, good for me, blah blah blah, but I was wrong to judge her that harshly. So Helena, old friend and trusted confidant: I'm sorry. I hope you forgive me. Because I love you. And because we have plans to go to the DMV tomorrow and my license has been expired for three days now. And I hope that you want to go to the one in Georgetown and not Brentwood or South Capitol because I live in Dupont one of these things is closer than the other,
WINK!
I don't know how this apology turned into me being a giant selfish whore, and yet, here we ar
e.

If it's any consolation, I think I know why I've always been so harsh to judge allergy sufferers. Growing up, whenever my sister or I complained to our mom about not feeling well, she always told us it was just allergies.
Always
. Like, if I had a nickel for every time my mom has told me, "It's probably just allergies" and then walked away, I would have enough money to...afford...allergy shots. Well, this is ironic. It was always just so frustrating though because allergies weren't a legitimate excuse to stay home from school. And to my mom's credit, I'm sure nine times out of ten I really was just trying to stay home for funsies, but it sucked that one time when I was legitimately sick. Because she wouldn't even
consider
that it wasn't allergi
es.

"Mom, a moderate-sized demon just clawed its way out of my lower intestine, told me he was the son of God, and went cackling off into the darknes
s."

"It's just allergies. Gargle with saltwater and go set the table."

And it's not like I could prove that I didn't have allergies because really the only difference between allergies and the flu is a fever and who outside of the Oregon Trail gets a fever? So, I think it was ingrained in me at a young age to equate allergies with "HA HA,
you!
" So really, this humble apology has turned into I BLAME MY MOTHER! And I urge you to as well. Blame her! Or ask her for advice (AskYoMama@2birds1blog.com). Either way, I've sneezed at least six times since I started writing this and I've never needed a cigarette and a nap so badly in my entire life. Enjoy your Monday.