(You know a blog post is going to be
awesome
when it begins with this gchat conversa
tion
:
Sent at 5:44 AM on Wednesday
Sent at 5:58 AM on Wednesday
Dan:
how's the post coming?
me:
sorry, i was reading this really intense ghost story
so...not well, i guess.
Jesus Christ...Let's try to move past it.)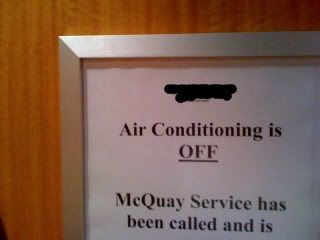 - So that's happening. That's a very real problem in my life right now. It feels like fucking Barbados in my apartment and I'm sweltering despite the fact that it's physically impossible to be any more nude than I am right now
.
I don't know what to do about it. I mean, buy a fan, I guess, but the thought of getting up, putting layers of clothing on my person, walking to CVS, interacting with human beings, and walking all the way back to my apartment is exhausting. I had to walk to the bathroom to get my phone earlier and by the time I got back to my bed, I might as well have just been doing jazzercise in Dubai for all the sweating and wheezing that was going on. Because it's not just hot in here; it's
humid
. The air is heavy and wet and dank and horrible. I feel like I'm living in a terrarium. So I just lay here all day trying really, really hard not to move. And wait for someone to feed me crickets. Again: it's a proble
m.

-
Ughhhhhh
, the battle of Meg vs. Antidepressants has taken an obnoxious turn. As mentioned, I've been on 360mg of Effexor for a little over three and a half years and am currently attempting to wean myself off it. (Fun fact!: 360mg is 10mg over the maximum dosage. I found this out via the Google shortly after my doctor in New York prescribed it to me in 2007, but I never brought it up with him. Wanna know why? Because his office was down the hall from Flyleaf's record label. I swear to God. I didn't ask about my questionable dosage of medication because I was impressed that my doctor's office was down the hall from the record label that represents
Flyleaf
. And I'm sorry, self, but WHAT KIND OF FLAWED FUCKING LOGIC IS THAT?! I don't even like Flyleaf! And yet I distinctly remember being like, "Oh, shit. Flyleaf. And there's a Dean and Deluca directly next door.
Meh
—
he clearly knows what he's doing. DOO-BE DOO-BE DOO! POPPITY-POPPITY-POP! WHO NEEDS A LIVER?! LA LA LA!" I realize I have an
anthropomorphized camo hat
and a soft spot in my heart for
confederate flags
, but it's still
shocking
how country I am when you get right down to it.) I managed to work my way down to 37.5mg over the last several months without any problems, but I started 25mg last week and it's not going well. I'm withdrawing hardcore, and let me tell you guys something
—
Effexor withdrawal is
no
fu
n
.



One of the many Christ-awful withdrawal symptoms of Effexor (you know, besides

brain shivers)
is rage. I swear to god: straight-up
rage
. I sit here in my little humidor and I rage, rage, rage against the dying of the light! Except yesterday, the dying of the light = a brochure I got in the mail for a technical college in Philadelphia. The brochure is for CHI Institute (Franklin Mils campus) and it came addressed to the informal
Meg
Rowland in a
handwritten
envelope and had a business card stapled inside with the recruiter's name and phone number highlighted. I was so confused. To my knowledge I hadn't consumed a box of wine and decided to pursue a career in insurance processing (although, to be fair, that wouldn't be completely out of character), so I assumed someone must have put my name on an info request list as a joke. And if mail shenanigans are in play, there's really only one suspect
—
Tulane
Chris.

Now, under normal circumstances, I probably would have thought to myself, "Ha ha. Oh, Chris! That delightful little
scamp
," and gone on with my day. Unfortunately, that's not what happened. Instead, I grabbed the brochure, raised it heavenwards with a shaking fist and thought to myself, "That son of a
bitch!
HE DOESN'T THINK I CAN BE A WRITER?! HE THINKS I SHOULD PURSUE THE FINE ART OF PRIVATE INVESTIGATION OR RESIDENTIAL/COMMERCIAL/INDUSTRIAL WIRING?! Well, I'll show him. Oh,
I'LL
s
how him. Baha. Ha. HAHAHA. HAAAAAAAA HAAAAAAAAAA!!!" and kind of continued to cackle like that for a few minutes until I thought I was going to pass out from heat stroke and had to take a cold soak in my bathtub with a grape-flavored Freezepop until I calmed down. BUT THEN...I ret
aliated.

About an hour later when I was feeling somewhat less, you know,
crazy
, I thought I'd confront Chris and see if he was indeed the culprit. Aaaaaaaand as it turns out, he was not. In retrospect, I probably should have been an adult about the whole thing and confirmed that fact
before
I retaliated. Which is another way of saying: Chris, I'm very sorry that I gave all of your private information to the Church of Scientology and told them on your behalf that you've quote, "got more questions than Catholicism will ever have answers." **~~~~Love you, biffles!!!1!~~~~** ;) ;)
;)
- I ma
de this image of the DC flag with NBC news 4 anchorman Jim Vance heads instead of stars for no reason other than I just genuinely feel more comfortable living in a world where it exists:
I'm a hardcore Vance-head. My sister and I like to play a game called, "What Do You Think Jim Vance is Doing Right Now?" It's fairly self-explanatory. We get together and occasionally turn to the other and pose the question, "What do you think Jim Vance is doing right now?" More times than not he's playing golf or doing sudoku. If you catch me when I'm in an especially good mood, he's listening to Waka Flocka and writing in his dream journal about what a bitch Doreen Gent
zle
r is.

- We've officially reached the point in the summer where I give up on trying to look attractive when I leave my apartment! I've retired my blow dryer, flat iron, and genitals until October. We're
all
excite
d.

- Tulane Chris' full name is Chris Turner-Neal, but I said it really fast the other day and it accidentally came out Chris
Turtle
-Neal. This small mistake has changed my life in ways that another human being never could. I can not express to you how funny the concept of Chris as a cartoon turtle going about his daily business is to me. Chris Turtle-Neal loading the dishwasher. Chris Turtle-Neal going to Wawa to buy an energy drink and scratch-offs. Chris Turtle-Neal avoiding eye contact in the elevator. Chris Turtle-Neal writing an angry letter to the postmaster general about not receiving his phone bill on time. Chris Turtle-Neal making a fresh batch of Crystal Lite. Chris Turtle-Neal all pissed at me because I turned him over to the Scientologists. It's just never not funny to me. Mostly because in my head, it looks like this:
The Asinine and Completely Realistic Adventures of Chris Turtle-Neal
—
what
will
he do next?! (Answer: drink port, play Xbox, and somehow work a joke about the Battle of Verdun into casual conversation. God
damn
I love hi
m.)

Well, this post fucking sucked and I don't have a conclusion (although I
did
write a song called "Who Needs a Conclusion?" to the tune of the 1981 Men at Work song "Who Can It Be Now?", which I won't subject you to), so I'm going to go punch holes in the wall until I fall asleep. XOXO!