Remember when Christina Aguilera wore crotchless pants? You know, the days when Lil Kim sported pasties as formal wear? Wayyyy back when Paris Hilton and Nicole Richie went out looking like the Lycra fairy had just vomited on them? Oh man, those were the days. It was so easy to look like a slut back when we actually had money and weren't living in perpetual fear of losing our jobs. Sadly we're all broke now and going out all dolled up and getting sloppy every weekend is less of a priority. I mean, who can afford a new bedazzled mini-dress and five boxes of Franzia every weekend nowadays? (You know your economy is in trouble when college-style partying is too expensive…) And if you're on a tight budget, let me tell you, BeBe tube tops and the occasional abortion are a

real

strain on the old pocketbook.
Now that we're all trying to behave and keep our heads above water, dressing like a giant ho is officially

OUT

. (Unless you're a giant ho in the occupational sense, in which case I would like your pimp's number because my sweet ass is still unemployed.)
However, certain people haven't gotten the memo yet: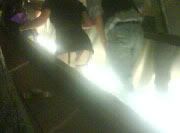 This chick was walking up a metro escalator Halloween night in the shortest "dress" I have ever seen in real life. Unfortunately for her (and

fortunately

for every guy around her,) she slept through the Physics 101 lecture when the class learned that as an escalator's inclination increases, so too do the odds that everyone is going to see your junk, whip out their camera phone and take a picture. As a corollary, the odds that they will send said picture to their friends with the subject line "BEST HO-LIDAY EVER" increases as well. As Anna said when she took this picture, it's hard to look too slutty on Halloween, but damnit, she pulled it off.
Last August I was apartment hunting in New York in babillion-degree weather. I was wearing skinny jeans that clung to my sweating legs (and other various interesting places) and felt like they were made of flannel-lined wool. I remember thinking to myself very seriously that if I could just manage to find a box cutter in one of the apartments, it was simply a matter of cutting off the pant legs right below my crotch to attain sweet, sweet relief. I imagined it looking a little something like this pair of H&M shorts (except mine featured dangling pockets):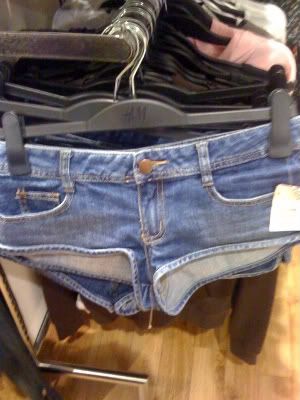 I literally stopped in my tracks when I saw these bad boys. Who in the sweet name of

Christ

could actually wear these out of the house?! I swear to God, I seriously have underwear that covers more than these shorts could ever dream of. I mean, look at that! I am 100% not comfortable with only an inch of denim keeping me from seeing your labia. I just don't like those odds. And these are a size 12!

That

is the maximum amount of coverage possible in this style of short! It's like whoever designed these did so with one eye shut after huffing glue for an hour.
Rejoice Mormons; modesty is so hot right now.