Happy Drinking Game Friday gang! Guess who has an appointment with DC's Reiki

Grand Master

? Yep. This guy. Thanks for everyone's votes; I'm glad the idea of me getting felt up by a stranger is as exciting to you as it is to me. Although it came in second place, I might go to the psychic studio in Trinidad this weekend as well. We're dealing with a curse here people…I have to cover all of my bases. Plus I have a houseguest staying with me and Martha Stewart defines being a good hostess as dragging your guest to the hard-core ghetto for a chakra re-alignment session and a possible chicken blood drenching. It's a good thing.
Given this week's darker subject matter, I

was

going to write this week's drinking game about an occult related movie, but then I realized,

it's the most wonderful time of the year!

Eff my curse! You've got cocktail parties to go to! Trees to trim! Rinks to skate on! Office Christmas parties to attend! Open bars to drink! Co-workers to make out with! Decisions to regret in the morning! So let's all get in the holiday spirit with what I'm sure is Jesus' favorite Christmas movie:

Home Alone

. It's time for

The Home Alone Drinking Game!
Drink When:
- Someone knocks over the McCallister's lawn jockey
- Someone alludes to Fuller wetting the bed or being a bed wetter
- The word "pizza" is said
- Uncle Frank delivers the powerhouse line, "Look what you did, you little

jerk

!"
- Harry's gold tooth is shown
-

Angels with Filthy Souls

is on
- Kevin talks out loud to himself
- Buzz's tarantula is shown
- Marley salts the sidewalks (even though there are totally dead bodies stashed in his salt bucket, duh)
-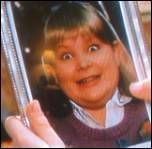 BUZZ YOUR GIRLFRIEND—WOOF!
- Marv get hits in the head or face with something
- Harry or Marv fall down the stairs
- John Candy says the word "polka"
- You inevitably weep like a child when Kevin is reunited with his mom on a snowy Christmas morning. I dare you,

dare you

, not to shed a tear.
Thank you so much for reading and we'll see you bright and early Monday morning!
www.twitter.com/2birds1blog