Hi there. Shit has
not
been good recently. At this very moment, for example, I can't tell if I'm about to vomit, cry, spontaneously combust
or
a unique combination of three. Why? Because I have a ton of important things to take care of before I leave for Ireland tomorrow and 99.9% of them rely on me being able to use my computer. What's the problem with that, you ask?
This: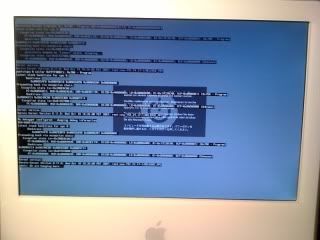 My computer has a "panic kernel." Which is computer jargon for "being effed in the a." I can't turn it on without it freezing on that screen, which means I don't have access to any of my files, including but not limited to: the artwork that needs to be uploaded to order your merch, all of the writing I've ever done
ever
, important business proposals and perhaps most importantly: my file of
Kevin Yang
pictures.
JESUS, GOD, NOOOOOOOO!
I have an appointment at the Genius Bar in Bethesda this morning and Alex thinks they'll be able to snag my files, but doesn't think
they'll be able to fix it completely without it costing an arm and a leg. And you know what really sucks? I need to make money to be able to afford fixing my computer, but I can't make money
without
the computer that needs fixing in the first place. BAHAHAHAHAHHAHAHA! IT'S SO DEPRESSING IT'S COMICAL!
So that's stressing me out. That and,
you know
, (per one of yesterday's comments) I'm not funny at all, I'm more obnoxious than the fictional lovechild of Snooki and Jon Gosselin, I don't fact check anything and thank
Christ
I'll be out of the country next week because every day that I'm here and blogging for free, a majestic Bald Eagle dies mid-flap, falls out of the sky and lands directly onto a 6-year-old child's birthday cake, thereby scarring an entire party of America's impressionable youth. So fingers-crossed that my plane goes down and I drown in the icy waters of the Atlantic tomorrow so we can finally live in a world where I don't strap each and every one of you down in a straight-jacket every morning, hold your eyes open with hooks and force you to read this blog,
A Clock Work Orange
style. Plus if I don't die, Lord knows I'll only go on to spend 10 days face-fucking the entire continent of Europe with my I HEART GEORGE W. BUSH fanny-pack while line-dancing all over priceless works of art and pissing Miller Lite directly into the mouths of the locals as I shout, "
THAT'S
WHAT FREEDOM TASTES LIKE! YIPPEE KI YI YAY MOTHERFUCKERS!!!!!"
So, you know.
That
doesn't really help anything.
But despite all of that, I have two positive things worth noting:
1.) After
tweeting
that Al Franken was at the Conan O'Brien concert on Tuesday night, I got the following email from my mom:
did you know that back in the day dad and i got stoned with al franken, his wife frannie and his comedy partner tom davis?
And as I wrote back to her: I did
not
know that, but it certainly sounds about right.
2.)
UM
, Whit Ladue, of my-middle-school-crush-who-I-thought-looked-like-the-lead-singer-of-Marcy-Playground
fame
, emailed me yesterday. I got it right after I realized that I had just spent $80 on the wrong printer cartridges and the bottle of Snapple I had thrown on my bed was actually open. (That was a
rough
30-seconds.) As I stood there staring at my iced tea soaked sheets, the email alert on my phone went off and I looked down to see this subject line:
This is White Ladue - swear to god
. "Well this is an
interesting
turn of events," I said. Out loud. To no one in particular. As I was completely alone in my apartment at the time.
I hopped over to
Facebook
to see what he looks like these days and this is what came up: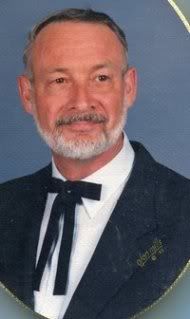 And if that
isn't
the Ronald Whitney Ladue in question, I will be sorely,
sorely
disappointed. Because we could have lived out my of unfulfilled middle school fantasies
and
exchanged Colonel-inspired fashion tips. If that's not the definition of a summer fling; I don't know what is.