First and foremost,

happy 25th birthday to Ex Co-Blogger Chris!!!!!!!!1

(Or as my phone called it when the reminder alarm went off five minutes ago, "Chris' 25th Sex Romp.") I hope you have a fabulous weekend, I love you a shit ton and I wish I could be here to celebrate with you this weekend!
(Hugthatlingersslightlytoolongtobeplatonic!)
Second and second most, while setting up the auto-post schedule for next week, I came to the frightening realization that neither Tulane Chris or
I will be here on Friday to do a live
T.G.I. Hagman
update. In light of the recent passing of Lady McClanahan, this scares the
crap
out of me. WHAT IF LARRY HAGMAN DIES AND IT'S ALL MY FAULT BECAUSE I WASN'T HERE TO CHECK IN ON HIM?!!?!?!?! I can't be responsible for that! I can't be responsible for killing one of the greatest genie-fetishist/cowboy/stroke victim actors in television history! I
couldn't
. Therefore, I expect you all to hold your own T.G.I. Hagman's next week and celebrate in whatever way you and your god feel appropriate. Perhaps down some bourbon while back-handing a sassy ex-beauty queen?
OH HOLY SHIT, speaking of
Dallas
references: I will physically be
in
Dallas next Friday. IS THAT A SIGN?!?! IS LARRY HAGMAN GOING TO DIE ON THE DAY THAT I'M IN DALLAS BUT DON'T HAVE THE MEANS TO UPDATE THE WORLD ON HIS HEALTH?!?!?!?! Are there cyber cafes in Dallas?! I wish I was freaking out for comedic value, but I'm just not. Damn you Ex Co-Blogger Eddie. Damn you for
transferring
your unhealthy fixation on Larry Hagman's health to me.
I'm getting anxious. Time to check in with the old cowboy.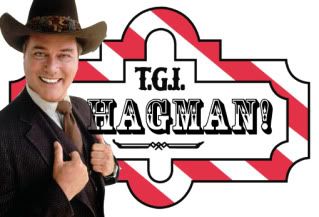 As of June 11th, 2010 at 1:12am, Larry Hagman is...
alive!
And here's to him staying that way while I'm off prancing around Ireland with hottie Timtern from
Kell on Earth
.
...And Alex. And Becca. And Geoff. And my parents. And

minus

hottie Timtern from

Kell on Earth

. BUT PLUS THE INCOMPARABLE SPIRIT OF LARRY HAGMAN!
Welp! Unfortunately I have to cut this short because I need to get some sleep before our
incredibly
long day of traveling tomorrow, but Tulane Chris will be back Monday morning and here to entertain you all week long. I've read all of his posts for next week and I'll give you two teasers:
Nazis
and
scat porn
. YEP. It's gonna be a
great
week to be alive. (HAGMAN, CAN YOU HEAR ME?!) Plus, I'll be dropping in periodically from Ireland, so keep checking back! Have a great week everyone! Miss you already! Buh-bye!