1.) Teresa and I are going to see Conan tonight at DAR, finally fulfilling the plans we made
oh-so-many years ago. Unfortunately there aren't any words in the English language to express what I feel, so I'm forced to rely on this photograph to express my current emotional state: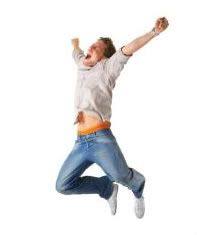 2.) I was out with Becca and her fiance, Geoff, last night and at one point Geoff excused himself to go to the bathroom, returned, reached into his pocket and fished out an (unused) urinal cake and hand full of tea lights that he'd stolen for me.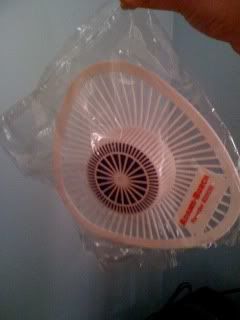 Honesty alert:

the urinal cake was on the table next to my bed all night and I woke up this morning to my apartment filled with the delicious scent of bubble gum. And it was

delightful

. That's right. I'm using a

urinal cake

as an air freshener. Do with that what you will.


3.) Becca informed me last night that we'll be in Dublin for the Bloomsday Bike Messenger Rally. And now I'm going to tell you exactly what I told her in complete seriousness: There's a 98% chance that I'm going to get pregnant next week. And more importantly, if I don't get pregnant

or

contract syphilis in the 10 days we'll be in Ireland, I will consider it a personal failure. There it is. The truth. Judge not lest ye be judged.

4. ) Becca

also

informed me that while we're staying in Kenmare, we'll be taking a day trip to bike the "tip of Dingle." I mean,

really?

Saying, "I almost peed my pants when she told me that" is such a gross understatement that it's comical. Because the common denominator between me, Alex and Geoff is our juvenile frat boy sense of humor. Alex and I frequently play a game called "I'll _____

your

_____." And the way you play is you look around the room, fill in the blanks in a suggestive tone and laugh at yourself for an inappropriate length of time. (i.e.: I'll Baja

your
Fresh.) Likewise, at my mom's birthday BBQ over the weekend, my aunt picked up a hot dog with a pair of tongs and Geoff said, "Wow Andie, you're really
tonging that wiener."

...I honest-to-god laughed-out-loud thinking about it again this morning.

Days

later. And we're all going to be

riding the tip of Dingle?

Seriously?

It's just such an unbelievable gimme that I'm almost curious what the catch is. After Becca informed us of this, Geoff and I locked eyes across the table and rapid-fired shot the following back and forth:
- How big is the tip of Dingle?


- How wide is the tip of Dingle?


- How long will we be riding the tip of Dingle?


- Is the tip of Dingle going to be a rough or smooth ride?

- I'm so glad we'll be riding the tip of Dingle together.


- I'm going to be

so

sore from riding the tip of Dingle.


- Thank God we'll just be riding the tip; the rest of it is

huge

.

- Make sure to bring comfortable pants because I hear the tip of Dingle is an

intense

ride.


- I hope we stop for lunch so I can say, "Man, I am

stuffed

from riding the tip of Dingle!


- I hope I fall off my bike so I can say, "I can't stop bleeding from riding the tip of Dingle!"


- If it rains, "I'm

still

wet from riding the tip of Dingle!"


- Becca: "Maybe there'll be a whale; check out the tip of Dingle's blow hole! Or like, look at the waves slap up on the rocks?"

[Geoff and I look at each other and shake our heads]

"That's just crass Rebecca...that's just crass."



I AM SO EXCITED FOR IRELAND.