Before we get to Chris' post
—
T.G.I. HAGMAN!!!1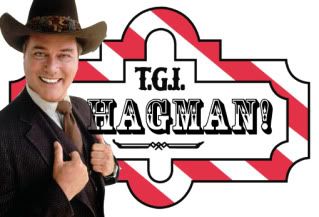 As of 12:13am on June 25, 2010, Larry Hagman is...alive! Just let it all
wash
over you.
----------------------------
To Torrey, the Tulane grad who commented on my post the other day: I have a frighteningly blurry memory of hitting on someone named Torrey/Tori/Tor-E at the 2004 Beaux Arts Ball. If that was you, I AM SO SORRY, it was an open bar and I was 19. Hopefully it wasn't you and we can still be friends. If it was you… I was real drunk, so you didn't miss much.

Ladies and Gentlemen, please welcome my dad to our readership! He started reading a couple of weeks ago and proceeded to send me an email with the subject line "Meg" about how funny he thinks Meg is. What he doesn't know is that I tell Meg funny things Dad says and she thinks he's funny. It's all very Parent Trap. I talked to Dad recently and he said something about how "it's all funny, but as a parent occasionally it's more information than I particularly…" so I've devised a code for everyone's comfort: if the first few sentences contain any of the phrases "rim job," "tampon cannon," "fecal vomit," or "scrotal catastrophe," the rest of the post will be vulgar. I will also announce at the beginning of each post referencing any drug or alcohol experiences I may or may not have had (totally did have) that it's a Drama in Real Life! Post.

I resent Meg's trying to fob off the weird onto me during the ash discussion. I fully intended to blog about that same conversation but Meg, having the blog password and all, was faster. If she wants to risk grandparental scolding from beyond the grave, so be it, but I'm not trusting her with my ashes. At this point, I don't even trust her to have me cremated. She'd probably just drag me into the yard and throw a tarp over me, or surreptitiously put me in Evie's litterbox and hope I went out with the next scoop. So, for my loyal fans, both of you, here is what you must do with my ashes: If Adrien Brody is still alive and reasonably pleasant to look at, rub my ashes onto his nude body. If not, sneak my ashes into Snake and Jake's in New Orleans on Dollar Schlitz Night and divide them equally between the ashtrays and the sofa cushions. This will be easy, because every night is dollar beer night.

So… diarrhea. I think it's hilarious. Here's my algebra:

(Feces x Desperation) + Embarrassment =
L

O

L

!

!

!

1

I told Meg I planned to try to write a diarrhea post and she said, "Oh, I had diarrhea yesterday!" It's the great equalizer! Not everyone gets drunk and goes home with someone who turns out to have one ball (TAMPON CANNON, DAD!) or drinks so much they vomit twin streams of pre-bottled rum and coke out their nose their first day in New Zealand (scrotal catastrophe!), but everyone has diarrhea. Screw hearing a child's laughter or falling in love for the first time; the true universal human experience is taking the stairs at a gallop and throwing an elderly man to the floor in a race to get to the toilet in time. Fistfuls of Immodium at the bus station.
So, in the interests of opening up and building a closer relationship with my readers, here is my best personal diarrhea story. Picture it. New Orleans, February 2010. A young graduate student travels to his favorite city to watch their team play in the Super Bowl. A kindly stewardess offers him a chicken roll on the plane. He eats it, not knowing it is RIFE with contagion.

So, I get to New Orleans and all is great. Celebrations, whatever. The game isn't for a couple of days. The next day, we all go out to get Po-Boys, when the Feeling strikes me. The Po-Boy place does not have a toilet, forcing me to caaaaaaarefully jog two blocks to a coffeeshop, buy some juice, and proceed to… you know. I assume it's just travel disarray and go on about my day.

So we went to the movie theater, and I shat myself. We were casually walking along, excited about seeing the movie, and THERE IT WAS. No warning or anything, just straight-up shat myself.

If the Super Bowl had not been the next day, I would have just killed myself. I would have died at home and my friends there, unlike MEG, might at least have rolled my corpse into the lake. However, I had a game to watch.

I realize I just might be able to class this one through. I ran to the bathroom and… you can imagine what I had to do. The only really awkward part was throwing my underpants away in the big trash can, but her I had an ace in the hole: I was in New Orleans. In any other city in the world, throwing your underwear away in a Megaplex bathroom is cause for alarm, even hostility from passersby. In New Orleans – hell, everyone's had those days. You're more likely to get a sadly sympathetic smile and a murmured, "Lord, I had a day like that last week…" It takes more than feces-streaked boxer-briefs to stand out in New Orleans.

So THANK GOD, the movie was sold out and we left. I peeled off the two closest friends of mine in the group and told them I had something important and private to tell them. They are a pair of Cajun siblings whom I'll call Butter Legs and Smashbone and two of my favorite people in the world. Since they already knew I was gay they must have thought I had cancer. They very kindly took me home with only minor giggling, although I had to make them postpone a trip to the liquor store until they dropped me off. My exact words were "Guys, I don't want to be all 'I have diarrhea' about this, but…"

So, I spent a night shivering and feverish on the couch watching "Mad Men" with our host's belligerent girlfriend. I was sick enough that I couldn't completely tell her apart from the show, so I'm not completely sure if there's a really critical pre-school teacher on the show or not. I do feel sorry for a pre-school teacher who doesn't pity people who have Had Accidents because she has a short career in front of her.

I got up in the morning to giggles. "Chris. Chris, do you feel better? Chris. We bought you Chinese food." Specifically, they had brought me a Pu Pu platter.

"Chris?"

"Butter Legs?"

"Remember during the playoffs when you said that if the Saints went to the Super Bowl you'd shit yourself?"

"Yes."

"And they're at the Super Bowl?"

"Yes."

"And you shat yourself!"

"Yes."

Premonitions do run in my mother's family, and somehow it seems oddly appropriate that mine should specifically be attuned to bowel movements. So, the rest is history and the Saints won. Now, every time Butter Legs has diarrhea, she texts me because "it reminds her of me." This is funnier if you realize that Butter Legs is small, very pretty, and generally a fairly demure Southern lady. She makes pepper jelly with her aunt, always writes thank-you notes, and uses diarrhea as a reminder to stay close to friends.

So, if any of you still had me on a pedestal and thought I was glamorous, rest assured: I put my pants on one leg at a time, and then I shit them.