OOF. "SORR" about my absence, kids.
It's good to be back. Below follows a post I wrote before leaving but didn't get a chance to send Meg before I left. (Spell-check informs me that "Meg" is a misspelling of "me.")
(Ed. Note: That's because I'll always be a part of you, Chris.
Always
.) (Ed. Note: Wait, I fucked that up. Technically, according to your spell-check, you'll always be a part of me. And if you managed to knock me up from Texas

—

I'm not even mad. That's just good work. SLASH, can you imagine the frighteningly pale, anti-social, half-ginger, quarter Jewish, alcoholic Aspie's baby we'd create? I just spent five minutes trying to write a joke about how he'd be born with a wedgie, but the punch line was always that his underwear snags on my vaginal wall and now I want to die. So, please, proceed with your blog post.)
Well, my years of wickedness and spite have come back to plague me, as they do every year. My college is hosting some Special Olympics events, one of which is a rally to "Remove the R-Word." I will probably be burned in effigy, if not actually at the stake. (Although in five years, when people decide that "developmentally disabled" is hurtful, they'll come for
you,
so live it up while you can.)
I'm bad at holidays. I always intend to do something, but then I don't pay enough attention and they sneak up on me, and I wind up having to put birthday candles in a Wendy's burger. I'm going to do Halloween right this year, though. I'm deciding on a costume now so I have a whole month to change my mind twice and then put it together. I believe Meg is going as Evie, which involves putting on a pair of cat ears and then sitting at home eating tuna and being a bitch. (Evie is recycling last year's slutty nurse.) Here's what I'm considering so far:
Quicksilver:
If physical limitations and public decency prevent you from dressing as your favorite comic book character, go as her twin brother. The silver hair and lightning-bolt shirt are probably doable with spray dye and fabric paint, although I'm not sure how I feel about the tights. Also, Quicksilver's superpower is moving quickly, and I have the metabolism/energy level of a sloth. With chronic fatigue syndrome. And jetlag. Who's getting over the flu. PS, I love that Wikipedia specifies that the Scarlet Witch is fictional. Really? Superpowers aside,
What people will say: "If you run so much,
Speedy
, why do you still have a beer gut?"
Bobby Budnick from Nickelodeon's Salute Your Shorts:
I've got the coloring down, and I could get a bandanna and a beat-up guitar for about six bucks. Do you think anyone would get it, or would I have to have cards printed that read "You remember, 'Salute Your Shorts?' The Nickelodeon show about a summer camp run by the poor man's Ernest P. Vorrell? It came on before 'Hey, Dude?'"
Wow, looking for pictures of this actor has been… illuminating. Here he is
sexying it up
: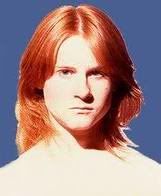 What People Would Say: "Are you, like… a young Willie Nelson?"
Amy Winehouse's Guardian Angel: I thought of this just now and I'm sitting here giggling my ears off. The standard angel garb, but smeared with ash and stained with red wine, a halo askew on my bouffant? A tattoo that says "Katy Perry Eats Shit" across one wing? (Yeah, I know it was Lily Allen she had the feud with, but I hate Katy Perry more.) A heroin-craving Pete Doherty angel at my feet, weeping, twitching, and vomiting?
What People Will Say: "2008 called. They want their ironic pop-culture-reference costume back."
A Baseball Fury from The Warriors:
Remember how wonderful the movie
The Warriors
is? A relic from a more naïve America, where eight men wearing jeans and leather vests with no shirts made viewers think of anything other than bad gay porn? It features Lynne (Motherfucking) Thigpen, later to become "The Chief" in "Where in the World is Carmen Sandiego," as the relentlessly ominous deejay. What other actress can create a memorable role with eight lines and only a third of her face? Anyway, the Baseball Furies are one of the first gangs Da Wahriuhs encounter during the movie. They have face paint and little baseball uniforms that say "Furies" across the back!
What People Will Say: "I didn't know Peter Criss coached Little League."
Meg McBlogger:
Imitation is the sincerest form of flattery. I know Meg wears other things – I've seen her do it – but my mental image of her will always be sunglasses, wedges, stretch pants, a long cardigan, and an ironic tank top. It suits her perfectly, sort of Tiffani-Amber Thiessen with an edge.
What People Will Say: "That's the worst Tiffani-Amber Thiessen costume I've ever seen. Is this some kind of shitty blog thing? Is Meg going as Mario Lopez?"
I obviously love this idea most of all. I think I could pull this off with Vans, long cut-offs, an "Orlando Sound Machine" T-shirt and a little creatively applied eyeliner. I could carry a box of cupcakes and try to make out with a black guy, although that's less "Halloween" than "Thursday" around here.
What People Will Say: "Good Lord, Chris,
Vans?
Are you going as
high school?
Couldn't find any Doc Martens
?
"
So that's what I'm thinking so far. I may save the Kevin Yang costume for the next reader gathering so more people will get it, and also so that if (GOD WILLING) the actual, factual Kevin Yang puts in an appearance we can do a double act called
Yang As I Wanna Be
. As a parting shot, here are my thoughts on two movies I watched this weekend:
Martin
: It's a good thing George Romero started making zombie movies, because he can't direct the living worth a damn. The only thing that moves in this 1974 snoozefest is the plaid wallpaper.
Dead-End Drive-In
: What an odd choice to make a dystopian movie set in Australia, which is already a desert full of poisonous animals and televised cricket.