The City
Episode 5: Recapped by Chr

is
Hey everyone, did you know Allie's going to be out of town this week? We better keep an eye on Adam. If you
didn
't know that fact already, you probably had it drilled into your cranium last night watching The City. If you had taken a shot
everytime
someone mentioned that Allie wouldn't be around, you would have taken about 5 shots. Not cirrhosis-inducing, but 5 shots in 30 minutes is enough to get you to make bad decisions. Just ask Adam, as that's probably how he got himself into this little snafu.
Adam and Allie are both models and have been dating for quite some time. Allie apparently books a lot of modeling jobs (which is surprising to me because her eyebrows are so severe and don't follow the contour of her brow, no?) and is out of the city a lot. And when the cat's away, the mice will play. Or if we're speaking Jay, then Adam will get the chance to hold his own nuts and masturbate while Allie's gone? I'm not quite sure I follow your metaphor, Jay.
So, holding their own nuts, Jay and Adam and some of their anonymous bros have a guys night out. They end up at a club, where they get eye fucked for a while before one thing leads to another (Hey, did you know Allie's out of town?) and Cat and Adam appear to be leaving together?
In other, less interesting news, Nevia appeared in this episode to complain about Nevan's lack of employment. I mention this only to say that it is not worth mentioning. I believe personally that Nevan need a haircut and a personality more than he needs a job. In the meantime, he appears to be crashing on Heidi Waldorf's couch, where he is not allowed to have chicks over, ever. Do we think that'll be a problem? (No seriously, is he or is he not a homosexual?)
But back to the actual problem at hand. At brunch the next day with Sam, Whit, Erin, and a whole mess of yarn (seriously girls, those headpieces?) Sam gets a text message saying Cat and Adam made out. Scandal! Whitney tells Jay what she found out, which leads to Bro-Talk with Adam and Jay. Adam shadily denies everything so Jay, and then heeding the advice of Jay, also shadily denies everything to Brows. According to Adam, he and this girl were talking and some random girl decided via text that they were actually kissing. After several awkward silences Eyebrows is skeptical, but appears to trust Adam.
Until it's Whitney's turn to break the news. After sharing what they know (which isn't much as all of them found out via text message), they leave. As the other girls are leaving, the conclude that the "tell your friend her boyfriend cheated on her talk" did not go well. Because those things always work out magnificently. When Adam meets Allie, they have the lamest fight ever, in the rain no less. Eyebrows must have some tricks in the sack, because homeboy is pussy-whipped. Brows' voice gets all nasally and she seems to misplace the word "girls" for about 5 seconds mid-whine. Adam looks and sounds like a kicked puppy and promises never to do this again.
But what did really happen between Adam and Cat? That's one secret I'll never tell.
Bromance
Episode 4: Bros in the Wild
I'm not going to lie to you. I spent the first 20 minutes of tonight's episode serving wine to my inauguration guests and wondering what it is I normally do on Monday nights. My bad. As much as I love you (and I

do

love you baby,) I would rather bedazzle every pair of jeans I own than wake up early to watch the repeat to see what I missed.
Here's what I ascertained went down:
Brody tests each of the

Bro's

strength by putting them in the ring with a "bad-ass biker dude" named Mario. I only saw a brief moment of this in which The Token Asian Guy basically pees his pants and curls up in the fetal position to take his beating. God I wish I could been there.


By the time I tuned in, the Bros have gathered around a camp fire to exchange shameless hookup stories. Pip, however, doesn't have a shameless hookup story, so he decides to share a "beautiful story" about having sex on a golf course. This scene cements the fact that Pip is my Special Someone. Mind, body and soul.
The next day, Brody and the Bros meet with Life Coach "Dr. Gary" to get in touch with their feelings. Apparently to get in touch with your feelings you jump up and down, scream, and then say what you're afraid of. This obviously leads to another

BrO

prah moment where Brody talks about his relationship with his mom (although I'm

far

too distracted by his cross-eye and orange

camo

hat to feel for him); Alex talks about being an outcast; Luke cries about his fear of never having a family; The Token Asian Guy confesses his love for the Bros, gets his period and then bursts into tears; and finally a teary-eyed Pip confesses that he can't open up to people because

everytime

he lets someone in, he inevitably gets hurt. You guys. I seriously just want to hold Pip, rock gently, whisper "everything is going to be okay" and cradle him until the sun comes up.
This week's elimination takes place on the roof of "Brody's" apartment where there are five bath tubs set up four Bros. If a Bro is safe, he gets to strip down to his jockeys and hop in a tub with a hooker. At this point I had a flashback to a few summers ago when Becca and I took a spa day together in Napa and spent the most gratuitously naked four hours I have ever spent with another human being. Male or female. I was specifically reminded of the moment when we were soaking in side-by-side bathtubs together, awkwardly talking about the weather and current events. There was

also

a moment when we were each given a washcloth and shoved into a small steam room together (seriously, if this wasn't the most incestuously gay day of my life, then I don't know what was.) When I was deciding what part of my anatomy to cover with my small square of terrycloth, Becca looked at me, paused and simply said "Dude...go with the lower half."
Shudder, shudder.
Anyway, Brody breaks my heart and decides to eliminate Pip because "his path isn't here." I don't know whether to be upset because I know this means I'll never see my

Soulmate

again or because this means I have to see The Token Asian Guy in his skivvies getting soaped up by a hooker.
The absolute highlight of this week's episode was actually in the coming attractions for next week's episode. Next week, the Bros help Brody with his new denim line, which we see a promotional photo for...which brings us to my new favorite game:

WhIcH

iMaGe

iS

gAyEr

?
Which image is gayer?
Image 1, a Leather Daddy: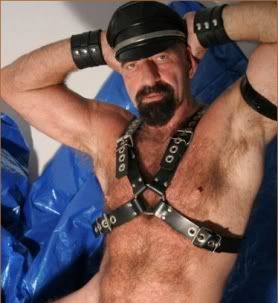 or Image 2, a promotional cut-out from Brody Jenner's new denim line:
Not as easy as you thought, right?