Easter weekend? Don't mind if I do, and don't mind if

I do!

Because HE IS RISEN, YOU GUYS! He is mother-

effin

' risen. And who's psyched? This girl. Because that means my office is closed today. GLORY BE! Those irritating Bible scriptures at the bottom of my boss' emails suddenly seem a whole helluva lot less offensive right now.

Sorry I have to keep things brief today. I've got quite a busy little Good Friday planned for myself, what with Church services, quality family time and all that private reflecting I'll be doing.

Sigh.

That's a lie and we both know it. I just want to sleep in and spend the day doing laundry and catching up on

30 Rock

.

However, it would be just plain blasphemous for me to not supply you with a Friday drinking game. So pour yourself a glass of red, put out a plate of cheese and Host and give Judas the stink eye— because it's time for

The Passion of the Christ Drinking Game!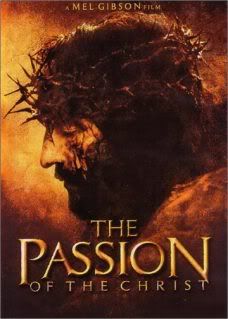 Rules:


Drink When:


- There's writing on the screen (

HAH

! Just kidding.) But drink when a Bible scripture is shown
- Anyone says "of Nazareth"
- Anyone says "blasphemy"
- Someone prays
- There's a flashback
- There's a trial
- Judas kisses Jesus
-

Pontius

Pilate addresses the crowd
- Jesus resists one of Satan's temptations
- There's a flogging
- Someone loses an ear
- There's a crucifixion
-

RESURRECTION

BITCHES!

Have a great weekend and thanks for continuing to spread the 2b1b gospel! We'll see you back here bright and early on Monday morning.